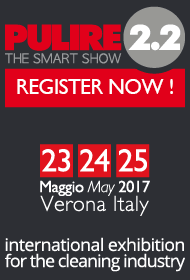 ---

New and updated vacancies are advertised in Cleanzine every week. Check out the latest opportunities by clicking the link above.
Advertise your current vacancy with Cleanzine and we'll give you the best deal in the industry with same day upload so you can fill the position faster.
Contact us for details
---
International News
Products
Taski Swingobot 2000 wins Pulire Verona 2107 Innovation Award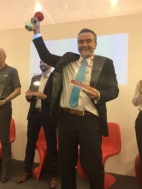 Last night was a thoroughly deserved win for Diversey Care's Taski Swingobot 2000.
Director Taski global machines Laurent Ryssen was presented the award in a packed auditorium by Afidamp's Toni d'Andrea.
Laurent confided to Cleanzine afterwards that he thought for a moment that they'd 'only' won 3rd prize as theirs was the first product called after the Finalists Awards!
If you are interested in seeing the Swingobot 2000 in action on your desktop download the Taski Intellibot AR from the Apple app store or Google Play.
---
Innovation Awards Finalist Sealed Air Diversey Care


Diversey Care also reached the Innovation Awards finals with two products: the Taski Swingobot 2000. This machine combines intellibot navigational technology with Taski cleaning quality.
Robotic floor cleaning allows the operator, once the machine is set up to go, to get on with other jobs while the machine does the repetitive and fatiguing task. "It's the way forward", says Laurent Ryssen, director Taski global machines.
more
---
Innovation Awards Finalist Teinnova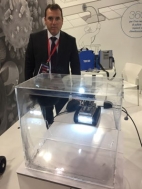 This Spanish company reached the finals in the Innovation Awards with its Multibot duct cleaning robot.
Multibot has four cleaning functions: cleaning, disinfecting, visually inspecting, and sealing any cracks or gaps in the ducting.
---
Innovation Awards finalist: Karcher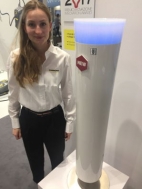 Karcher had two products up for the Innovation Awards: the AFG 100 air purifier that is not only aesthetically pleasing, but features 3 stage filtration. The first stage captures large dust particles, while the second stage plasma filter actually destroys smaller particles. The final, third stage filter is HEPA and active carbon to leave the air clean an fresh.
more
---
Innovation Awards Finalist Unger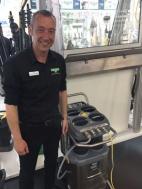 Unger has won many awards lately for its Stingray product, the latest at the Cleaning Show in London. Now, in Verona, the latest Unger window cleaning technology to reach the Innovation Awards finals is its HydroPower RO reverse osmosis filter to achieve zero ppm filtration for pure water cleaning.
This is achieved via its easy change carbon and membrane resin filters allowing 400L per hour pure water output with up to three operators using the unit simultaneously.
more
---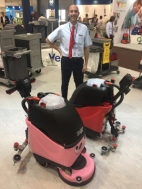 Like taking coals to Newcastle (or ice to Eskimos) Numatic is one of the few British companies brave enough to take its vacuum cleaners to Italy. But we are talking about the world-famous Henry of course, and Henry's companion Hetty
What's New? Quite a bit: Hetty and Henry scrubber-driers for starters, now made entirely of Structofoam plastic providing all the robust strength of stainless steel, but of course nowhere near the weight.
more
---
Dynamic mobile solution from WM System


The WM Dynamic is a movable work-station that may be set up in a van to perform a variety of tasks based around a mobile platform that incorporates a 16HP motor, two 12V batteries, electrical panel with 220 - 400V plug sockets, pressure regulator and switch, 100L air tank, winch, a two-stage bi-cylinder air-compressor with low noise system, and finally a patented quick hooking system for the interchangeable modules.
more
---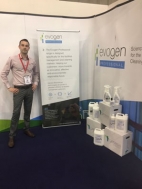 Genesis Biosciences has launched its new evogen professional range based upon the company's award-winning technology.
In addition, the company is introducing Biosan Rapide WT its latest range of germicidal odour control products developed specifically for sanitising and de-odourising the waste water collection tanks of scrubber-driers.
more
---
C.A-L. Italy launches new machinery


C.A-L. Italy is using Pulire to showcase some new machinery for the first time. Designed and manufactured in house, one is a waste water biodegradation system and the other is a cloud fleet management system that can be retrofitted onto all kinds of industrial machines..
more
---
ETS to participate in Pulire Verona 2017


The European Tissue Symposium, ETS, will take part in Pulire Verona next week. As well as exhibiting, the Symposium will participate in the speaker programme with a presentation by ETS chairman, Roberto Berardi, on 'The Advantage of Paper'.
more
---
Brexit blues? Not for OspreyDeepclean!


OspreyDeepclean tell us that Brexit seems to be having little effect on demand for its GB1 gum busting machine in continental Europe, with the world's first battery powered dry steam machine for gum removal as popular as ever with its cleaning counterparts across the channel with recent deliveries in both Italy & The Netherlands.
more
---