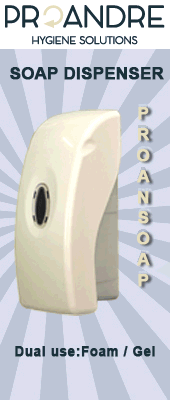 ---

New and updated vacancies are advertised in Cleanzine every week. Check out the latest opportunities by clicking the link above.
Advertise your current vacancy with Cleanzine and we'll give you the best deal in the industry with same day upload so you can fill the position faster.
Contact us for details
---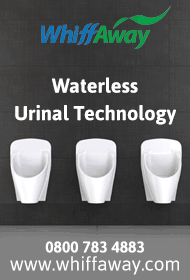 ---
International News
Products
Interclean Amsterdam's Full Circle Exhibition reaffirms its position in the industry


The 2018 edition of Interclean Amsterdam has been the largest, most international exhibition yet, made up of busy days. The show attracted a record number of visitors, from more countries than ever before.
With a combination of old and new segments, Interclean Amsterdam was able to offer a complete overview of the newest technologies and trends in the professional cleaning market. The robot arena, the InnovationLAB and the new Healthcare Cleaning Forum and LAB were particularly popular.
more
---
Standards increase economic growth and help companies access foreign markets


A new study conducted in the Nordic countries shows that standards are associated with 28% of GDP growth. Companies benefit from standards the most by getting access to new foreign markets and ensuring the quality of their products.
A vast majority of the respondents, 87%, consider that standardisation plays a key role in their future business plans.
more
---
Cintas free 'Got to Go' app identifies and rates clean public washrooms across US


Of the more than 41.5 million people expected to travel this Memorial Day weekend, 88% of them will travel by car. That's an increase of 4.7 million drivers over last year, which means more traffic on roads and more traffic in roadside washrooms.
more
---
Nettuno announces loss of Giancarlo Fratus, CEO


In a statement issued from Castelli Calepio on Wednesday, Francesca Fratus said:
"It is with deep sorrow that Nettuno announces the passing of Giancarlo Fratus, sales director and CEO of the company.
more
---
Better decisions from better air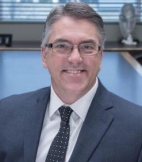 In the 1700s, Benjamin Franklin professed, "I am persuaded that no common air from outside is so unwholesome as the air inside a closed room that has been often breathed and not changed."
more
---
New ETW SmartCycle biomethane plant in operation in France


Last month, ETW Energietechnik installed its first biogas processing plant in Scherwiller, France, and the facility has been in continuous operation ever since.
more
---
Sun shines on beautiful Amsterdam in time for Interclean's opening


Those of us in the know say that the mark of a good exhibition is its ability to get the crowds through the doors when it's warm and sunny outside... Well, as our pictures show, Interclean is - as usual - a winner. We don't as yet have exact visitor numbers for the first couple of days, but the show is definitely very busy.


Not missing a trick though, the organisers have opened up a new hall which fronts a refreshment area next to one of the canals. And with 13 halls full of stands, refreshments are definitely needed... Absolutely idyllic - even if there is work to do!
more
---
Kärcher wins Amsterdam Innovation Award 2018


Interclean Amsterdam, the world's leading tradeshow for cleaning professionals, opened with the announcement that Kärcher, with its Kira B50 autonomous cleaning machine, had beaten 88 entries to win the winner Amsterdam Innovation Award.
The machine boasts a step forward in robotics technology for the cleaning industry and overcomes some of the obstacles of similar machines.
more
---
Tork Paper Circle from Essity wins Visitor's Choice Award


The visitor's choice prize is awarded to the nominee voted as the most innovative by Interclean Amsterdam visitors. With 39% percent of the votes, Tork Paper Circle from Essity is the winner of the Visitor's Choice Award 2018.
Tork PaperCircle is turning the hand drying business on its head by offering the world's first paper hand towel recycling service, helping businesses go circular, cutting the carbon footprint of paper hand towels by 40% and paving the way for future change in standards on what can be recycled and included as accepted paper grades.
more
---
Cleanovate - future engineering by Hako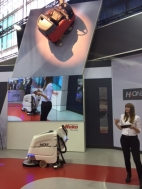 The future of cleaning technology lies not in ever-higher area performances alone. Sustainable, eco-friendly solutions and comfort-enhancing features which increase the operator's efficiency, are important key factors too, as are digital services providing more transparency and shorter response times.
Hako's stand showcased a wide range of impressive pioneering solutions which, already today, are contributing to the shaping of tomorrow's world of cleaning technology.
more
---
---
---
This Week's News
---
---
---
---
---
---
---
---
---
---
---
---
---
---
---
---
---
---
---
---
---
---
The Cleanzine Archive Search
We keep an extensive archive of news stories and product information that have featured in past issues of The Cleanzine. If you would like to run a search of the The Cleanzine web site using the search tool below please just go ahead by entering in the name of the person, product or company or any other key words that you are looking for.
---
How to contact us at The Cleanzine: