Cleanzine: your weekly cleaning and hygiene industry newsletter 11th August 2022 Issue no. 1029
Your industry news - first Number 1 for Recruitment

We strongly recommend viewing Cleanzine full size in your web browser. Click our masthead above to visit our website version.
---
Kärcher wins Amsterdam Innovation Award 2018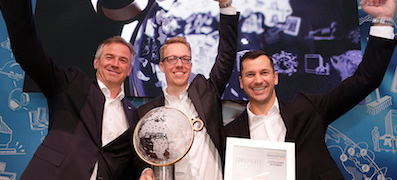 Interclean Amsterdam, the world's leading tradeshow for cleaning professionals, opened with the announcement that Kärcher, with its Kira B50 autonomous cleaning machine, had beaten 88 entries to win the winner Amsterdam Innovation Award.
The machine boasts a step forward in robotics technology for the cleaning industry and overcomes some of the obstacles of similar machines.
Size and design is what make this machine much more attractive to a wider range of applications. So far, robotic scrubber dryers have been most suitable for extremely large areas, but the KIRA B50 is even suitable for areas under 1,000sq.m.
Also, the fact that KIRA B50 can take itself to a docking station to charge the battery as well as fill and empty tanks and offers automatic route planning of pre-defined zones, means that the level of human intervention is minimal - and that is what true autonomous cleaning is.
KIRA B50 is Kärcher's first robotic scrubber dryer. The jury voted the robot as the winner of this category because the company has entered this market segment with a machine that can immediately be described as totally autonomous. The involvement from humans is minimal - which is what true autonomy means - and the opportunity charging feature makes demand-oriented cleaning in specific zones a reality.
Other nominees in this category:
* Service Station for Cleaning Robots from Adlatus - This is a new docking station for the existing Adlatus cleaning robot CR700. When the machine has run out of battery or the tanks need attention it independently seeks out the service station and charges the battery while also dealing with the water tanks. This means it can be autonomous for longer periods of time and require less human involvement.
* Automatic Marvin from Wetrok - Marvin is Wetrok's first project in autonomous cleaning, a small scrubber dryer based on a teach-and-repeat principle. The human demonstrates how the room is to be cleaned, and Marvin then imitates them. It is designed for use in small areas and the company is aiming to make robotic technology more affordable for a wider range of applications - while not replacing cleaning personnel.
Equipment/tools for cleaning, care and safety - winner - Powr-Mop Lite from SYR
This is a motorised flat mopping system that features an oscillating head which operates at 3,500 mini-scrubs per minute. It can clean all hard floors and is designed to make the job of the operator less tiring. This is a battery-operated tool that can clean up to 400sq.m on one charge - changing the battery is then simple for the operator.
The jury was impressed with the simplicity of this tool, yet its practicality and potential impact for the operator. Powr-Mop Lite makes the job of mopping so much easier physically as the scrubbing action is battery-assisted. And the mop head is multi-directional for optimum efficiency. Very importantly, Powr-Mop Lite is highly affordable, so well within the reach of many smaller cleaning applications.
Other nominees in this category:
* MoonBeam 3 UVC Disinfection System from Diversey - MoonBeam 3 is literally a new angle in UVC disinfection which is mainly used in healthcare applications. Featuring three adjustable arms, the unit can closely target the UVC dose around patient areas and is designed to be portable, easy to use and more affordable than existing solutions.
* HydroPower RO from Unger - HydroPower RO is a three-stage purification system for cleaning windows and facades with pure water. It can be used by three operators simultaneously and can clean up to 400 litres per hour - offering significant productivity benefits. Also designed to be self-maintaining.
E-cleaning - winner - SystemOne from Vermop
Manual cleaning equipment becomes connected through a digital online module, so mop handles, vacuum cleaners and trolleys can offer direct feedback on cleaning activity in real time. Data is collected from appliances and the Equipe Digital trolley makes it available to customers via a web portal.
The jury very much liked this combination of manual tools with smart solutions. This is a great example of how an essentially manual - and some many say menial - set of tasks can be elevated in the perception of the facilities manager. Not only that, the cleaning operative's view of their own job is raised thanks to the use of such state-of-the-art technology.
Other nominees in this category:
* IntelliLinen from Diversey - IntelliLinen is part of Diversey's Internet of Clean platform and is designed to offer real-time remote management of large-scale laundry operations. Not only does it monitor all aspects of the operation, it also spots operational inefficiencies and helps management to reduce water and energy consumption while keeping chemical use consistent.
* Orbital Dashboard from INPACS - This big data application has been developed to improve the efficiency of INPACS' international customers. Information is gathered from various sources about consumption of products, customer satisfaction, quality, expenditure, etc. The information is then converted into more useful knowledge in order for customers to make meaningful change.
Management, training solutions and related products - winner - Tork Paper Circle from Essity
Essity is helping its customers to become fully circular with the introduction of a recycling service for its paper hand towels. With the help of recycling specialist partners it is setting up the service on a local level and helping to cut the carbon footprint of paper hand towels by 40%.
The jury was highly impressed with this ambitious launch by Essity. This is the first recycling service of its kind in our sector and aims to encourage facilities managers to take a more circular approach to running their washrooms. By involving local partners who specialise in paper recycling they are making the service practical and workable with minimal environmental impact. And they have invested in encouraging washroom users to buy into the idea of placing their towels in the correct bin and being part of the project with research into behavioural change.
Other nominees in this category:
* Dityspray from Dityspray - This is a packaging solution for cleaning chemicals designed to be totally eco-friendly. It works with compressed air instead of propellant gas in a reusable box. Designed to be an alternative to aerosols and cartridges, Dityspray provides the system and the bags - the users fill the dispensing packaging themselves.
* green-Effective Performance Calculator from Werner & Mertz Professional - Werner & Mertz has developed a marketing solution for the cleaning sector in the form of a calculator that converts circular product design into a business advantage. It certifies resource savings by adopting a more sustainable approach to purchasing.
"As with every Amsterdam Innovation Award the jury was tasked with evaluating a high number of entries - the real challenge was to compare the impact and originality of products from such diverse parts of the industry," said Michelle Marshall, chair of the Jury.
"It was interesting to note the two key focuses for the companies that have been nominated as finalists across our four categories in the development of their new solutions - the end client or service provider, and the operative."
"As far as the client is concerned, they can now enjoy the benefits of so many solutions incorporating 'smart' technology in its various forms. In general, many products are now capable of gathering data that can impact on productivity and profitability in a very real way. This brings transparency that can help clients to reach their targets on sustainability, energy use, quality, cost, efficiency and performance. Which can only improve the interaction and valuable partnership between client and supplier while also raising the perception of professional cleaning.
"When talking about smart solutions we must, of course, mention robotics. This is not the first year we have seen autonomous cleaning machines, however each year we observe the technology moving forward and overcoming some of the barriers to them becoming more attractive for real-life cleaning operations."
"In any cleaning operation, the staff play an invaluable role and as a jury we were pleased to see they are not being forgotten in the development of new solutions. Manufacturers of cleaning tools are developing products designed to be more ergonomic and cause less fatigue, and to make everyday cleaning challenges more manageable.
"So many of the products we have seen have been designed with sustainability in mind, both in terms of using less water, energy and chemicals and in the way they are manufactured. It's extremely positive to see that those aspects are now seen as a given. Total life cycle impact, 'Cradle to Cradle' and the circular economy are terms we are now commonly seeing being put into practice."
17th May 2018
---