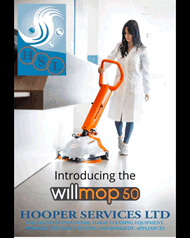 ---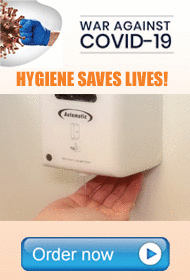 ---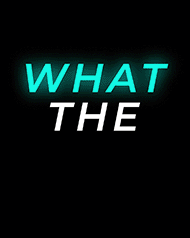 ---
International News
Products
Evaluating electrostatic sprayers for surface disinfection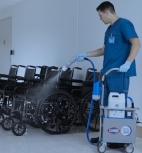 Author: Katherine Velez, Ph.D., Senior Scientist, Clorox Healthcare
Using established technologies in innovative ways can help facilities navigate the 'new normal' of clean needed to meet pandemic and post-pandemic standards.
more
---
Prochem launches fast spray mist disinfecting for floors and surfaces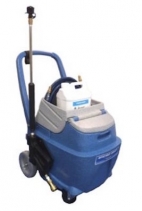 A mobile solution for quickly disinfecting facilities and public areas has been launched to market by specialist cleaning systems innovator, Prochem Europe.
The Micro-Mist is purpose-designed for fast application of disinfecting solutions in a fine mist to interior floors, carpets, upholstery and multiple types of surfaces and touch-points.
more
---
Triforce officially kills SARS-CoV-2 in only three minutes


Triforce is among the very first disinfectants to receive US Environmental Protection Agency approval on a SARS-CoV-2 kill claim.
more
---
The best cleaning processes for post-Lockdown hotels


As much of the world is beginning to open its doors once more, many customers and clients will be wondering how they'll be kept safe from the Coronavirus. While many cleaning procedures in hotels may be largely unchanged, the opportunity to provide hotel guests with greater levels of hygiene is now prime.
more
---
Germinator awarded vendor contract by The Interlocal Purchasing System (TIPS)


A national leader in a fast-growing industry, Germinator Mobile Sanitizing and Disinfecting has announced that it was recently awarded a contract by The Interlocal Purchasing System (TIPS).
more
---
Dubai Mall is first shopping centre to achieve GBAC STAR


The Dubai Mall, one of the largest shopping malls in the world, along with 14 additional facilities around the globe have achieved GBAC STAR Facility Accreditation from the Global Biorisk Advisory Council, a Division of ISSA, the worldwide cleaning industry association.
more
---
Secure sanitation the sustainable way, with TomCat

With the Coronavirus pandemic running rampant we cannot afford to take any chances with our cleaning equipment or processes and TomCat's floor cleaning machines will help cleaning contractors go that extra mile in terms of both hygiene and sustainability, whilst cutting costs.
more
---
Sanitise vehicles by nebulisation at 50 microns


A new accessory available from Santoemma enables the company's dense foam extractors to be used to sanitise vehicle interiors without overwetting, by nebulising a sanitising chemical at 50 microns.
more
---
Marc Wolpers is new vice president sales hygiene at W+D/BICMA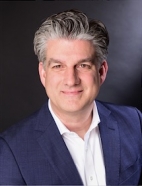 Marc Wolpers has taken over the position of vice president sales hygiene at W+D. Reporting directly to the management, Marc is managing the entire sales department of the W+D Hygiene Solutions division and thus manages both the W+D sales team and sales for BICMA Hygiene Technology in Mayen.
more
---
Bed bugs secure $1.18m investment for UK AI firm


Investors have rewarded the commercial success of Spotta's smart pest systems with a $1.18 million seed funding round.
This investment reflects Spotta's huge potential in global markets in hospitality, farming, forestry and other sectors to solve the £320 bn ($400 bn) problem of insect pests while dramatically reducing pesticide use.
more
---
Splashback, urinals, and the Covid connection


The World Health Organisation reports that Coronavirus can spread in an infected person's urine. Referred to as 'viral shedding', this means that if traces of contaminated urine become aerosolised and inhaled, the disease can infect others in the washroom.
more
---
Partnership produces premium performance rechargeable antimicrobial micrillon micro-denier fibres


UMF Corporation, which researches and develops high-performance products, programs and training for infection prevention and commercial cleaning, has announced its partnership with Universal Fiber Systems, the US manufacturer of synthetic filament-based and specialty fibres.
more
---
---
---
---
---
---
---
---
---
---
This Week's News
---
---
---
---
---
---
The Cleanzine Archive Search
We keep an extensive archive of news stories and product information that have featured in past issues of The Cleanzine. If you would like to run a search of the The Cleanzine web site using the search tool below please just go ahead by entering in the name of the person, product or company or any other key words that you are looking for.
---
How to contact us at The Cleanzine: