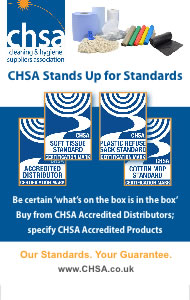 ---

New and updated vacancies are advertised in Cleanzine every week. Check out the latest opportunities by clicking the link above.
Advertise your current vacancy with Cleanzine and we'll give you the best deal in the industry with same day upload so you can fill the position faster.
Contact us for details
---
International News
Products
Berlin cleaning trade fair sets new attendance record


The International Cleaning Trade Fair CMS Berlin 2017 - Cleaning.Management.Services. ended on a bright note. From last Tuesday to Friday, the 23,000 industry representatives from more than 70 countries - including 18,300 trade visitors from every branch of the cleaning sector, were able to network whilst obtaining information about the commercial cleaning products and services on offer.
more
---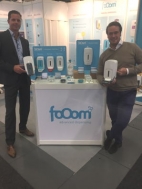 It was the unusual spelling of the Fooom modular dispensing system that first got our attention at last week's CMS. Apparently the Netherlands based company were the inventors of the spray soap and toilet seat cleaner, and Koen van den Braak (left) and his colleague Jeroen (right) were on hand to tell us about their latest innovations.
more
---
"The lightest backpack vacuum in the world"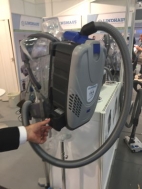 The Lindhaus LB4 L-ion Superleggera Backpack vacuum cleaner is superlight and multifunctional. Designed to be light for ease of use, but without compromise to performance, the LB4 L-ion weighs only 4.9 kg battery included, but offers a 5-stage filtration system and air volume lift of 30 litres/sec.
The electric version weighs only 3.8 kg and provides air volume lift of 52 litres/sec.
more
---
New rapid water test will help fight Legionnaires' disease across EMEA region


IDEXX has announced the launch across Europe, The Middle East and Africa, of Legiolert, a new culture testing method that enables building owners and facilities managers to simplify water testing and reduce the risk posed by Legionnaires' disease.
more
---
Global industrial vacuum cleaner market to reach US$ 729.9mn by 2027


The global industrial vacuum cleaner market is expected to witness a value and volume Compound Annual Growth Rate of 5.3% and 4.5% respectively during the forecast period, with the market anticipated to reach a market value of US$ 729.9mn by the end of 2027.
more
---
Clorox Healthcare helps EvergreenHealth fight infection-causing pathogens


As part of its ongoing commitment to patient safety, EvergreenHealth has partnered with Clorox Healthcare to bring advanced ultraviolet light disinfecting technology to the health system's existing patient safety and infection-fighting protocols.
more
---
iVo Power Brush XL - for hard floor details & stairs


Have trouble cleaning the edges of floors or staircases? You're not alone! These are the main reasons that the iVo Power Brush XL is so much loved. It is a powerful yet lightweight scrubbing tool that can be used for a huge variety of scrubbing tasks.
more
---
Kaivac opens new corporate campus to support major sales growth
Kaivac, developer of the No-Touch Cleaning and OmniFlex cleaning systems, marks a milestone in its corporate history. The company is moving 9th October, 2017, to a new, multi-building corporate campus in Hamilton, Ohio - a move president & CEO Bob Robinson Sr, says was needed because of significant business growth in the past few years in the US, Canada, and overseas.
more
---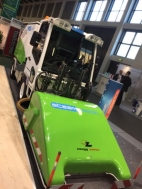 We've seen some fairly big steam cleaning machines in our time, but this one stopped us in our tracks!
Built by Swiss firm Zaugg AG, the company usually makes snow clearing equipment for use on roads, railways and airfields.
more
---


With Granuline a highly effective group of products based on granules has been created that, for the first time, can match the cleaning capabilities of liquid cleaning products. The speed with which the granules are dissolved in water has never previously been achieved by any other manufacturer.
more
---
World premiere for Hako's Scrubmaster B120 R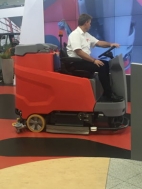 Productive... manoeuvrable... ergonomic... Airports, railway and bus stations, shopping centres... Providing a large area performance, the highly manoeuvrable and flexible Scrubmaster B120 R can be relied upon to carry out all cleaning tasks efficiently in areas with high buildings.
more
---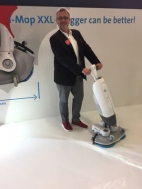 The i-Mop XXL combines the performance of a large machine with the manoeuvrability and flexibility of a floor wiper. This highly effective hybrid can be deployed anywhere.
more
---
---
---
This Week's News
---
---
---
---
---
---
---
---
---
---
---
---
---
---
---
---
The Cleanzine Archive Search
We keep an extensive archive of news stories and product information that have featured in past issues of The Cleanzine. If you would like to run a search of the The Cleanzine web site using the search tool below please just go ahead by entering in the name of the person, product or company or any other key words that you are looking for.
---
How to contact us at The Cleanzine: