Cleanzine: your weekly cleaning and hygiene industry newsletter 30th June 2022 Issue no. 1023
Your industry news - first Number 1 for Recruitment

We strongly recommend viewing Cleanzine full size in your web browser. Click our masthead above to visit our website version.
---
Baby changing in the gents' wc - the time is now - celebrity endorsed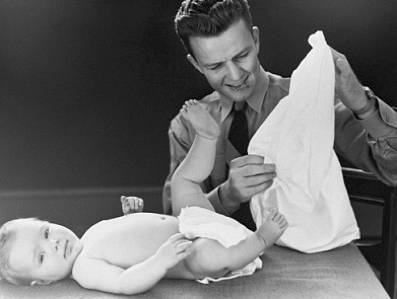 British parents are backing actor Ashton Kutcher's call for more baby changing facilities in mens' public toilets.
Research by a UK-based commercial and domestic cleaning company has found widespread support among both mums and dads for equal facilities in toilets run both by councils and retailers.
ContractCleaning.co.uk says that changing attitudes mean that the job of changing baby's soiled nappies is no longer the sole domain of the mother, and considerate businesses should also be making allowances for single dads and 'unconventional' families.
"Ashton Kutcher may be your idea of a pampered Hollywood star, but he's made a valid real-world point," says Contract Cleaning spokesperson Mark Hall. "And our research shows that it's something that dads and put-upon mums would like to see."
In the wake of Ashton Kutcher's comments, ContractCleaning.co.uk went out and spoke to real mums and dads about baby-changing facilities when out-and-about around town - in shops, restaurants, cafes, libraries, town halls, and - of course - public toilets.
* 98% of mothers said they would like to see equal facilities in both men's and women's toilets
* The other 2% said they wouldn't trust their husband to do a decent job of changing a nappy on their own
* 78% of dads would like to see baby changing equipment in gents' toilets
* 22% said they were opposed to equal facilities
* 52% of dads said they had used disabled toilets to change baby
* 2% of dads said they had sneaked into a ladies' toilet to change a baby's nappy
"The support is definitely there, not to mention the desperate ends some men have to go through to change a nappy," ContractCleaning.co.uk 's Mark Hall says. "Both mums and dads say it's something they need in their everyday lives."
New dad Trevor told ContractCleaning.co.uk: "I'm sick of having to duck into the disabled loos to change Bryony. And when we come out, I get the skunk-eye from the people waiting because I'm clearly able-bodied."
* Mum Cathy said: "It's always my turn when we're out shopping. I spend 10 minutes wrestling with nappies and a changing bag, while he's busy scrolling through Facebook on his phone. Not fair."
Brian, whose two children are now out of nappies told the researchers: "I workshifts, so I have the kids during the day a lot. I had to trek to the one department store in town which had a changing table blokes could use. It was a disaster when they closed."
However, there was also an air of distrust from one mum...
Vanessa, who has a three-month-old called Thomas said: "How do we know they're not there already and he hasn't told me? I wouldn't put it past him - how would I even know without going in to check myself?"
ContractCleaning.co.uk also found opposition to male toilet baby-changing facilities, especially amongst older generation men, who variously commented that nappy-changing was "the woman's job", or "that's the last thing I want to see when I'm using the toilet."
Mark Hall says that's a reflection of outdated attitudes which are slowly and surely dying out in British society. "While some say it's 'women's work', what about single dads? What about two-father families? And of course, what about grandad looking after the little one for the day?
"Britain's family life is as diverse as ever, and that means a need for diverse, equal facilities."
ContractCleaning.co.uk says that some retailers have already bowed to demand, and have baby facilities in both ladies' and gents' toilets. Swedish company Ikea comes in for praise with changing tables in all toilets, "although you're hardly likely to go flat-pack furniture shopping every week, so your mileage may vary," says Mark.
Twice-married Alex said: "The situation's certainly improved since I was a dad 20 years ago. Now there's a few places with changing facilities for blokes, and that's really taken the pressure off."
Mark urges both stores and councils to consider converting gents' washrooms to allow men to care for their children in the same way as women.
"They already know it's cheap, and modern folding changing tables don't take up much space," he argues.
"They should be thinking about families. And families are changing."
ContractCleaning.co.uk is a UK based national company, which offers commercial and domestic cleaning services on a contract basis and aims to help businesses and individuals in the UK save money on their cleaning requirements, by offering an exceptional, unrivalled service. The contractor operates in factories, offices, retail outlets, hotels and retirements homes, and also offers a range of services for landlords in domestic premises.
T: 07841 779 892
E: [email protected]
W: www.contractcleaning.co.uk
19th March 2015
---