Cleanzine: your weekly cleaning and hygiene industry newsletter 16th May 2019 Issue no. 870
Your industry news - first Number 1 for Recruitment

We strongly recommend viewing Cleanzine full size in your web browser. Click our masthead above to visit our website version.
---
Photocatalytic Oxidation provides environmental hygiene decontamination and conditioning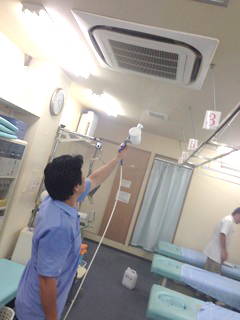 Self-clean Air & Surfaces' Photocatalytic Oxidation (PCO) technology, which is new to the UK, is a valuable tool in the armoury against surface contamination whether solid or fabric. It is currently under review with Doctors Without Frontiers in Norway.
Ideal for environmental hygiene decontamination and conditioning such as for air purification/sanitising, anti-fungal, anti-microbial, anti-virus, water purification/treatment and 'self cleaning surfaces' applications, it works 24/7, 365 days of the year, by using the power of visible light.
It can be applied to any hard or soft surface, including tents, curtains, medical equipment, uniforms, PPE... in fact any surface that can harbour bacteria and virus will be sanitised by totally eliminating the problem - bacteria, virus, mould/fungi & associated odours.
"TiO2 Photocatalytic Oxidation can create healthier and more environmentally friendly spaces for people, property, plants, and animals," says the company. "It's an 'always active prevention and persistent protection application that will constantly assist in maintaining your environment - indoor or out - 24/7, 365 days of the year.
"This technology is not just another run of the mill cleaning or disinfection product, it is a specialist amorphous mineral which can be applied either during manufacture or in situ to any surface, fabric or textile and by utilising the power of light, ambient humidity and air movement - it is an 'always active' protection and persistent guard - designed to keep surfaces free from environmental contamination.
"Easily applied - with little or no disruption to your normal routine, it will ensure that your office/school/building interior, outdoor structure or exterior facade can be protected from airborne bacterial /viral pollutants and environmental contaminants for years to come."
PCO treatments have been clinically proven to completely destroy bacteria, virus & disease such as - Anthrax, Avian Flu H5N8, black mould, Candida, C. Difficile, E. Coli, H1n1, HFMD, Legionnella, Listeria, mould and fungi, MRSA (staph), Ms-2, Mycobacterium Fortiutum, NDM-1, NvN1, SARS, Strep, Salmonella, Vancomycin-resistant Enterrococus (VRE) etc. and the technology can be utilised extensively in the many fields of commerce, industry, education, healthcare, disaster intervention, travel, transport, water supply and storage facilities as well as in many other situations.

Because of the 2-3nm sized particles - which contribute to the technology's increased active surface area, the company's TiO2 has achieved a revolutionary breakthrough - by being many times more sensitive and effective in lower light areas - making it much more potent in doing what it does naturally.
"Environmental contaminations, which are currently growing on a daily basis around the world, are a serious social problem," says the company.
Examples of such contamination are endless, and include Healthcare Acquired Infections, water pollution (caused by agriculture, industrial & household wastes etc.) and air contamination (outdoor and indoor air pollutants such as NOx, SOx and room air contamination caused by mould/fungi and volatile organic compounds).
"The fact is that using existing processes to eliminate these environmental contaminations will almost certainly increase the harmful greenhouse gases," says the company. "However, this situation has lead us to a major dilemma - on how not to rely on pollution-related energy to achieve the anti-pollution goal... The 21st century proposal to the solution is PhotoCatalytic Oxidation (PCO) - No harsh chemicals or large amounts of energy being used, just a naturally occurring process using the power of visible light and normal ambient humidity.
"When any light strikes the TiO2 PCO treated surface, an electro-chemical reaction will be repeated (in milliseconds) in the immediate region that will cause the complete breakdown of all organic toxins, odours and more, meaning there is no residue left to recontaminate the treated surface."
T: +44(0)8445 876165
E: [email protected] selfclean-surfacetreatments.co.uk
W: www.selfclean-surfacetreatments.co.uk
30th October 2014
---