Cleanzine: your weekly cleaning and hygiene industry newsletter 30th June 2022 Issue no. 1023
Your industry news - first Number 1 for Recruitment

We strongly recommend viewing Cleanzine full size in your web browser. Click our masthead above to visit our website version.
---
How a small Bristol business's product is becoming the world's 'first line of defence' against Ebola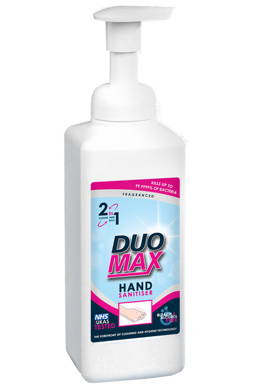 A UK company says its revolutionary product could help stop Ebola becoming a pandemic, by not only killing Ebola, but also by stopping it spreading. This product - DuoMax - is now being requested by a growing number of countries around the world.
It's already being used at Heathrow Airport and now authorities in China and Australia have asked for a consignment of to be sent to them. Dubai has just re-ordered a batch of the product too.
Large quantities of DuoMax hand sanitiser, which is produced by the Bristol-based company DuoMax Hygiene, are now being employed at Heathrow Airport for use by both passengers and airport staff, such is the concern about Ebola being brought into the UK over the coming weeks. Soon, other DuoMax products look set to be used in other key UK transport hubs as part of the fight against Ebola.
Tests recently conducted on DuoMax by Dr Chris Woodall, the renowned authority on pathogens and disinfectants, at BlueTest Laboratories - an independent laboratory accredited by the United Kingdom Accreditation Service (UKAS), confirmed the findings that the product not only kills the disease but also cleans any affected areas effectively.
"DuoMax is very effective at killing bacteria and destroying them internally and it's very good at dismantling viruses and taking them apart and deactivating them by destroying the very core of these things," noted Dr. Woodall.
"DuoMax helps with the rapid removal of bacteria and viruses, killing them, in a lot of cases, within a minute - which exceeds the standards set down for it to be considered as an effective killer of bacteria and viruses. It's actually better than it needs to be at this. And that's why our tests show that it kills the most resistant viruses.
"A lot of similar products that use bleach, chlorine, alcohol or a combination of them can actually corrode the environment they're used in, whereas we found that DuoMax, which doesn't use these, is not toxic to the environment."
DuoMax, which has taken more than 10 years to develop, was created by a man who originally ran an office cleaning business.
Brian Baker, the Founder of DuoMax Hygiene, says: "So many other disinfectants and cleaners used in hospitals, hotels, offices, homes and other such places, use bleach, chlorine or alcohol. This makes them toxic, corrosive and an irritant to skin.
"But DuoMax doesn't use these chemicals. Instead it uses a special non-toxic, non-corrosive and non-irritant blend of ingredients that can be used safely on a variety of surfaces at home and at work, as well as on skin.
"When manufacturers claim they kill 99% or even 99.99% of viruses, it sounds good. But, in reality, it's actually no good at all. This is because you could easily have one million pathogens in a single small area and this means that even 99.99% still leaves 1,000 pathogens there to spread further. Whereas DuoMax is proven to kill 99.9999% of pathogens. In fact, DuoMax is to cleaning products what penicillin was to medicine when it was discovered.
"So, at the very most, this means that with our product you're left with just one pathogen; although the likelihood is that none will be left at all because it completely destroys the virus and also cleans the area it's used in."
Chris Perry, a Director of PerryMac, a supplier of cleaning and disinfectant products for airports, office and many other key locations, says he's using DuoMax rather than other products because: "It's the best product out there and that's why we want it as the first line of defence against Ebola.
"Too many other products, despite their claims, cause viruses and bacteria to mutate, making the problem worse. Not DuoMax. It's probably a 1,000 times more effective than your typical household cleaner and detergent because, as a product, it breaks new ground for two reasons: the way it's constructed and therefore works and also the test data that proves it's the best product of its kind."
Because of the number of independent tests confirming the number of potentially lethal bacteria and viruses DuoMax destroys, increasing types of DuoMax products, ranging from general purpose cleaners and hand soaps to floor & carpet cleaners and washing-up liquids, are being ordered by distributors for use in hotels and business around the UK.
"Having a product that not only disinfects and cleans - because cleaning on its own won't kill the bugs and disinfecting an area won't clean it - is a major advance," added Dr Woodall.
DuoMax is proven to not only kill but also prevent these viruses from spreading:
- Ebola
- Ecoli
- HIV
- Hepatitis C
- Hepatitis B
- MRSA
- Norovirus
- H1N1
- Poliovirus
- Listeria monocytogenes
- Staphylococcus aureus
- Cholerae
- Legionella pneumophila
- Candida albicans
- Staphylococcus aureus
- Pseudomonas aeruginosa
- Escherichia coli
- Enterococcus hirae
- Streptococcus equine
- Aspergillus niger
- Adenovirus
- Clostridium difficile
- Pseudomonas aeruginosa
E: [email protected]
W: www.duo-max.com
23rd October 2014
---