Cleanzine: your weekly cleaning and hygiene industry newsletter 30th June 2022 Issue no. 1023
Your industry news - first Number 1 for Recruitment

We strongly recommend viewing Cleanzine full size in your web browser. Click our masthead above to visit our website version.
---
Improving supply chain communication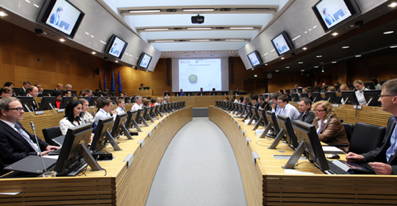 Improving sector use maps as a tool to increase the quality of REACH (Registration, Evaluation, Authorisation and restriction of Chemicals) chemical safety reports and exposure scenarios was one of the main themes of the sixth meeting of the Exchange Network on Exposure Scenarios (ENES) held at ECHA (the European Chemicals Agency) recently.
"The CSR/ES Roadmap was published in July 2013, almost a year ago and progress is being made with products now ready for people to use," says ECHA's Dr Andrew Murray. "The development of sector use maps is one such area of progress."
The use map work aims to help the dialogue between downstream users and registrants. The use maps will help registrants to prepare structured and comprehensive chemical safety assessments as part of their registration dossiers. They also mean that downstream users will receive information in their extended safety data sheets that they can easily recognise and compare with their own situations of use.
Laura Portugal (DUCC), Sophie Mathieu (AISE), Janice Robinson (CEPE) and Irene Ca-as Sierra (Eurometaux) shared their experiences on the development and implementation of use maps.
Laure-Anne Carton de Tournai (ECHA) presented ideas for refining the existing sector use maps: improving their format so that they could be further developed to suit the needs of downstream users and registrants. For example, the addition of information that allows registrants to identify which uses are relevant for which substances.
Another suggestion is to link the more specific inputs for the registrant's exposure assessments to the corresponding task or technical process that contributes to a use, such as the specific environmental release category (SpERC) and the specific consumer exposure determinants (SCEDs).
"With ECHA's experience of looking at the registration dossiers submitted in recent years, as well as the feedback from downstream users on the exposure scenarios they receive, we feel that this is an opportunity to get better quality information for all. This can be done by introducing new and refining existing fields in the sector use map template," says Dr Murray.
ENES will further develop the work and the use map format will be tested with some sector-level supply chains. A refined proposal will be presented at the ENES7 meeting in November. Once the new template is agreed, sector associations should adapt or create use maps by completing the template with specific sector information. Once the new use map format is available, it can be used to prepare registrations for the 2018 deadline as well as for registration updates.
Structured short titles for exposure scenarios
Sylvie Lemoine (DUCC) presented an overview on the work carried out to develop a rule-based approach for the harmonisation of structured short titles for exposure scenarios.
Testing confirms that harmonisation of the short titles is possible but that the low quality of existing exposure scenarios is a practical limitation.
Rules on the lifecycle stage and market information identifiers were finalised with a third optional identifier of either containment or technical process that could also possibly be included.
Guidelines on the rules for the short titles are expected to be published soon. Once they are ready, they can be integrated into IT systems and will help registrants and suppliers prepare their extended safety data sheets. They will also allow downstream users to navigate more easily through the extended safety data sheets and find relevant exposure scenarios.
Developments in the ESCom project
Dook Noij (Dow Benelux) presented the latest on the development of the Exposure Scenario Communication (ESCom) Phrase Catalogue, which collects standard phrases for the communication of exposure scenarios. Supporting this work, Mathias Glockner (SAP AG) gave more detail about the ESCom XML standard - an IT communication standard that harmonises the exchange of exposure scenario data between computer systems in the supply chain.
An updated version of the phrase catalogue is available from Cefic's website.
The catalogue is also being further cleaned to make sure that the standard phrases can be mapped more easily, ready for a new version at the end of 2014.
Illustrative example of exposure scenarios
The templates for exposure scenarios (from ECHA Guidance and Chesar) have been expanded to include additional explanations on what the fields are, what information the templates supply, and some examples.
"The examples are there so that people who prepare exposure scenarios can see what information from the CSR is relevant and the recommended format. The templates will help those receiving exposure scenarios to understand the information they get and pick out the key parts," Dr Murray emphasises.
An update on specific consumer exposure determinants (SCEDs)
The SCED guidance and templates were published on 25th April for sectors to use.
The updated SCED guidance helps to improve the information that registrants can use in their assessment for consumer exposure. Industry is strongly urged to follow up on this and continue to involve registrants and downstream users in its progress.
Communication is key

Fesil Mushtaq (ECHA) introduced some new tools to help registrants and downstream users to communicate throughout the supply chain: an interactive map for downstream users to help them find online information; an update of the mixture classification pages on ECHA's website (June); and the launch of an interactive safety data sheet eGuide (July).
"We are interested to know if there are more ways that we can help sectors to fulfil their roles," explains Dr Murray. "We would also like to know how companies use the information from ENES within their organisations."
Feedback

"The ENES6 meeting provided an excellent update on the progress of the actions endorsed in the CSR/ES Roadmap," says Thomas Wolf, L'Oreal. "From a downstream user's standpoint, the roadmap is an essential element in the implementation of the REACH Regulation. For instance, it aims to provide downstream users with more realistic exposure scenarios and improve the compilation, communication and use of extended safety data sheets.
"The development of sector group extended use maps can genuinely be seen as an effective communication tool in the supply chain. For downstream users, it contributes to communicating upwards, in the supply chain, site-specific operational conditions and risk management measures that will subsequently need to be taken into consideration by registrants in their chemical safety reports. However, the communication of volume per use is seen as more problematic because of the sensitive nature of this information."
The next ENES meeting is due to be held in November. Until then, in the context of enforcement, efforts should be made to enable more clarity on the demonstration of downstream user compliance, particularly with reference to the environmental contributing scenarios. Downstream users really do need easy-to-use scaling tools and guidance documents to be made available, as soon as possible."
Renske Beetstra, Dutch Inspectorate SZW, says, "For enforcing authorities it is very important to keep up with the developments. Although industry is, and should be, leading in finding the most appropriate way to implement REACH, we will form an opinion about it in our inspections. ENES offers a platform to achieve this in a rather informal way. When necessary, we can discuss the developed approaches before they are widely used.
"We try to contribute to ENES by pointing out the overlap with workplace legislation that is sometimes forgotten when people concentrate on REACH. Furthermore, it should be reminded that ENES is a community of very active companies and sector organisations. In our inspections, we also see companies with less knowledge of REACH and we share these experiences too."
A look forward to ENES 7
There are two major expectations for the upcoming ENES event in November. The first of these is to refine the sector use maps. "We want to publish them and then promote their use," expresses Dr Murray.
The second area will concern mixtures. "We want to agree a framework for mixtures, with supporting guidelines that can be published after ENES7," Dr Murray concludes.
The next meeting of ENES will take place on 18th and 19th November in Brussels.
26th June 2014
---