A picture paints a thousand words… or does it?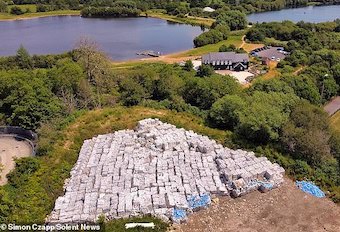 If you're based in the UK, you're probably already aware of this since it's been on the TV news as well as splashed all over our national newspapers, but if you're one of Cleanzine's tens of thousands of overseas readers here's a picture of what earlier this week was thought to be a huge pile of sub-standard, Covid-related Personal Protective Equipment that had been flytipped at a beauty spot in the Hampshire countryside.
My first thought upon seeing it, was: "Well at least it's unused and not contaminated with bodily fluids and strewn about the countryside or streets, or floating around in our rivers, lakes and oceans," but that's not really the point, is it? I had to find out more…
Local council and Environment Agency investigators have since learned that the PPE was surplus to requirements and was simply being stored, (itemised and palleted) on the land – a caravan park - waiting to be turned into plastic bags or similar. So all perfectly legitimate then, (in this case, although the terms of the site's licence were being contravened).
I'm pleased that a use has been found for this unwanted PPE but am still concerned that very little seems to be being done to find out why so much taxpayers' money was spent on the stuff globally, why so many orders went unfulfilled, why so much of what was delivered was substandard and why there was such a shortage of it when it was needed, yet so much of it is turning up in odd places now? All the right noises are, as usual, being made, but with them, very little progress as far as I can see…