Cleanzine: your weekly cleaning and hygiene industry newsletter 7th December 2023 Issue no. 1092
Your industry news - first
The original and best - for over 20 years!

We strongly recommend viewing Cleanzine full size in your web browser. Click our masthead above to visit our website version.
---
New Greenpeace report calls out toxic hazards of recycled plastic as Global Plastics Treaty negotiations resume in Paris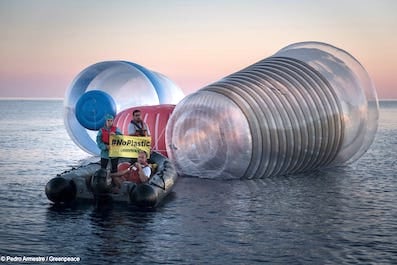 A report published yesterday by Greenpeace USA provides a catalogue of peer-reviewed research and international studies concluding that recycling actually increases the toxicity of plastics.
It highlights the threat that recycled plastics pose to the health of consumers, frontline communities, and workers in the recycling sector.
Along with previous research showing that very little plastic reaches recycling facilities in the first place - less than 9% globally, according to the United Nations Environmental Programme (UNEP) - the report concludes that the Global Plastics Treaty negotiations in Paris (May 29th to June 2nd) must focus on capping and then phasing down plastic production.
The report, Forever Toxic: The science of health threats from plastic recycling, notes that, according to UNEP, plastics contain more than 13,000 chemicals, with more than 3,200 of them known to be hazardous to human health. Moreover, many of the other chemicals in plastics have never been assessed and may also be toxic.
Recycled plastics often contain higher levels of chemicals that can poison people and contaminate communities, including toxic flame retardants, benzene and other carcinogens, environmental pollutants like brominated and chlorinated dioxins, and numerous endocrine disruptors that can cause changes to the body's natural hormone levels.
"The plastics industry - including fossil fuel, petrochemical and consumer goods companies - continues to put forward plastic recycling as the solution to the plastic pollution crisis," says Graham Forbes, Global Plastics Campaign lead at Greenpeace USA. "But this report shows that the toxicity of plastic actually increases with recycling. Plastics have no place in a circular economy and it's clear that the only real solution to ending plastic pollution is to massively reduce plastic production."
At the Paris meetings, formally known as the second Intergovernmental Negotiating Committee (INC) meeting for the Global Plastics Treaty, the Greenpeace global network is advocating for an ambitious, legally binding agreement that accelerates a just transition away from a dependence on plastic materials and establishes global controls to regulate toxic chemicals in plastics.
In the lead up to the negotiations, over 100 scientists and civil society groups issued a letter urging the United Nations to prevent the fossil fuel industry from undermining the negotiations. Nearly 30 celebrities including Jason Momoa, Jane Fonda and Alec Baldwin wrote a letter calling on the Biden Administration to support a legally binding treaty that caps plastic production.
Plastic production, disposal, and incineration facilities are most often located in low-income, marginalised communities across the world, which suffer from higher rates of cancer, lung disease and adverse birth outcomes associated with their exposure to the toxic chemicals.
The Treaty should generate opportunities for workers to leave polluting and toxic industries for healthier jobs in a reuse-based economy.
Jo Banner of The Descendants Project, based in the Mississippi River region of Louisiana, says: "Plastics production is inconsistent with healthy, thriving communities, and this report shows that plastics recycling only perpetuates those harms. My region is now known as 'Cancer Alley' for the extreme risks of cancer and death due to pollution from plastic producing industries.
"We are calling on world leaders to negotiate a global plastics treaty that ends plastic production, protects communities like ours and supports a just transition for workers across the plastics supply chain."
The report highlights three 'poisonous pathways' for recycled plastic material to accumulate toxic chemicals:
• Direct contamination from toxic chemicals in virgin plastic: When plastics are made with toxic chemicals and then recycled, the toxic chemicals can transfer into the recycled plastics.
• Leaching of toxic substances into plastic waste: Numerous studies show that plastics can absorb contaminants through direct contact and through the absorption of volatile compounds. When plastics are tainted by toxins in the waste stream and the environment and are then recycled, they produce recycled plastics that contain a stew of toxic chemicals. For example, plastic containers for pesticides, cleaning solvents, and other toxic chemicals that enter the recycling chain can result in contamination of recycled plastic.
• New toxic chemicals created by the recycling process: When plastics are heated in the recycling process, this can generate new toxic chemicals that make their way into the recycled plastics. For example, brominated dioxins are created when plastics containing brominated flame retardants are recycled, and a stabilizer used in plastic recycling can degrade to a highly toxic substance found in recycled plastics. Sorting challenges and the presence of certain packaging components in sorted materials can also lead to toxicity in recycled plastic. Studies have shown that benzene (a carcinogen) can be created by mechanical recycling of PET#1 plastic, even with very low rates of contamination by PVC#3 plastic, resulting in the cancer-causing chemical being found in recycled plastics.
Dr Therese Karlsson, science advisor with the International Pollutants Elimination Network (IPEN), warns: "Plastics are made with toxic chemicals, and these chemicals don't simply go away when plastics are recycled. The science clearly shows that plastic recycling is a toxic endeavour with threats to our health and the environment all along the recycling stream.
"Simply put, plastic poisons the circular economy and our bodies, and pollutes air, water and food. We should not recycle plastics that contain toxic chemicals. Real solutions to the plastics crisis will require global controls on chemicals in plastics and significant reductions in plastic production."
The devastating impacts of the escalating overproduction of plastic heightens the need to accelerate refill and reuse-based systems - but not with expanded plastic recycling efforts. In addition to the health concerns associated with the use of recycled plastics, the report notes that increased plastic recycling means expanding toxic health and environmental threats throughout the recycling stream, threats that unequally impact the most vulnerable communities.
At the Paris talks, Greenpeace is advocating for a seven-point plan that the Global Plastics Treaty should:
* Achieve immediate, significant reductions in plastic production, establishing a pathway to end virgin plastic production.
* Promote a shift to refill and reuse-based economies, creating jobs and standards in new reuse industries and supporting established zero-waste practices.
* Support a just transition for workers across the plastics supply chain, prioritising waste pickers who collect approximately 60% of all plastic that is collected for recycling globally.
* Promote non-combustion technologies for plastic waste stockpiles and waste disposal.
* Institute the 'polluter pays' principle for plastic waste management and for addressing the health and environmental costs throughout the plastics life cycle.
* Significantly improve regulation, oversight, safety and worker protections for existing recycling facilities.
* Require transparency about chemicals in plastics and eliminate all toxic additives and chemicals used in the plastics life cycle.
25th May 2023
---