Monarchist or republican, lover of a Royal family, abolitionist or somewhere in between, you have to admit that the British always stage a jolly good pageant – even in the pouring rain! With almost 30million TV viewers in the UK and US and coverage on other TV stations throughout much of the globe, the world's eyes were focused on London last weekend for the coronation of Charles III and there was plenty to celebrate even for those who don't support the idea of a monarchy. I loved the sheer diversity of the event, the mix of different cultures, national costumes and creeds – not just for the main event but also for the concert the following evening. I'd not planned to watch that bit but am so glad I did. When we all work together we can achieve great things, can't we?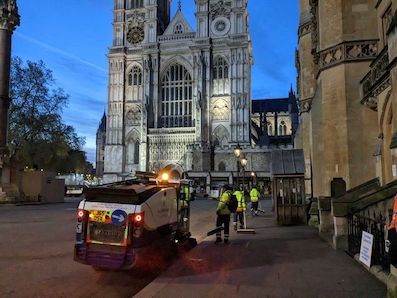 But onto the cleaning: I'm sure I wasn't the only one cringing at the sight of the horse mess being dumped by the four-legged members of the parade… wondering about its effect on those following… Does it flick up onto the riders' faces or uniforms or their horses? And what about what appeared to be rectangular patches of sand all over the place? To cover the horse mess or a last-minute attempt at reducing the impact of potholes on the incredible precision of those on parade, moving as one? I discovered after the event that this was a proven way of easing the path of the horses and ancient ceremonial carriages – particularly over the grates and on the bends. Clever idea! Still lots for the cleaning teams and volunteers to deal with though, (as if they didn't have enough to do already).
As I've said here before, I took my girls, aged seven, to Diana's funeral – not because I was a particular fan but because I wanted them to be a part of history. The streets were clean and remained so throughout, with everyone – well on Parliament Square opposite the Abbey, anyway – taking whatever rubbish they had, away with them when they left. What on earth has happened to us? According to the report further down the page on the coronation clean-up, more than 39 tonnes of additional recycling and refuse was collected from the area surrounding the much shorter route. Yes - 39 tonnes! And this was on top of the 650 tonnes collected on an average weekend. I'm dismayed… Well done to everyone involved – either paid or voluntary - in cleaning up other people's mess that shouldn't have been left there in the first place!
Something else well worthy of mention this week is Principle Cleaning's announcement. My goodness, that warmed the cockles of my heart! See more, below…