As a journalist I often find some pretty random press releases in my inbox & while many of those that don't pertain to the cleaning industry quickly find their way into the bin, others clearly deserve a scan through and occasionally will reveal a gem…
This week I learned that Generation Logistics is an industry-led, Government-backed initiative to increase industry awareness and find the next generation of logistics sector talent – of which there's currently a worrying shortage, just as there is in cleaning. Working with companies and trade associations across that sector, the campaign challenges perceptions and demonstrates the breadth and diversity of the career opportunities available – hopefully addressing the ongoing skills shortages while attracting more diverse talent into roles that will be created in future; perhaps because of the advent of AI. Cleverly, it's taking its 'Vacancies Available. Potential Unlimited' message direct to its target audiences, using poster sites at bus shelters, shopping centres and other high footfall areas in cities with high student populations. A QR code on every poster links to the campaign's website, where people can find information about the industry, as well as learn more about and apply for, specific jobs listed on sponsors' pages.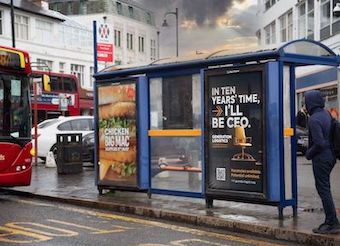 As the campaign's Phil Roe speaks, you could almost replace the word 'logistics' with 'cleaning', couldn't you?: "As an industry, logistics has long been in the background, an unseen facilitator of every facet of our daily lives. The workforce of tomorrow is within our sector's reach, but we need to challenge preconceptions about our industry and what it can offer potential employees. We need to make sure that logistics is a career choice spoken of in the same breath as law, medicine, retail and manufacturing."
The campaign's already changed perceptions of the sector, creating more than two million engagements to date from those inspired to find out more and our industry has all the tools in place to run a similar campaign. We have the industry Lead Body, the Trade Associations, some Government support and feet on the ground. But even better, we clean the bus shelters, shopping centres and other high footfall areas in cities all over. Often, we clean the student accommodation itself - and the public toilets too. So we might not have to pay to display our posters and share our message about the great welcome, career prospects and financial reward our industry offers. I think we should take a leaf out of the logistics sector's book and give it a try. We have very little to lose and a lot to gain by engaging with those who are, effectively, captive audiences, don't you agree?