Cleanzine: your weekly cleaning and hygiene industry newsletter 21st September 2023 Issue no. 1081
Your industry news - first
The original and best - for over 20 years!

We strongly recommend viewing Cleanzine full size in your web browser. Click our masthead above to visit our website version.
---
Nanobubbles reduce surfactants by 50% at California Water Resource Recovery Facility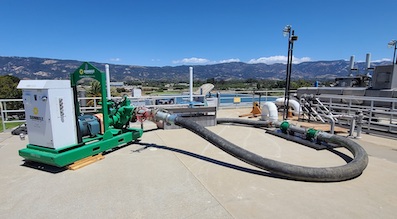 by Andrew Dugan, PE, founder of WaterWrites…
A new process using injected nanobubbles has reduced surfactants by 50%, along with odour, at a California Water Resource Recovery Facility, while also reducing the need for chemicals.
Goleta Sanitation District's (GSD) Water Resource Recovery Facility (WRRF) serves 95,000 residents near Santa Barbara, California. The WRRF's capacity is 9.5 MGD (million gallons per day) dry weather flow, treating 4.2 MGD on average. Since the 1940s, GSD has evolved to meet regulations, population and economic growth.
Like most WRRFs, GSD navigates the operational upsets that soaps, detergents, and disinfectants create for biological wastewater treatment. When Covid-19 arrived, the district faced the perfect storm of reduced influent flow and higher concentrations of surfactants, such as quaternary ammonia compounds (QAC), from pandemic-conscious households. While the district's industrial program addressed surfactants, it needed an onsite solution to address this indirect source.
The pandemic wasn't GSD's first encounter with surfactants harming their treatment process.
"Our issue with surfactants started in 2016, at the peak of the last major drought," says John Crisman, then GSD's operations manager. Slugs of surfactants from local industry led to costly operational expenses and risked permit violations. Fortunately, offering Best Management Practices to these dischargers addressed the WRRF's problems. The plant returned to typical operations.
Surfactants inhibit biological treatment through a combination of decreased oxygen transfer and toxicity to microorganisms. During the pandemic, detergent and soap use skyrocketed, while the community tried to conserve water in drought-stricken California. Unfortunately, no 'bolt-on' treatment methods addressed surfactants directly. With impending changes to their discharge permit, GSD began considering a multi-million dollar plant upgrade to manage the issue.
As neighboring communities made the news for treatment violations caused by pandemic surfactant levels, John fortunately read a TPO article about how Moleaer's nanobubbles-as-a-service solved Fallbrook Public Utility District's (PUD) surfactant problem.
High surfactant levels made operating Fallbrook PUD's 2 MGD treatment plant ineffective and expensive. After installing Moleaer's nanobubble (NB) generator, operations staff noted that QAC concentrations dropped 78% and Chemical Oxygen Demand (COD) dropped 61% below previous primary clarifier effluent levels.
"Reading about the specific actions that Moleaer took to remove surfactants from wastewater, and that it was chemical-free, met all the objectives Goleta would strive for regarding energy and chemical use reduction," says John.
Due to their size, NBs have unique characteristics that produce hydroxyl radicals, a strong oxidant. Hydroxyl radicals dissolve FOG (Fat, Oils & Grease) and surfactants, improving wastewater quality without chemical addition. NBs slowly deliver dissolved oxygen to their environment, eliminating anaerobic conditions that cause process upsets, degrade treatment, and generate odour and corrosive compounds like hydrogen sulfide.
In May 2022, GSD installed a Moleaer six-inch, 2,700 GPM NB generator (NBG 6) between the WRRF's fine screens and primary clarifiers. "We decided the biggest benefits would come from treating in the front of the plant, to see the effects throughout the process," explains John. GSD ran a three-month pilot to see the full effects on their process. The pilot required a rental pump, Moleaer's NBG 6 system, and 30 minutes of maintenance monthly.
Over the three-month trial, GSD's wastewater quality parameters improved. The NBs broke up raw wastewater emulsions, providing a better compacting sludge blanket and clearer supernatant. Lab results confirmed observations: there was a 10% increase in primary clarifier TSS removal. GSD's staff observed that foam-a sign of surfactants- subsided in the equalisation basins and the primary clarifiers. "Following that, we saw a reduction in demand for blower air," says John.
Downstream at the aeration basins, this new-found wastewater quality continued to deliver. The Oxygen Uptake and Transfer Rates improved as lower surfactant levels led to stronger bacteria. Efficient oxygen dissolution and happier 'bugs' led to a 43% reduction in aeration demand and $32,000 in annual savings.
Before the NB pilot, GSD implemented a bioaugmentation program to maintain the plant's biology while facing high surfactant levels. After adding Moleaer's NBG, the district dropped the program, saving $44,000.
The reduction of surfactants and organics brought a 44% reduction in chlorine demand during disinfection, saving GSD $15,000 in annual chemical costs.
"Greater removal from the primary clarifiers precipitated savings. Chemical and energy use fell as a direct result of restoring oxygen transfer efficiency, reducing loading, and removing surfactant-induced environmental stress," boasts John.
Moleaer's pilot resulted in a 40% removal of total QACs, 54% of total nonionic surfactants, and 51% of total anionic surfactants from GSD's raw influent. After witnessing the NBG 6's effects on treatment, GSD decided to enroll in Moleaer's nanobubbles-as-a-service program, leaving generator maintenance and upgrades to the manufacturer. GSD's total predicted savings are $87,000 per year, considering permanent installation costs .
GSD can now access innovations that surfactants made impossible.
"GSD is saving money, but that's only one aspect of how nanobubbles changed things," John explains. "The plant's stabler and increased its organic capacity, offsetting capital expenses, and GSD can entertain technologies like ammonia-based aeration control, for further energy savings. They wouldn't consider upgrades like this operating in less stable conditions."
New technologies continue to reshape wastewater treatment. Pretreatment with NBs enabled GSD WRRF to change the direction of its capital and operational expenses to a previously unthinkable degree. Direct surfactant removal intensified the facility and balanced wastewater quality while reducing chemical addition.
"I love that we're not bringing chemicals onsite, and nothing is hauled away," John adds. Academics and industry are still exploring NB generator applications at treatment plants, meaning this is only the beginning for the technology".
Moleae is a leading nanobubble technology company with over 2,000 nanobubble generator installations in 42+ countries. Deploying the unique power of nanobubbles, Moleaer enhances and improves the performance and productivity of some of the most critical industrial processes, unlocking the power of water to help farmers grow more food, empower businesses to manage their water needs more effectively and efficiently, and restore aquatic ecosystems sustainably without chemicals.
Nanobubbles, which are 2,500 times smaller than a grain of salt, allow the scarce resource of water to do more with less. They supersaturate water with oxygen, form natural oxidants for disinfection, improve plant health, and increase water's ability to permeate soil and rock.
Moleaer's patented nanobubble technology provides what is said to be the highest oxygen transfer rate in the aeration and gas infusion industry, with an efficiency of more than 85% per foot of water. Its nanobubble generators are a cost-effective, chemical-free solution proven to increase sustainable food production, reduce chemical usage, restore aquatic ecosystems, and improve natural resource recovery. Its technology has been validated by extensive research and renowned universities.
11th May 2023
---