There are two important events in London this week, of interest to those of us involved in the cleaning, hygiene and waste disposal industry. The first is The Cleaning Show at London's ExCel - and if you haven't yet visited, are in the vicinity & have some spare time today, we can certainly recommend you come along as there's so much to see and today's the last day you'll be able to see it.
The other is the launch of London's first WasteShark, (just ahead of Global Recycling Day on 18th March) a short swim down the River Thames from us at Canary Wharf's Middle Dock. Launched by Aqua Libra in partnership with the Canary Wharf Group, the aptly-named WasteShark is a marine robot designed to snap up plastic waste from our waterways and make sure that the plastic collected is recycled and reused. It can 'swim' up to 5Km and collect up to 500Kg of plastic waste (equivalent to 22,700 plastic bottles) a day, along with microplastics and other pollutants, while also collecting data about the quality of the water.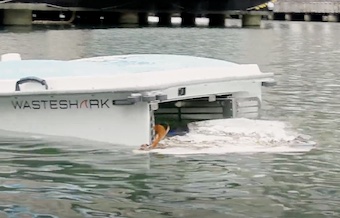 Created by RanMarine Technology, it produces no carbon, noise or light pollution and poses no threat to wildlife. What a great idea and you can see it in action at: https://www.youtube.com/watch?v=so91LHV4jRk&t=31s
Committed to tackling plastic waste and developing technology aimed at providing healthier and more sustainable ways to buy and consume beverages, Aqua Libra launched its Flavour Tap last year. This serves still, sparkling and flavoured water, providing a sustainable option for workplaces, hospitality and retail, eliminating the need for single use plastics. Another good idea!
I write this having just returned from Metsä Tissue's UK Sustainability Awards 2023, held on the iconic Cutty Sark tea clipper which is now moored at Greenwich. What a night it's been! Bearing in mind that the idea of launching a Sustainability Awards program was only first mooted at the back end of May last year, I was blown away by what the team at Metsä have managed to achieve in such a short time and I'm looking forward to seeing this program grow and grow. More about the event, along with details of the winners, is below.