I can't get my head around the idea that despite 88% of us knowing that flushing wet wipes down the toilet is wrong, 22% of us confess to flushing them anyway! Is it a case of: 'Well, just one won't cause harm, surely?' not realising that if everyone else thinks that way, we have a huge, collective problem? The 'Bin the Wipe' campaign launched this week by Water UK aims to change our behaviour. Having seen first-hand the damage careless flushing can cause, and being aware of the bathroom manufacturing industry's drive to create water-saving products, (which means that often, less of what we're attempting to flush away, is dealt with efficiently) I hope it's a success (you can read more about it below). This picture, courtesy of New York-based
https://www.flushwash.org
shows a less congealed version of the fatberg featured further down the page, but as you can imagine, both types can cause havoc whether they end up dispersing into our waterways or simply blocking up the pipework. Wet wipes are the biggest cause of pipe-blocking fatbergs, with 75% of blockages due to flushed wet wipes. Just imagine the 300,000 sewer blockages a year in the UK, which cost £100 million to clear, on a global level!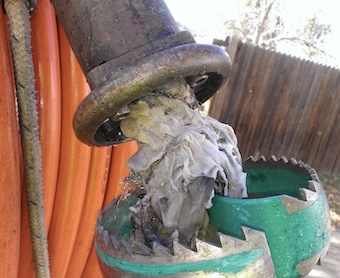 I feel that for 'Bin the Wipe' to have maximum impact, we also need to talk about the 'deadly duo' – the lethal mix of fats/oils and wet wipes, with the fats/oils melding the wipes together with other debris until what could have been a minor blockage becomes a major one. So many of us are taught to wash greasy dishes and pans with very hot, soapy water, but we're not taught to consider how quickly the soap is rendered useless and the water becomes icy cold so everything congeals once it moves into the drains. This needs to change.
Do you think that we as an industry have a part to play in educating people about taking care when disposing of fats and oils, and should perhaps warn that even if the wet wipe box says the contents can be flushed, it should be ignored? Are our kitchen cleaning specialists educating clients on best practice and insisting that fat traps are used whenever possible? Can we do more, to get the message across, do you think?