Cleanzine: your weekly cleaning and hygiene industry newsletter 7th December 2023 Issue no. 1092
Your industry news - first
The original and best - for over 20 years!

We strongly recommend viewing Cleanzine full size in your web browser. Click our masthead above to visit our website version.
---
Scam warning issued as criminals defraud £thousands from businesses purchasing shipping containers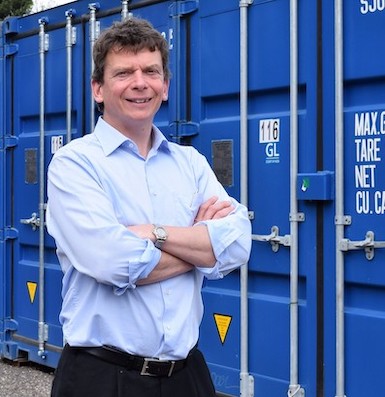 Valued at $8.7 billion and projected to reach $12.08 billion by 2027, the global shipping container industry has become a central component of the world economy. It isn't just global shipping, however. Containers are increasingly being used for secure storage, converted into offices, data centre housing, R&D labs and electric battery storage and testing centres.
A growing market and the increasing cost of steel pushing up the price of containers, has seen opportunistic scam artists target the unsuspecting public offering knock down or slightly lower cost containers that never materialise.
In the UK with scammers defrauding an average of £1,750 per container and the frequency of scams occurring on a nearly daily basis, S Jones Containers, one of the oldest and most well-respected container companies, has joined with Action Fraud to issue a nationwide warning about the ongoing scam.
Speaking about the issue, Sarah Green, sales manager at S Jones Containers, says: "Over the last six months, we've been experiencing an increasing number of calls from people who believe they've have bought a container from S Jones, only to find out there's no record of them on our system and they've been scammed out of thousands of pounds.
"It goes without saying that scams, including container scams, have been around for years, however these particular scammers are fraudulently using our company branding, staff photos, logos and even dummy email addresses to create invoices that, at first glance, look legitimate. Unfortunately, many people are seeing the reputable S Jones name on the invoice and falling for the scam.
"Not only are customers being scammed, but members of our sales team have been inundated with calls from upset customers with complaints. We then have to break the bad news that they are the victim of fraud. It's a very frustrating situation for all parties, and we want to spread the word on how people can avoid these container scammers.
"We advise people to be very cautious when making payments, and do as many background checks as they can before sending any money. Scammers are taking advantage of people using platforms like Facebook Marketplace and Gumtree, and advertising containers for around £1,750. This might seem like a large amount of money to an unsuspecting buyer, however it is way under the current market price for a container.
"For anyone unsure whether they are being scammed please visit our website. We've created a list of scammer 'warning signs' that you can use to check the sale is legitimate."
Helen, from Scunthorpe, whose 47-year-old family engineering business was targeted by container scammers says: "We needed an open-sided container to be used as a paint shop for engineering parts. My dad, who founded the business in 1975, found one on Facebook Marketplace.
"The invoice and communication we received, all purportedly being from S Jones Containers, seemed professional and legitimate, no different to what we receive from countless engineering firms daily. It was only when reviewing the invoice ready for payment that my mum noticed that it was a personal Monzo bank account that we were being asked to make payment to. We then researched further and found the contact details on the invoice didn't match the ones on the S Jones Containers website. A call to S Jones Containers quickly revealed that we had narrowly avoided being scammed out of just under £3,500 - not a small sum for any small or medium sized family business.
"My mum and dad have run their business for close to 50 years, if they can come this close to being scammed it's no wonder that other people are being duped. My advice for anyone who finds themselves in a similar situation is - if in doubt phone the company directly and always check and double check payment details, avoiding private bank transfers wherever possible.
"Organisations like Facebook, Gumtree and Monzo should be doing more to prevent criminals from using their platforms in this way."
To help an unsuspecting public avoid being scammed Andrew Jones, managing director of S Jones Containers, has compiled an eight-step guide to ensuring a container order is genuine.
1. Are they who they say they are?
It's becoming increasingly common for scammers to use an existing company's name, or very similar sounding one, stealing logos and identities to make themselves seem official. Some will even go so far as to provide a spoof quote, adding their own contact details which invariably stop working once payment has been made. The way they do this is to copy a quote they have had from a genuine supplier and then corrupt the contact details to their own.
Check a number of key sources to ensure the contact details you are offered are genuine. When trying to impersonate an existing business scam artists will use what may, at first glance, seem to be the correct email domain names e.g. @s.jonescontainers.co.uk, or @sjonescontainer.co.uk instead of the legitimate @sjonescontainers.co.uk. Cross check phone numbers on genuine company web sites (again, check the domain name is correct). For organisations that you were not previously aware of, search Companies House and review their filing history. If they are a genuine company they will have filed accounts and other key documents.
2. Are they using a third-party sales site?
Container scammers will often make use of websites such as Gumtree, Amazon, eBay and Facebook Marketplace to advertise fictional containers. A detailed look at seller profiles will often identify red flags, such as suspect reviews and limited background details. Do they have an official company website and if so are the contact details on that site the same as the selling page? You must contact the company selling the containers directly to ensure you are not looking at a hoax product listing.
3. Are they asking the right questions?
Shipping containers by their nature are big, bulky and worth some consideration when it comes to transport. If the seller is only interested in securing your card details, it's a sure-fire sign of a scam.
However, we are now finding that some scammers have done their homework. They will have made enquiries to genuine companies in order to learn what questions to ask and what areas to cover, like delivery issues, or container uses. Do not rely on what feels like a real conversation alone to be sure you are dealing with a real company.
4. Always Contact the company directly
Similarly to bank scams, containers scammers will often try to isolate their victims taking them away from official communication channels. Going straight to the company's official website for telephone numbers, contact forms and email addresses, rather than clicking links in email chains is the best way of counteracting this. Fortunately, the UK container industry is relatively small and close knit, so if you do come across an organisation that you're not quite sure of, speaking directly to an established supplier will soon reveal whether a company is fake or not.
Also, we are quite a friendly group and no company will be upset if you just want to phone and check. It is better to be safe than sorry.
5. Is the price too good to be true?
Container prices are determined by global manufacturing trends and complex logistic requirements. Whilst prices in the market place are always changing, if it seems too good to be true and is way below other quotations that's often because it is. What can seem like an absolute steal of a deal, or even just a bit cheaper than quotes obtained directly, could turn out to be a complete waste of thousands of pounds when the container you have paid for never arrives.
6. Check their general online presence
Bear in mind that scams can be sophisticated, so just because the company has a good-looking website might not mean they are legitimate. Do they have a wider and convincing presence on business social media sites, such as LinkedIn, Facebook and Twitter? Do they have reviews? No reviews, or all perfect 5-star reviews within a couple of days can be a warning sign.
7. Report a Scam
Attempted scams can be flagged via sites like Action Fraud. Whilst not an official crime report, it does mean the police are more aware of fraudulent activity. You should also report crimes in order to obtain a crime number and allow the police to catch the perpetrators.
8. Professional transparency
To help further combat scams we've created a new webpage Doing Business With S Jones Containers, which includes an up-to-date list of all of our account managers. Ordering directly through an established company's website or telephone line is without doubt the best way to avoid a scam.
Scammers are a plague on many industries and unfortunately the container industry is no different. While scam artists will never be eradicated completely, at S Jones Containers we want to do all that we can to help businesses, organisations and the general public to avoid being scammed.
Action Fraud is encouraging anyone who has been the subject of container scam to report it to them onlinequoting reference number NFRC220104987522.
Action Fraud is also highlighting the following three tips from its Take Five to Stop Fraud campaign to help people avoid becoming victims of container fraud:
- Stop: Taking a moment to stop and think before parting with your money or information could keep you safe.
- Challenge: Could it be fake? It's okay to reject, refuse or ignore any requests. Only criminals will try to rush or panic you.
- Protect: If you think you've been a victim of fraud, contact your bank immediately and report it to Action Fraud online at actionfraud.police.uk or by calling 0300 123 2040.
14th April 2022
---