Cleanzine: your weekly cleaning and hygiene industry newsletter 30th November 2023 Issue no. 1091
Your industry news - first
The original and best - for over 20 years!

We strongly recommend viewing Cleanzine full size in your web browser. Click our masthead above to visit our website version.
---
The smart cleaning tools every kitchen needs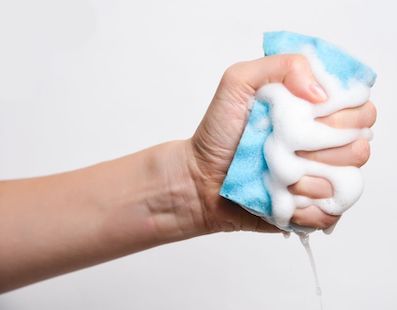 by Kimberley Cherrington, Microban International
Kitchen utensils and surfaces are exposed to microorganisms from many sources, including raw meat, contaminated packaging and unwashed hands.
It's therefore common sense to maintain regular and thorough cleaning practices in and around the kitchen environment. But what if cleaning tools themselves are acting as vectors of contamination?
Kimberley Cherrington, International Marketing Manager of Microban, discusses how we are now more aware than ever before of the importance of maintaining a clean kitchen, and how products enhanced with antimicrobial technology are delivering added peace of mind where it's needed most.
Most people recognise the importance of maintaining ' and the dangers of neglecting - strict hygiene practices in the kitchen. Restaurants and caf's must strive to take precautions during food preparation to ensure it is safe to eat, as the consequences of a hygiene breach could be devastating for the business. Yet not enough attention is given to the background of microorganisms that reside in the kitchen, and the potential dangers they pose to contaminating food and kitchen equipment. Worryingly, the many little niches of a kitchen provide a perfect breeding ground for microorganisms, where they can thrive and multiply into large numbers.1 This is made possible not only because of the favourable conditions - namely, moist areas with the availability of required nutrients - but also the constant contamination of microbes from people and food residues.1,2
Too many cooks in the kitchen
Research has shown that the kitchen harbours more microbes than any other facilities, including the public washrooms.3 Toilets are thought to be unsanitary but, because they are frequently and routinely cleaned, they remain relatively dry when not in use, and they contain mostly hard surfaces - including the toilet bowl and seat - they have been shown to contain less bacteria compared to kitchens.3
The high ratio of microbes inhabiting the kitchen is often due to the contribution of kitchen sponges which contain the biggest reservoirs of bacteria.2 For such a common cleaning tool, little thought is given to its varied microbiome, and the impact this could have on kitchen cleanliness. Sponges live in this rich environment full of contaminates, not only from raw food, but also from moist areas that are replete with bacteria.4 The material of a sponge itself can provide the perfect environment for many microorganisms, which can survive for hours or days, and find their way onto a multitude of products and surfaces.2,4 One study showed that Gram-negative rods were highly associated with wet areas around the kitchen sink - the surface, plughole, draining boards and washing up area - while Gram-positive cocci were predominantly found in cloths, sponges and tea towels.5
These startling revelations are not even significantly improved through proper sponge sanitation methods. Boiling or microwave treatment has been shown to reduce the bacterial load of kitchen sponges, but by no more than 60 %.2 This leaves the bacteria that survive with the ability to recolonise, and soon reach the abundant levels found pre-treatment.2
The build-up of microbes is partly the reason behind the repugnant odours and stains commonly associated with kitchen sponges. The perfect environment for microbial proliferation results in rapid colonisation, leaving a degraded, stained and foul-smelling cleaning tool. Of course, a widely accepted solution is to frequently change kitchen sponges - on a weekly basis has been suggested2 - but little is known concerning the time it takes for the microbiome within a sponge to develop, and to reach significant levels. It's quite evident though, that the faster the microbial build up, the quicker these visible issues emerge, leading to premature disposal and increased wastage. The problem then extends beyond a single kitchen, and the cumulative waste across millions of kitchens is a cause of real environmental concern.
Inspired cleaning products for long-lasting protection
Another more innovative and environmentally friendly solution is to incorporate antimicrobial product protection into the cleaning tools from the start. Combined with routine cleaning practices and sanitation methods, this can provide a more robust and comprehensive solution, forming part of a wider strategy to keep a kitchen truly clean. EGL Homecare has collaborated with Microban International to develop a portfolio of products - including sponges, non-scratch cleaning pads, and heavy-duty microfibre cloths and cleaning pads - with integrated antimicrobial product protection. The built-in Microban technology doesn't replace the need for routine sanitation procedures, but it provides a complementary tactic in the fight against degrading microbial growth.
This isn't a new concept for EGL Homecare, and the company has employed Microban technology in its range for over 10 years. However, in light of the pandemic, customers have become more aware of the widespread presence of microorganisms in public areas. There is now a stronger desire to keep facilities as hygienically clean as possible, with business owners doing everything in their power to limit the growth and spread of microbes. Until recent events, business owners have relied on keeping their facilities clean through regular cleaning practices but, with cleanliness in the spotlight like never before, there is more motivation to search for supplemental preventative measures.
Comprehensive kitchen cleanliness
Microban technology is incorporated into treated EGL products at the stage of manufacture, delivering around the clock antimicrobial protection that will not be diminished by soaps, harsh cleaning chemicals or general wear and tear. The cleaning equipment is more hygienic to use for its expected lifetime, and less likely to succumb to stains and foul-smelling odours caused by microbial growth. Microban technology also helps to minimise the risk of cross-contamination from the cleaning tools to other surfaces in the kitchen.
Proper hygiene protocols need to consider every possible vector and microbial reservoir to reduce the chance of contamination. Built-in antimicrobial product protection in sponges can make up for the limited residual activity offered by traditional disinfectants, helping prevent the growth of microbes for the lifetime of the product. The technologies discussed in this article help to complement a regular cleaning schedule to provide this multi-modal, holistic approach, and deliver greater peace of mind for consumers.
References
1. Beumer RR, Kusumaningrum H. Kitchen hygiene in daily life. Int. Biodeterior. 2003;51;4:299-302. https://doi.org/10.1016/S0964-8305(03)00041-6
2. Cardinale M, Kaiser D, Lueders T, et al. Microbiome analysis and confocal microscopy of used kitchen sponges reveal massive colonization by Acinetobacter, Moraxella and Chryseobacterium species. Sci Rep 7. 2017;5791. https://doi.org/10.1038/s41598-017-06055-9
3. Ojima M, Toshima Y, Koya E, et al. Hygiene measures considering actual distributions of microorganisms in Japanese households. J. Appl. Microbiol. 2002;93:800-809. https://doi.org/10.1046/j.1365-2672.2002.01746.x
4. Wolde T, Bacha K. Microbiological Safety of Kitchen Sponges Used in Food Establishments. Int. J. Food Sci. 2016. Article ID 1659784. https://doi.org/10.1155/2016/1659784
5. Speirs JP, Anderton A, Anderson JG. A study of the microbial content of the domestic kitchen. Int. J. Environ. 1995;5;2:109-122. https://doi.org/10.1080/09603129509356839
25th November 2021
---