I'm not usually one to support Britain's Prime Minister Boris Johnson, (well, not unless he's lobbing waste thrown from people's cars, back in through the open window as he cycles past, anyway!) but his comments this week about the recycling of plastic not being the answer to the plastic pollution problem certainly deserve support rather than the slating they've had from mainstream media. With the amount of plastics waste that's washing up on the world's shores and polluting our oceans and rivers, we really need to make some changes – and fast. While collecting it for repurposing is making a difference, we need to stop producing the stuff in the first place since unlike other products we recycle, plastics degrade in the process so don't have an infinite life. If the stuff becomes scarcer and plastics products become more expensive as a result, people might start to take care of what they have, rather than discard and buy new. What's happened to the age-old art of mending something, or finding another use for it rather than throwing it in the recycling bin?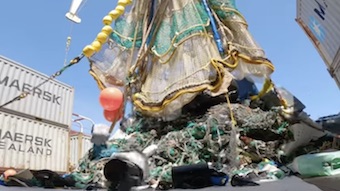 I wrote about the Ocean Cleanup project in Cleanzine ages ago (pre-pandemic?) and am delighted to see how well it's operating. Congratulations to all involved! There's a short video at https://www.youtube.com/watch?v=-Tt88hdVCpo which will show you how it all works and although I felt I was fully aware of the amount of waste polluting our seas, I was horrified at what I saw – and a little ashamed, too. I can't believe the number of laundry baskets that came out of the net as these have so many uses apart from for laundry. Advertise one on Freebay or Facebook Marketplace and it will become another's treasure – and as someone whose pond is graced with a broken laundry basket, (retrieved from a skip) full of waterlily plants, I know what I'm talking about.
Next week over three days from Tuesday, The Cleaning Show takes place at London's ExCel. I for one am really looking forward to catching up with industry friends and colleagues again. It's been a long time coming!