Brighton's always one of the places tourists make a point of visiting when they come to England and it's the 'go to' seaside town for many of us within striking distance when we want a day out, thanks to its eclectic mix of shops, bars and eateries – as well as the fresh sea air of course! In recent weeks though it's been off the agenda, thanks to a battle between Brighton & Hove City Council and some of its cleaning teams, which thankfully now appears to have been resolved with a pay increase and changes to shifts and rounds.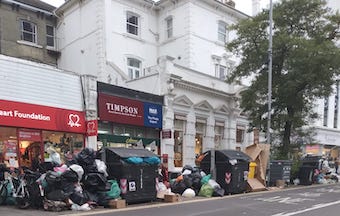 The dispute led to a strike that saw bin bags and recycling piled up along the streets, as our pictures, sent in by resident Lisa Baker, show. "Rubbish is everywhere – every few steps. Rats soon!" she said. "We have big black bins here so you can deposit whenever you like, plus glass recycling banks, but they're all so full that we have no choice but to dump everything. The refuse collectors should be paid what they're asking for. The 'green' Council spent £ millions widening pavements which are causing more traffic congestion and therefore pollution, but won't properly compensate the workers the City clearly needs".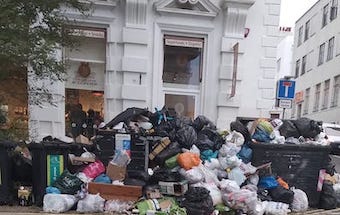 I couldn't agree more! What's happened to priorities? I've always maintained that if our cleaning teams down tools, we're all in trouble. And nothing paints the picture more vividly ' or holds a council to ransom more effectively - than a strike by refuse collectors!
Because of equal pay laws, others employed by the Council on the same grade, can potentially claim the same increases despite doing far easier jobs, which I don't feel is fair. I'm encouraged that the Council's planning to rewrite the refuse workers' job descriptions in an attempt to prevent this from happening and I really hope it works - refuse collectors and cleaners ought to be paid danger money as far as I'm concerned! If it doesn't work, the estimated £2.5m added to the Council's wage bill will mean cuts to services ' many of which are considered vital' which is something I can't say of its pavement widening scheme!