We've been broadcasting Cleanzine for almost 20 years and over that time I've made many trips to various local hospitals as well as those in London, accompanying friends and family who've needed support. Naturally I've used these visits to learn as much as I can about the cleaning and I've often shared my findings with you. I recently spent a week in Epsom Hospital myself, having sat around in the emergency department (which also housed a busy 'out of hours' GP surgery) for several hours over every one of the three days/nights prior to admission, awaiting consultations, tests and feedback. When I say 'busy', it was often standing room only and it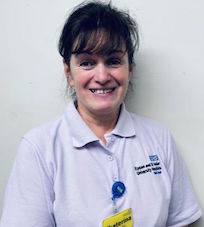 was in this environment that the cleaning teams had to go about their work.
Whilst waiting to be called for assessment, those bored with scrolling through their phones would look at anything that moved. Hence the focus on cleaner Ecaterina Rus who was so involved in her work that she didn't realise the impressive performance she was staging. Never in all my years have I observed a cleaner working with such gusto and I probably wasn't the only one hoping for similar enthusiasm and precision from everyone involved in whatever healthcare we were about to receive! I asked to see her badge so I could commend her to her managers. Chris Ford, deputy head of site services at Epsom & St Helier University Hospitals NHS Trust, told me Ecaterina has worked at the hospital for several years. "We're pleased and thankful that one of our cleaning staff has received this recognition, which is testimonial to our values," he said. "We'll definitely be praising Ecaterina for her excellent work".
I'm told that until recently, Mitie held the contract at Epsom so it deserves high praise too for its work in training the cleaning teams now transferred to the Trust under TUPE regulations. Although it was only heresay I understand that everything was brought back in-house as the Trust felt it could improve on the catering side while cutting costs. And I'm not suggesting that this is the case in this particular instance, but I've been musing since, on how many contracts are lost because contractors are sometimes trying to cover too many bases rather than focussing on what they do best, which was the very argument made by those advocating 'contracting out' when the idea was first mooted...