These days when we read about airlines it's normally because they've suddenly hiked the fares for travellers whose holiday destination of choice has just had its Covid status upped to Red, meaning they're desperate to get home before quarantine regulations come into force and will pay extortionate rates to do so. As I'm bored with reading this kind of news, I almost missed the announcement that EasyJet has introduced new cabin crew and pilot uniforms made from recycled plastic bottles. Wow!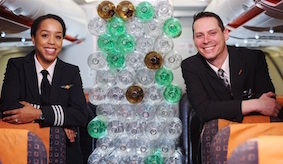 Manufactured by Northern-Ireland based Tailored Image and created with high-tech material, each new uniform will incorporate 45 bottles, preventing 2,700,000 plastic bottles from ending up as plastic waste each year. Not only does the fabric reduce plastic waste, but it's made using renewable energy sources and has a 75% lower carbon footprint than traditional polyester. First trialled last year for suitability in the cabin and flight deck environments and compared to the non-recycled alternative, the new fabric's more abrasion-resistant. It also provides more elasticity and a four-way stretch, improving fit and freedom of movement for enhanced comfort and durability. This development can lead to it being long-lasting for the wearer, reducing the need for more uniform items to be produced in the long term. Beyond the new fabric, plastic has also been replaced in all clothing-related packaging in favour of recyclable and biodegradable materials: replacing plastic collar stays with recyclable cardboard ones, plastic shirt clips with metal shirt clips, non-recyclable white coated card with recyclable cardboard card and polypropylene outer shirt covers with biodegradable shirt covers.
The airline has already replaced many items with more sustainable alternatives, such as introducing a small plant-based bowl as a teabag holder, removing over 27 million individual items of plastic from its inflight retail operation in Financial Year 2020, and has never offered plastic straws. It also offers a 50p discount on hot drinks for customers who bring their reusable cup.
Although Easyjet's always been known as a budget airline, these moves - and particularly the new uniforms, make it a premium airline in my eyes.
And although we're not flying anywhere, John Austen and I are off on our Summer break after today. Our next issue will be broadcast on 2nd September. If you're going away, do stay safe and healthy, won't you?