Cleaning's a tough job at the best of times but finding yourself running a cleaning company during a pandemic must have been something of a minefield - and it's not getting any easier, is it? As predicted, there are serious supply chain issues and these are becoming worse. In the UK, we're having to deal with the disastrous 'track & trace' system which 'pings' your phone if you've been in contact with someone who's tested positive for Covid via a dodgy testing system that often achieves false positive results. The 'pinged' are instructed to isolate for the 10 days following contact with the person who's tested positive.
This system, (understandably dubbed the 'pingdemic') is causing enormous problems by suddenly decimating the workforce - hence the worsening supply chain issues. And with workplaces starting to fill again and cleaning teams needing to regularly service these facilities, (which are demanding more thorough cleaning to prevent the spread of infection) logistically it's becoming a nightmare for those organising the service provision.
During lockdown we all knew where we stood and could plan ahead... Just imagine a cleaning crew collected via mini-bus from various pick-up points and taken to the job. One's pinged and the rest have to isolate for 10 days. How do you deal with that? Last week part of the London Underground was shut down when a control room worker tested positive and some lines are closing early because of staff shortages, preventing cleaners who rely on the service from getting to and from work. Can it get any worse? I daresay it will...
If that's not soul-destroying enough, imagine finding that someone's stolen a vehicle and parts from your yard overnight? Thank goodness for CCTV in RAMS FM's case and let's hope the culprit's caught before he manages to offload his booty!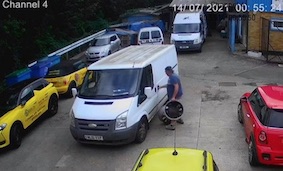 The Summer Olympics officially opens tomorrow and I'm sure I'm not the only one who recalls the Noravirus outbreak at the Winter Olympics in South Korea in 2018, which swept through the athletes' village. I do hope that the cleaning regimes in place in Tokyo will keep everyone safe, since the outcome, if they don't, is likely to be a lot worse this time around.