Why does it take a disaster to highlight the great work our cleaning teams do?
I try not to keep mentioning how the pandemic has done more to raise the profile of the cleaning industry than anything else in my lifetime - I've been doing it for almost 18 months - but it's still a joy to see how cleaners are now mentioned in roll calls of key workers.
The vital role they play has again been highlighted by pictures of the aftermath of Sunday's Euro 2021 final at Wembley, as ours, featured in the Evening Standard, shows. Almost 30 tonnes of rubbish was left strewn around London's streets for the cleaning teams to deal with, but by daybreak on Monday, most of it had been spirited away and the streets had been cleaned, or were in the process of being cleaned. Reading about it all made me wonder what goes through the cleaners' minds while they're working... Anger? Despair? Resignation? Delight at the money an extra few hours working overnight will bring? I'd love to know!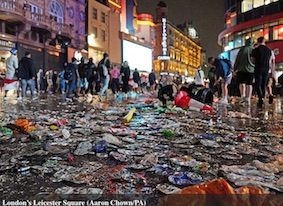 I've been in large crowds leaving a full-to-capacity stadium after a gig but we're all packed so tightly as we shuffle to the nearest underground station that it would be impossible to get to a bin even if we could see one. I've never dropped rubbish for someone else to clean up though. In the early days of Cleanzine almost 20 years ago I was calling for better education for children, regarding litter. The generation being born at that stage has become adult. Have things improved? It doesn't look like it...
Many thanks to those of you who've come forward with environmentally-friendly cleaning and recycling products for me to test when I take up my 10-day role as Waste & Recycling Manager on 24th July. If you missed my request, it's at www.facebook.com - I'm particularly keen to see how biodegradeable bin bags work in what I'm told is likely to be wild weather so if you have a product you're proud of, do please get in touch!