If you've read a fair few of the 976 Leaders I've written since Cleanzine launched, you'll be aware that I refer to myself as being 'part of the cleaning industry' rather than as a journalist writing about it. However, although I became a qualified cleaner more than two decades ago, I've never actually done any professional cleaning. All that's about to change… In a couple of weeks I'm off to the wilds of coastal Pembrokeshire, Wales, to camp on farmland with about 100 others, for 10 days. And - thanks to my 'special skills', I've been given the role of waste & recycling manager!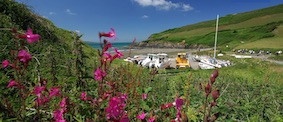 While I'm excited about being part of 'the crew', this is an important role which I'm taking seriously, particularly as our group – a national choir, helps draw attention to the beauty of our land and our need to take care of it. We're the ones who, dressed in red, lead the singing within Stonehenge at the Winter and Summer Solstice – well – pre-lockdown, anyway. I'm going to have to give a talk, which I'm happy doing, but what I'm unsure of is how much of everything we'll need, in terms of waste receptacles for the many different types of recyleables there will be, and which are the best to use. If it's this difficult to work out for 100 people, what must it be like for those holding this role on a larger scale, such as for a local authority? I suppose the benefit of hindsight (along with complaints!) helps with fine-tuning, but as this is new ground for me I'm keen to get things as perfect as I possibly can, so I'd be delighted to receive any input or advice you might have, which could help me avoid making mistakes.
I'll also be involved in the general cleaning in the kitchen area, shower block and traditional toilets as well as in the compost loos, so if you have confidence in your products and you'd like our cleaning team to test them for you, I'll be happy to review them in Cleanzine after the event, be they cleaning chemicals (preferably eco-friendly), biodegradeable binbags, collapsible waste receptacles, cloths, gloves, signage etc. I'm always receiving press releases about how good your products are, but the chance to try them out doesn't come very often, so I reckon this is too important an opportunity to miss. Just let me know!