I'd known for many years that being in the cleaning industry had changed me but I hadn't realised by quite how much until this week, when I found myself discussing with a random stranger on Facebook, the important considerations to be made when bulk-buying toilet rolls. She knew her stuff and generally we were in agreement, but I threw her by suggesting that all her calculations were worthless unless her supplier's claims about the number of sheets per toilet roll were true. This was something she'd never considered; she'd felt she was protected by Trading Standards against false advertising and admitted that she'd never thought of counting the sheets. Until recently, I'd never counted them either, but extra-large cores and a greater than normal amount of 'give' in rolls from a new supplier (her supplier) had me suspicious. I shared on the thread my calculations showing how many rolls-worth I was paying for but not actually getting, with each of the 36 rolls running 16 sheets short.
For some time now my family's been having boxes of 100% recycled, chlorine-free, smaller sheeted toilet roll delivered to our doors, (this started long before the shortages at the start of the pandemic!) having been sold on the idea that by buying rolls that are less wasteful and which aren't wrapped in plastic, we're doing a bit extra for the planet. The individual rolls are brightly wrapped in paper and while they're not the most luxurious, they do the job.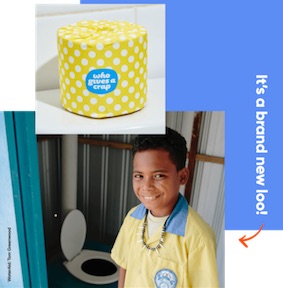 What I really love though is that the Australian company, 'Who gives a crap', donates 50% of its profits to help build toilets and improve sanitation in the developing world. Concerned that the tissue was made in China though, and not realising back then that Who gives a crap's shipping operation is carbon neutral, I was tempted by an advert from a British manufacturer that doesn't use plastic either. I won't be ordering again and will be telling the management team that it needs to rectify its advertising claims.
The Facebook discussions brought home to me just how important a role, the procurement of cleaning and hygiene supplies for businesses, actually is. The wrong decision, when buying in bulk across multiple facilities, rather than for one's family, can make a huge difference to the bottom line, can't it?