Something I try to get across to companies that don't feel the need to include a graphic with their press releases, or on their websites, is that the phrase first coined 100 years ago: 'a picture paints 1,000 words', still holds true. A graphic of some sort also draws the eye to the story or page, so is definitely always worth incorporating.
This is partly why I feel that the one image we'll all recall from this year's G7 Summit - currently being hosted by the UK in the lovely seaside town of St Ives - is this one, which has been beamed around the world. The Mount Rushmore-style sculpture of the G7 leaders (British PM Boris Johnson, US president Joe Biden, Japanese PM Yoshihide Suga, French president Emmanuel Macron, Italian PM Mario Draghi, Canadian PM Justin Trudeau and German chancellor Angela Merkel) on the beach opposite the leaders' hotel, is made entirely from discarded keyboards, computer monitors, circuit boards and other electronic waste. And if it doesn't draw attention to the issues created by discarded e-waste, then I don't know what will.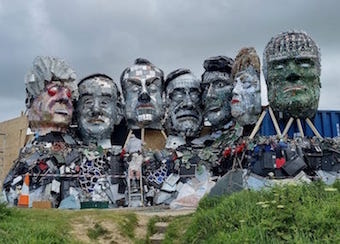 Around 53 million tonnes of e-waste was generated globally in 2019 - over nine million tonnes more than five years earlier, and is set to more than double by 2050, according to the UN. Landfilled e-waste can leak harmful chemicals into soil and water; if incinerated it releases damaging, chemical-laden fumes into the air. Further, e-products rely heavily on mined, rare materials, to operate.
To highlight the issue, Steve Oliver, CEO of musicMagpie, commissioned artist Joe Rush to create the sculpture. Says Steve: "Hopefully we're going to make them realise they're all together in this waste business. The key message is 'let's sort this mess out'," while Joe adds: "It needs to be repairable or made to last longer." I couldn't agree more and am delighted that the EU's 'right to repair' legislation, which covers electrical goods such as fridges and TVs, has finally been introduced. This type of legislation now needs to be expanded globally and the brainwashing (via advertising) that we 'need' the latest style, (when what we already have is perfectly adequate) needs to stop.