An article I read in the New York Times this week, reminded me just how far the cleaning industry has come over recent decades, in terms of both the science and the methodology. Headed: 'Send in the Bugs. The Michelangelos need cleaning', it describes how scientists and restorers have unleashed grime-eating bacteria on the artist's masterpiece marbles, which records show, started to discolour centuries ago. One major eyesore came courtesy of Alessandro de' Medici, who, having been entombed without being properly eviscerated, had seeped into Michelangelo's marble, creating deep stains and button-shaped deformations.
While recent restorations removed most of the blemishes, some of the grime couldn't be shifted, so restorers and scientists 'unleashed microbes with good taste and an enormous appetite on the marbles, intentionally turning the chapel into a bacterial smorgasbord' (I love that!).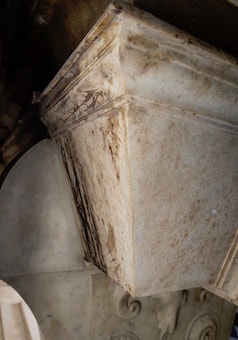 Italy's National Research Council used infrared spectroscopy to reveal calcite, silicate and other more organic remnants on sculptures and tombs and the Italian National Agency for New Technologies chose the most appropriate bacteria from a collection of nearly 1,000 strains, usually used to break down petroleum in oil spills or reduce the toxicity of heavy metals. Making the correct choice was crucial, since, while some of the bugs eat the phosphates and proteins that were causing a lot of the staining, they also eat Carrara marble itself, so would have created further damage. Following spot tests, Pseudomonas stutzeri CONC11, a bacterium isolated from the waste of a tannery near Naples; Rhodococcus sp. ZCONT, another strain which came from soil contaminated with diesel in Caserta; and Serratia ficaria SH7, were used, along with micro-gel packs of xanthan gum, a stabiliser often found in toothpaste and cosmetics, which is derived from the Xanthomonas campestris bacteria. Each was applied where required to deal with the type of soiling that needed to be treated.
The article was written in a way that made all this seem like new technology, but of course we in the cleaning industry are familiar with such processes and many of us have been using them for years. I'm hoping that those who read the article will see that cleaning products and processes really are scientifically-based and that those who don't know what they're doing, can sometimes inflict irreversible damage.