Cleanzine: your weekly cleaning and hygiene industry newsletter 21st September 2023 Issue no. 1081
Your industry news - first
The original and best - for over 20 years!

We strongly recommend viewing Cleanzine full size in your web browser. Click our masthead above to visit our website version.
---
Phs Aeramax air purifiers proven to eliminate coronavirus surrogate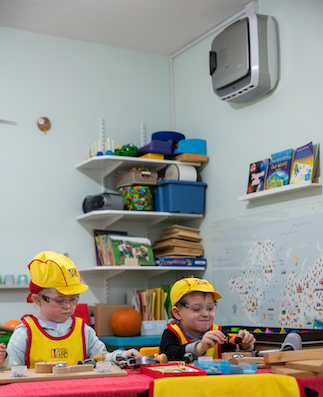 For months, the Centers for Disease Control & Prevention, the American Society of Heating, Refrigerating & Air-Conditioning Engineers and 'healthy building' scientific advocates, have recommended portable air cleaners using HEPA filtration for protection against Covid-19.
However, Fellowes, the manufacturer of Aeramax, wanted to put this to the test. As it is not yet possible or ethically responsible for labs to aerosolise Sars-CoV-2 for airborne testing in a large test chamber environment, (the Coronavirus which causes Covid-19) researchers were tasked with using a valid surrogate virus.
The results proved that Aeramax captures 99.99% of Coronavirus particles and is the strongest indicator yet that it is also likely to be effective against Covid-19.
Aeramax air purifiers work by cleaning the air in indoor environments, physically removing impurities using four-stage HEPA filters. They also reduce allergens such as dust, pollen and VOCs as well as odours, exposure to VOCs and tackle the rising problem of indoor air pollution. In Aeramax trials in nursery settings, air quality was found to be as much as seven times cleaner with reports of a reduction in illness and sick days.
The devices also provide a real-time display of the air quality and machine performance for building users.
Much of the discussion around returning to workplaces has so far been in relation to keeping surfaces clean, but just weeks ago, new research from the US found that the risk of contracting Coronavirus from touching a contaminated surface is low. Updated guidelines from the Centers for Disease Control (CDC) states that the chances are less than 1 in 10,000. The findings will put pressure on organisations to shift their focus to ensure indoor air quality standards.
Paul Linden, a professor of fluid mechanics at Cambridge University says: "A lot of the focus to date has been on the transmission of physical touch; combated through regular handwashing and cleaning; and droplets which are expelled when an infected person breathes, talks or coughs. What we're not talking about enough is the smaller infected droplets and particles which remain airborne once breathed out and about what happens to them.
These smaller, infected airborne droplets and particles, known as aerosols, enter the air simply by being breathed out and are not contained by masks. Growing evidence indicates infected aerosols can linger in the air for up to hours at a time and provide a viable route for Covid-19 transmission.
"There is even a risk that, depending on the ventilation system, these aerosols may be spread around a building exposing more people to coronavirus and increasing the risk of infection."
Aeramax forms part of the newly-launched Covid bundle from hygiene services provider phs, alongside a comprehensive range of products to create a robust line of defence against Coronavirus, supporting businesses and public sector organisations to reopen premises safely.
Other products in the phs Covid bundle include the Biozone UV air purification system which is scientifically proven to kill Covid-19 alongside other viruses and bacteria in less than one second. The range also includes contactless hand-sanitiser dispensers, HEPA-filter hand dryers, non-touch automatic sanitary bins, Safe Touch door handles, as well as a supply of antibacterial wipes and cleaning products. Customers of the Covid-bundle will receive a Covid-secure plaque to display, demonstrating the precautions being taken to open safely; helping to reassure building users and boost confidence when they return.
Paul Doble, chief commercial officer of phs, comments: "The power of air purifiers is really quite incredible but there is also a real lack of awareness of them. Having the ability to remove viruses and diseases from indoor environments has become more important than ever before as people are starting to return to business.
"Scientific researchers have proven that Aeramax air purifiers are effective against day-to-day viruses and infections such as colds and flu but also eliminate 99.99% of Coronavirus surrogate. Used as part of a package of hygiene measures including hand washing, sanitisation and cleaning, air purifiers create a safer, cleaner environment for all building users - from schools, care homes and retailers to the hospitality industry and workplaces.
"Not only will this help organisations open up their premises with confidence, it will also help future proof against day-to-day illnesses and the risk of future outbreaks."
John Fellowes, fourth-generation CEO of Fellowes Brands, comments: "We understand people are seeking the best solution to accomplish their short-term goals of fighting the Coronavirus and their longer-term vision to provide their employees and customers cleaner air.
"Our investment in these tests was to ensure we can offer our clients the reassurance that Fellowes Aeramax Pro air purifiers are indeed effective in removing forms of Coronavirus from indoor air.
"Our company is proud to be of service to many businesses, schools, professional arenas and stadiums and the fragile healthcare population's reopening stories. While we've been providing health and wellness solutions to workplaces for years, our air purification business is among our most meaningful commitments to workplace health ever in our history."
Image: Little Sparrows nursery in London
Notes on testing:
- Aeramax Pro air purifiers were demonstrated to be effective in reducing aerosolized airborne concentration of coronavirus surrogate (Coronavirus 229E) in a test chamber, reaching 99.99% airborne reduction when tested one hour after operation
- It is not yet possible for labs to aerosolize Sars-CoV-2 for airborne testing; it is not ethical or possible in the current climate
- Researchers stat that, typically, single-strand RNA envelope viruses are used as a surrogate for Sars-CoV-2 to study the antiviral effect of a specific device
- Coronavirus 229E was used as a surrogate as its particles are a similar size to Sars-CoV-2, with similar characteristics; both enveloped, positive-sense single-stranded RNA virus
- Testing was conducted in an independent, accredited and verified facility in Shanghai (WEIPU)
27th May 2021
---