I've always been one who'll find a use for something that no longer serves its original purpose, rather than just dump it, and I encourage others to do the same. I often think though, how much better things might have been, had the original item not been produced in the first place.
It's disgraceful how less than half of the UK's waste plastic is actually recycled, with thousands of tonnes being incinerated locally or sent to landfill and some 3.5 Olympic swimming pools-worth every day, shipped overseas for others to deal with – an ideal illustration of the term to 'sweep something under the carpet'. Turkey receives 38% of it; Malaysia takes a lot too, and although legislation says it must be recycled, a new Greenpeace investigation has found more evidence of it being just dumped or burnt in the open air – a hazard to health and the environment. If this waste can't be recycled, we're clearly producing too much of it!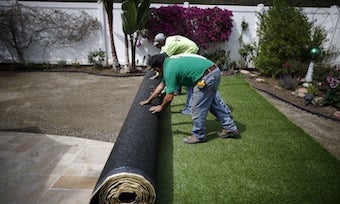 Now I have no idea whether the two are linked but in the Western world there's a huge rise in the practice of replacing real lawns with plastic grass. Dozens of specialist firms now market fake grass and the global market, valued at $2.5bn (£2bn) in 2016, is forecast to show a staggering rise to $5.8bn by 2023. Surely this flies in the face of just about every environmental concern going! As Paul Hetherington from the charity Buglife, says: "It blocks access to the soil beneath for burrowing insects, such as solitary bees, and the ground above for soil dwellers such as worms, which will be starved of food beneath it. It provides food for absolutely no living creatures."
I blistered my feet on some that had got overly hot (so generally it's not good in hot countries then) but as you might imagine, I'm concerned that it needs cleaning, too, (think water, chemicals, equipment/batteries needing to be charged, fuel for transport for cleaning teams etc). At some stage, it will need replacing, too - potentially via landfill. There's a petition at:
petition.parliament.uk/ aiming to get the stuff banned and I hope there's similar in other countries too, so you can help raise awareness of the damaging impact fake grass will have on our planet and everything inhabiting it.
Photo courtesy of Lucy Nicholson/Reuters.