Cleanzine: your weekly cleaning and hygiene industry newsletter 23rd November 2023 Issue no. 1090
Your industry news - first
The original and best - for over 20 years!

We strongly recommend viewing Cleanzine full size in your web browser. Click our masthead above to visit our website version.
---
One day left to vote in the 2021 Cintas Custodian of the Year contest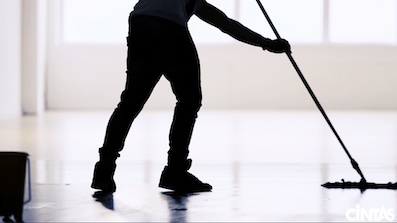 Voting for the 2021 Custodian of the Year contest hosted by Cintas Corporation closes on Friday, 16th April. The top 10 finalists include a diverse group of committed school custodians and the lucky winner will receive a $10,000 cash prize along with $5,000 in products and services for his or her school from Cintas and Rubbermaid Commercial Products.
The winner's school will receive a comprehensive training and development package from ISSA, valued at $20,000.
The school will also receive enrollment in the GBAC Fundamentals Online Course that teaches cleaning professionals to prepare for, respond to and recover from biohazards in the workplace from the Global Biorisk Advisory Council (GBAC), a Division of ISSA.
The remaining nine finalists will each receive a cash prize of $1,000 and free tuition to one ISSA Cleaning Management Institute (CMI) training event, valued at $1,500.
The top 10 finalists in the 2021 Custodian of the Year contest include:
1. Christopher Bowman - Bellflower Elementary School (Mentor, Ohio)
Bellflower Elementary considers its custodian Christopher Bowman a true blessing. He approaches his cleaning and repair tasks with the utmost care. He's always one step ahead with his solutions to problems and keeps detailed schedules and checklists for himself and team members to ensure the school is in excellent condition. The first one to arrive and always the last one to leave, he is reliable, trustworthy and hardworking - representing all of the qualities of a true everyday hero.
2. Bobbi Sue Burbey - Wrightstown High School (Wrightstown, Wisc.)
Bobbi Sue is more than just a custodian to the students at Wrightstown High School. To some, she's a saving grace. She once saved a student by performing the Heimlich manoeuvre. Aside from being on top of the school's cleanliness, Bobbi Sue assumes the duties of counsellor, friend and mother to students and staff. She even temporarily opened her home to students in unfortunate living situations to ensure they had a safe space to return to once they left school. Whether she's volunteering to hand out free lunches to accommodate students during the pandemic or baking delicious desserts for the staff, she always shows up with a smile.
3. Robert Buster - Westview Elementary School (Northglenn, Colo.)
Robert Buster is known as the heart and soul of the school who brings joy to everyone. He often dons various costumes, including Papa Smurf, Santa Claus, Zero the Hero, and the school Mascot, Westie, to bring smiles to students and staff. From shaving his head and beard when students reached their fundraising goal in support of Westview's secretary's ill husband to doing arts and crafts with students with emotional needs, Robert takes pride in providing for the school and community. When he's not giving 100% to keep Westview clean and running smoothly, he's hosting family movie nights, coordinating toy drives for Toys for Tots, showing movies to all grades during Friday lunches, decorating for each holiday and being a reliable and strong role model for Westview students.
4. Francesco (Franco) Catalano - F.E. Peacock Middle School (Itasca, Ill.)
Referred to as the 'face' of Peacock Middle School, Francesco puts his whole heart into his job. He's a conscientious and diligent custodian whose dedication and hard work makes him an invaluable asset to the Peacock family. He spends many hours during the Winter, plowing, shoveling and salting on weekends and evenings so students and staff can arrive to school safely. When he's not keeping the school in impeccable shape, he's going out of his way to encourage students to get to class on time, helping them find lost items and helping them reorganise their locker to avoid jams.
5. Donna Colello - Ocean Avenue Elementary School (Portland, Maine)
As one of the most respected, hardworking custodians in Portland, Maine, Donna Colello works tirelessly every day and always brings a smile to all. What started as a job 25 years ago to support herself and newborn child, flourished into a fulfilling career. Meticulous in her level of higher cleaning techniques and standards, she takes great pride and care in the work she and her team accomplish. She is passionate about keeping the building healthy, secure and clean. Donna is an integral part of the Ocean Avenue Elementary community and is the one that staff and students rely on the most. Donna's mantra is: "We're here for the children."
6. Charles Harris, (pictured) - Warren Technical School (Chamblee, Ga.)
To Warren Technical School, Charles Harris is a real-life Superman who does much more than keep the building clean. He is a selfless individual who genuinely loves performing his duties and responsibilities as a custodian. He also provides for students and families in need. When a student's mother passed away and a repast wasn't an option, Charles gathered volunteers from the school, and cooked and delivered food for the family. In addition to taking care of the catering needs for all school functions, he also started a food pantry where staff can donate canned goods, dry food and gift cards. Sometimes referred to as a father figure or uncle, he gets to know every student while maintaining a safe and clean learning environment for all.
7. Mike Heiry - North Allegheny Intermediate High School (Pittsburgh)
Mike Heiry is one of the friendliest and most dedicated people at North Allegheny Intermediate High School (NAI). Loved for his positive energy and kindness, he consistently goes out of his way to provide students and staff with a safe and clean environment. There's no waiting with him... When a request is put in, he addresses it immediately with pride and a smile. Even when dealing with uncertainties and cleaning protocol changes amid the pandemic, he always makes time to ask the students and staff how they're doing. No task is too big for him and that's what makes him such an essential part of NAI.
8. Edward Straub - Blue Ridge Middle School (Greer, S.C.)
Eddie embodies the school motto of 'We are Blue Ridge; where positive attitudes and understanding hearts make a great school community'. Known for having a servant's heart and faithfully working to provide a safe and clean school, he never says no to any tasks. Whether he's mopping up water spills or rearranging rooms to accommodate Covid-19 restrictions, he's always prepared and ready for any challenge. His leadership and work ethic consistently earn Blue Ridge Middle School the highest ratings in evaluations by the school district, which provides peace of mind for parents, students and staff that their safety and health is in good hands.
9. Terry Tackett - Benton Elementary School (Benton, Ky.)
Terry Tackett's love for helping staff and students shines through. As a retired pipefitter, taking on a custodial role required him to learn new skills. He spent many hours in the early mornings and late evenings perfecting the process of cleaning, waxing, scrubbing and stripping floors. He also established a sensory room for students with disabilities, moved furniture outside to allow for social distancing and cleaned up school landscaping in the early morning. He works well with, and is admired by, his custodial team. He believes students and teachers deserve the best and transcends his job duties for whatever is needed.
10. John Wheeler - Bishop Moore Catholic High School (Orlando, Fla.)
Since moving to the US from Puerto Rico, John Wheeler has always strived for greatness. He puts the needs of staff and students first and continuously identifies opportunities to improve processes and enhance safety protocols. Even during an unpredictable year where he welcomed his first child, he remained dedicated to Bishop Moore to ensure a smooth and safe reopening amid Covid-19. His hard work never goes unnoticed by faculty and students, and his passion and integrity shines through his work. He is a true role model to all.
Vote for your favourite custodian at:
15th April 2021
---