I hadn't planned to whinge about litter this week but couldn't let this pass without a comment... I'm not sure what shocked me more when I came across this picture: the amount of litter, or the fact that this sign's designer thought it should include an instruction not to litter!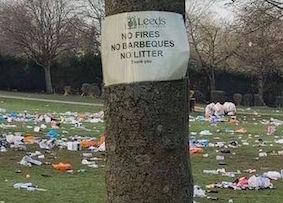 Was it because littering's become the norm, or did Leeds City Council realise that after such a long period of incarceration, our first 'freedom' weekend might make us so footloose and fancy free we'd forget how to behave? Or was it perhaps down to conditioning due to Government's desire to impart instructions in threes? (hands - face - space / stay alert - control the virus - save lives / stay home - protect the NHS - save lives / catch it - bin it - kill it)? Are all signs and instructions to follow this pattern as part of 'the new normal'? I cut ties with the main news channels and newspapers many months ago, so Googled these phrases to ensure they're right; amongst the serious ones, the 'stay home - go slowly insane - pickled onions', made me chuckle. I get that one, only too well...
Anyway... What the heck's going on? Peaceful folk dragged away in handcuffs from a vigil, others fined for inadvertently dropping a piece of biscuit or being unable to grab a tissue blown from their hands and across a busy road, yet whoever's left this lot, (clearly in the area for a while to have been able to create such mess) has been allowed to escape unhindered. What's happened to us? Why do people think it's ok to leave rubbish and where were those supposed to uphold littering laws? Traffic wardens work weekends along with CCTV and the Police. It's about time we sorted ourselves out, don't you think?
Whinge over; so hearty congratulations to Phil Smith, director at NIC Services Group and chair of cleaning industry association The Hill Club, who over the past month has indeed been on a march, completing 1million+ steps to raise funds for Prostate Cancer UK. It's not too late to donate at:
https://marchthemonth.prostatecanceruk.org