It was apt that the Loo of the Year Awards launched this week, when 'wild toileting' was covered in the Guardian newspaper. Wild toileting has become a growing movement during the pandemic – and it doesn't surprise me one bit.
It's only been a year but seems like a lifetime ago that I was chatting to the British Toilet Association's Raymond Martin about the impact the pandemic would have on public toilet provision. As Ray told me what was needed to keep toilets open whilst also making them safe, I wondered how those responsible would find the labour and budget required. As a long-term complainant about the damage – often deliberate – people can inflict on our away-from-home facilities, my feeling was that service providers were on a hiding to nothing. I expected most facilities to shut down – and indeed many did, making it impossible for the public to comfortably enjoy what little outside entertainment they were allowed to have. Hence the rise of wild toileting, (which, in case you're wondering, could be referred to as a natural aftermath of al fresco dining). But while dining out in the open is unlikely to offend anyone, urinating and defecating behind a bush or the like, most certainly will - and it's a health hazard too. So what do we do?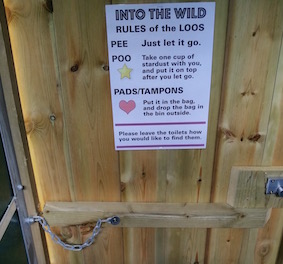 I've long been a fan of the compost loo and feel that now is the time for those who should be providing public toilets to get digging and woodworking. Most of us have become used to carrying hand sanitiser around and I'm assuming that those taking exercise (and sometimes more!) in public spaces are also carrying their own toilet tissue. These very basic of toilets don't require water and are easy for users to keep clean themselves. All that really needs be supplied is a huge box of wood shavings and some scoops so people can sprinkle the shavings down the hole to keep flies and smells at bay, and a bin for non-disposable products. I've been using these compost loos on and off for years and know just how good they are. The waste can even be used as fertiliser and more (but more of that another time)!
Details on the LOTY Awards follow – and remember, an inspection offers not just a potential win but a great way of learning what you might be doing wrong…