Cleanzine: your weekly cleaning and hygiene industry newsletter 30th November 2023 Issue no. 1091
Your industry news - first
The original and best - for over 20 years!

We strongly recommend viewing Cleanzine full size in your web browser. Click our masthead above to visit our website version.
---
Covid-19: How to keep your cleaning staff safe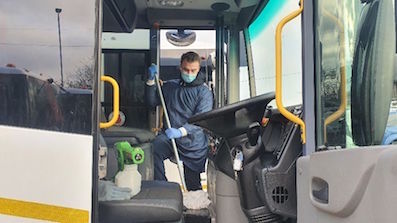 It's fair to say that organisations all over the world have upped their cleaning game over the past year in response to the Covid-19 pandemic.
While the standard of cleanliness is one of the top priorities for many premises, it's important to also consider the safety of staff undertaking the actual cleaning, says Graeme Kelly, assistant director for decontamination services at the NHS Deep Cleaning & Advisory Service. Here are Graeme's top tips on how to keep your cleaning staff safe during the pandemic:
Make sure your staff are wearing the correct PPE:
First things first, before your staff even start cleaning, have you checked whether they are wearing the correct PPE? Regardless of how safe the cleaning solution is, staff must always wear PPE. This is because PPE protects them from risks associated with the environment they are cleaning, as well as protecting them from the cleaning products themselves.
Following a risk assessment of your premises, you need to determine which items of PPE your staff require. The bare minimum should be gloves, a mask and a disposable apron. However, if your risk assessment indicates there is a higher risk, staff may require additional PPE. For a more robust and environmentally friendly option, the NHS Deep Cleaning & Advisory Service provides reusable PPE solutions suitable for a wide variety of professions.
Consider changing up your cleaning solutions:
When it comes to cleaning solutions there's a wide array of products from which to choose, although many of these are considered to be hazardous substances. While the efficacy of your cleaning product is important, it's also essential you consider the potential health risks for staff when using products like bleach and ammonia.
To help keep your cleaning staff stay safe from the solutions they are using, you must ask yourself three questions:
1. Are there any risks associated with my chosen cleaning solution? For example, your products might be corrosive and pose a risk of skin burns or irritation to eyes.
2. Do my cleaners have any concerns about the products they use? This could be anything from skin allergies to experiencing headaches when cleaning.
3. Are there any measures I can implement to prevent exposure? Input from your cleaning team could be helpful here!
If you find yourself identifying any risks in answer to these questions, then your answer to my third question is simple: make the switch to a safer cleaning product.
What many people don't realise is that this change doesn't have to result in additional costs. Take Hypochlorous acid, for example. Electrostatically Hypochlorous acid (HOCl) is pH neutral, environmentally friendly and proven to kill 99.99% of tested pathogens. While it is a much safer alternative to many products on the market, it is considerably cheaper than many solutions out there too.
Just remember that if you do decide to make the change to a different product, then communication with your cleaning team is key. Not only do they need to understand what products they are using, but they also need to learn how to use them.
Have your staff received appropriate training?:
Do your staff know how to remove and dispose of their PPE correctly? Do they know how to prevent the transference of pathogens from one surface to another? And do they know what the figure of eight method is?
It's important that cleaning teams the length and breadth of the country are working towards the same standard of cleaning. That's why the NHS Deep Cleaning & Advisory Service delivers a uniquetraining programme, which teaches staff to clean 'the NHS way' and covers all bases including health and safety, the bio decontamination process, the correct cleaning equipment and the benefits of using innovative cleaning solutions and technologies.
Rebecca Denton-Smith, lead nurse for infection prevention and control at North Tees and Hartlepool NHS Foundation Trust, adds:
"When it comes to infection control, knowledge is key and it is important that organisations invest in the education of their cleaning staff. People should not only know how, but why infection control measures like 'Hands, Face and Space' and correct PPE disposal are put in place, as this will make them much more likely to follow these procedures in the future."
Finally, don't forget to review your cleaning team's work. Regular audits carried out by a trained decontamination professional will assure you that standards are being upheld and will help you to identify areas for improvement going forward.
The NHS Deep Cleaning & Advisory Service was launched earlier this year to support organisations across the UK with their response to Covid-19, by extending the NHS standard of cleanliness into the wider community.
The service was launched by Teesside-based NTH Solutions, an NHS wholly owned company and subsidiary of North Tees and Hartlepool NHS Foundation Trust, and offers a variety of deep cleaning services to the wider community: deep cleaning and bio decontamination, outbreak response, bio decontamination training, auditing and more.
By extending its NHS ethos and standards into the wider UK community, the NHS Deep Cleaning & Advisory Service also helps prevent the spread of infection to ultimately ease the pressure on the NHS. Another unique aspect of the service is that the income generated is reinvested back into the NHS to improve frontline patient care and treatment.
11th February 2021
---