Cleanzine: your weekly cleaning and hygiene industry newsletter 7th December 2023 Issue no. 1092
Your industry news - first
The original and best - for over 20 years!

We strongly recommend viewing Cleanzine full size in your web browser. Click our masthead above to visit our website version.
---
Consumers call on organisations to do more to help reduce the risk of Covid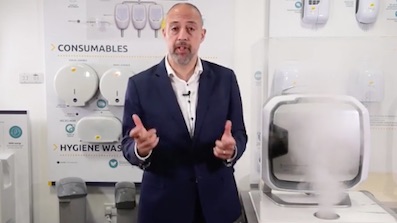 Organisations are being called upon to do more to make their premises Covid -safe as facilities services provider phs Group addresses the airborne risk of the coronavirus.
The new phs Index report reveals as many as 14% of UK premises closed their doors in November under the latest wave of restrictions. The most impacted sectors are the arts, entertainment and recreation and food services and accommodation with more than half of premises shutting down at the peak of restrictions (54% and 51% respectively).
Phs's independently-commissioned research found nearly half of consumers (46%) say that the closing down of venues such as pubs, restaurants, gyms and non-essential retail makes them feel they are not Covid safe. Even more, 51%, say they actively avoid indoor settings as they didn't want to risk catching Covid-19 and more than one in 10 (13%) have even walked out of premises because they didn't feel comfortable.
After public transport, the most avoided indoor settings are restaurants, cafes and pubs (avoided by 42% of consumers) while more than a third have avoided leisure centres, gyms and dentists (38%, 37% and 36% respectively). Potentially worryingly, 34% say they have avoided visiting the dentist with 29% avoiding hospitals and GP surgeries. Nearly a quarter (23%) have avoided shops and 16% have avoided their workplace.
The change in consumer behaviour is driven by the risk of infection with 68% of consumers saying they are concerned about catching Covid-19 in indoor environments with significant fears over the containment measures. More than a quarter (29%) of consumers say they are not confident in the hygiene measures within local businesses while a third (34%) lack confidence in their social distancing practices.
In response, more than half (54%) believe businesses should be doing more to reduce the risk of viruses spreading over the winter months. Most, 51%, call for premises to limit numbers allowed indoors while 46% want mask enforcement and 42% say premises need more sanitising stations. Further, 39% of consumers call for more separation screens, 35% say temperatures should be checked on entry and 29% want premises to install air purifiers.
However, once they understood that air purifiers clean the air by physically removing impurities such as germs, viruses and pollutants, as many as 61% believed they should be mandatory in indoor settings to help curb the spread of the virus. Consumers say these measures would make them feel safer, reassured, that the premises had their best interests in mind and, crucially, more likely to visit.
Within the new phs Index, phs air quality experts have teamed up with a leading Cambridge University professor to examine the airborne risk of Coronavirus indoors; a risk they suggest is not being taken seriously enough in the fight against infection.
Fluid mechanics expert Professor Paul Linden, of Cambridge University, comments: "Indoor air quality is a real concern in the spread of Coronavirus. Much of the focus on Covid-19 has been the transmission by physical touch and larger droplets expelled when an infected person breathes, talks and coughs but what we're not talking about enough is the smaller infected droplets and particles which remain airborne and are not contained by masks.
"Growing evidence indicates these infected aerosols linger in the air for hours at a time and can be spread around a building - even after an infected person has left creating an extended risk of transmission. During the Winter, we're more likely to be spending time indoors with less natural ventilation, meaning the air we breathe could be more concentrated with particulates.
"If we fail to combat the risk of airborne infection, we risk being exposed by a large gap in our defences. Improving indoor air quality must be at the forefront if we truly want to create Covid-safe environments."
David Taylor-Smith, CEO of phs Group, says: "The research demonstrates the extent of concern consumers feel about spending time indoors and the risk of catching Covid-19, so much so they are actively avoiding certain indoor premises and want organisations to do more to make them feel safer and combat the spread.
"While this is vital from a health perspective, as an economy it is also essential that organisations take the right measures to stay open wherever they can and welcome staff, visitors and customers into their premises safely. They need to bolster public confidence and reassure people they are doing everything possible to be Covid safe.
"We've all heard the message of 'hands, face and space' and these are important aspects in infection control combated by hand washing, masks and social distancing. But what about the air we breathe? Scientists worldwide are pointing to the airborne risk of contamination and this urgently needs addressing to enable people to spend time in indoor settings more safely. Organisations using air purifiers are already converts in providing cleaner, fresher, healthier air and proving to their building users that they are taking the risks seriously for now and for the future. It is a difficult time for businesses right now.
"With so many premises hit again by closure, there are enough reasons for consumers to keep away, fears organisations are not doing enough to reduce the risk should not be one of them."
Facilities management company Churchills Group has installed AeraMax air purifiers within its offices and advises clients about the benefits of air cleaning as part of its range of services. It has chosen air purifiers for its boardroom and kitchen in its Gateshead office as the most common areas for people sharing the same air and within its Fleet Street London office to remove pollutants, being based on a busy road.
Director Charlotte Parr says: "Cleaning has always been an essential service, but for so long it was also an invisible service. The pandemic has changed that irrevocably as people recognise the importance of cleaning and hygiene, from surfaces to air quality.
"Our extensive experience has enabled us to advise clients on how to keep their buildings safe through a range of methods, from enhanced cleaning regimes to upgraded air filtration systems. We've also assisted clients with communicating these methods to building occupants, which is just as important. People simply will not feel comfortable in a space unless they can be assured it is safe."
For the full phs Index and indoor air quality report, visit:
17th December 2020
---