Cleanzine: your weekly cleaning and hygiene industry newsletter 30th November 2023 Issue no. 1091
Your industry news - first
The original and best - for over 20 years!

We strongly recommend viewing Cleanzine full size in your web browser. Click our masthead above to visit our website version.
---
It's a 'thumbs up' from Cleanzine for winners of this year's BICSc Awards!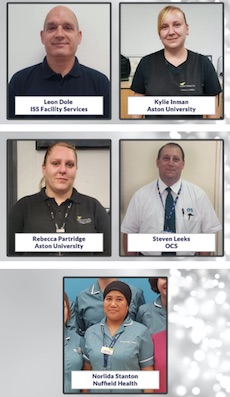 Nearly six months have passed and Covid-19 continues to dominate pretty much everything we do, and whilst the British Institute of Cleaning Science has had to cancel the Annual Awards Dinner, which would have taken place this week, the team wanted to mark the event by recognising just some of those who have played a part in what continues to be a heroic cleaning effort.
BICSc is asking us to take a moment to recognise and celebrate five special people, who hold a BICSc Licence to Practice and went the extra mile during the peak of the pandemic.
With the support of Rubbermaid Commercial Products, the Institute is delighted to present the winners of this year's BICSc Thumbs Up Awards to five frontline cleaning operatives, with a bespoke engraved 'Thumbs Up' Trophy, a £250 gift voucher and a ticket to attend next year's BICSc Annual Awards event.
"Our winners are shining examples of front line industry excellence, who have each clearly demonstrated, throughout an exceptionally difficult time their dedication, commitment and passion, all of which are part of 'Being BICSc'," says the Insitute.
Written by those who nominated them, here's more about the winners:
Rebecca Partridge - Aston University:
Rebecca joined the Students Union Cleaning team at Aston in March 2019. It became obvious very early on that Rebecca worked to exceptional standards. When it came to lockdown in March 2020, she put herself forward without any hesitation to support the team, as we still had to deliver cleaning services during the lockdown.
Rebecca would cover any area we needed at the last minute. She learnt new skills and new places to develop herself and ensure the areas she was cleaning were safe for the staff using the facilities.
Rebecca rose again to another challenge when we returned to a full operation in May 2020, we had to change the way we operated, by using additional PPE and different chemicals Rebecca supported her colleagues in training. Rebecca learnt high-level vacuuming, and then shared the knowledge with her colleagues. Rebecca has an exceptional attitude towards work and the community at Aston, which is second to none.
Kylie Inman - Aston University:
Kylie has been part of the cleaning operation since 2010, and has many years of experience, along with impeccable personal standards.
When operations returned at Aston, Kylie took staff members under her wing. We have a team member who has been with us for 35 years and needs a lot of support. Kylie rose to the challenge by training the staff member on a one to one basis, encouraging her to feel confident in new practices.
Upon the return to the operation in May, Kylie's dedication and commitment to customer service stood out. Kylie is always on hand to support all new colleagues and any staff who need additional support - the customers highly respect her at Aston. She plays a huge part in providing a safe and clean environment for returning staff.
Steven Leeks - OCS:
The last few months have been challenging, however, never more so than in the healthcare sector. Maintaining operations during this period within a healthcare environment would be enough of a challenge for anybody.
It shouldn't be underestimated the demands placed upon all elements of domestic services if you then considered that Ipswich Hospital is a 600-bed hospital and operates with over 240 domestic staff, it quickly became a whole new ball game.
In Steven's case, the pressure and responsibility of working through a pandemic kept coming. Steven's line manager (head of domestic services for OCS at Ipswich) who supports and guides Steven was undergoing his personal battle with Covid-19 and had to isolate, having just got over the illness himself, his family followed suit one after another which left Steven's line manager extensively limited in his ability to offer support.
Steven's true colours shone through, he rallied the troops, made changes to cleaning requirements, seeing low-risk areas reduced in frequency and the high-risk regions climbing in demand at an exponential rate. Shifts moved from days to nights and ever-growing demands needed the requirements of additional staff, documentation of safety and standards, training, inductions and Covid-19 PPE. All needed actioning and daily operational critical update meetings occurred.
It is hard to quantify the pressures we found ourselves under - this was a once in a generation incident with domestic services being at the forefront of the fight. The effort that Steven demonstrated, his engagement with senior managers, the support of his fellow supervisors, engagement with all the domestic staff and dealing with their worries, concerns and taking a supportive mental welfare approach was humbling to see.
The undertaking of the domestic service would have been considerably more challenging had it not been for Steven's pro-active and compassionate approach. The hours of work Steven actioned in those first eight weeks during April and May were enormous, and he never left site until he was satisfied that the team were ready and prepared. It will be a period to reminisce over in years to come. I use the word reminisce because I hope that, in time, the focus will move to acknowledge the work done by so many over this challenging period and not the tragic events that Covid-19 has brought upon us all.
Leon Dole - ISS Facility Services:
Leon was quickly promoted into the role as a mobile Senior Housekeeping Associate after impressing in his role as site supervisor out of our East Midlands office. The main reasons for his advancement were down to his unquestionable work ethic and commitment to his craft. Leon understands the vital importance of cleaning and his role within it, he also ensures that all that come into contact with him are also equally enlightened.
Early this year I remember getting a message from Leon in which he said: "This is coming our way, we need to keep our people and clients safe. Whatever you need from me I'll be there." This epitomises Leon completely, committed to a fault and completely selfless.
Leon understands that this whole situation is more significant than any one person. He has made an enormous contribution to enabling clients to get back into the office months in advance of the competition. To date we have not had one case of Covid-19 linked to any one of our 22 sites and, again, Leon has played a massive part in that.
Leon understands that our role is not only to keep the offices clean, but to also offer reassurance to the client that it is safe to come back and work from the offices.
Again, Leon was part of the team that engaged with the client showing them our equipment and techniques that offered them the security that they were in safe hands.
As well as cleaning and training duties Leon also went above and beyond to deliver vital equipment across England to the client team members who were working from home. This included PPE, office furniture and, again, offering reassurance about returning to the office. Leon is a rare breed and has a genuine passion for the role and love for the industry.
Norlida Stanton - Nuffield Health:
Norlida has worked for Nuffield Oxford Hospital for over 19 years. It was clear very early on that Norlida showed a real passion for cleaning and was soon promoted. In this time, Norlida has worked tirelessly in the area of cleaning and infection prevention to ensure Nuffield deliver the best possible cleaning standards for our patients, visitors and staff.
When Nuffield introduced BICSc Assessor training, Norlida welcomed this with open arms and embraced the change. Her enthusiasm and positive approach to change have been infectious and this was clear to see in the rest of the housekeeping team. Over the past 12 months, Norlida and her housekeeping team have strived to be 'best in class' with Norlida successfully delivery BICSc training to some 20+ staff and was the first to complete training across the Nuffield estate. This was a huge achievement and has been received well by all members of the housekeeping team. BICSc training has brought a standard approach to cleaning, which has further enhanced the cleaning services currently provided within Nuffield.
Norlida says: "BICSc training is fantastic and I cannot imagine cleaning any other way now. The process is easy to follow and the staff love the interaction and lessons they learn. There is no doubt this has brought more structure to the way we clean and a one way of working approach which has been invaluable during the pandemic."
Norlida and the housekeeping team have gone above and beyond since March 2020, ensuring we keep our patients and staff safe during these challenging times. They have met the pandemic head-on. Keeping a team of 20+ housekeepers motivated during an incredibly stressful time is a clear testament to what the job and the team mean to Norlida.
Housekeeping is an integral part of our service delivery, and the Thumbs Up award seems the perfect way to say a HUGE thank you to Norlida and her team for their incredible efforts during the pandemic.
Says Neil Spencer-Cook, chief operating officer, BICSc:
"The commitment to the BICSc ethos and raising standards continues to overwhelm us. This year particularly has shown us how what we do as an industry is imperative. The qualities of the Thumbs Up award winners and the examples they set for others is nothing short of outstanding. Keep up the good work."
Stan Atkins, chief executive officer, BICSc, adds:
"Since the outbreak of COVID-19, the cleaning industry has received a lot of attention. It has long been my assertion that we are the invisible workforce. The argument over key worker status continues, but there is no doubt that without the cleaning teams, the country would have ground to a halt. Our winners should be proud of their contribution to the greater good and I would like to take this opportunity to thank every one of them for a job well done."
24th September 2020
---