Cleanzine: your weekly cleaning and hygiene industry newsletter 28th September 2023 Issue no. 1082
Your industry news - first
The original and best - for over 20 years!

We strongly recommend viewing Cleanzine full size in your web browser. Click our masthead above to visit our website version.
---
SOAPBOX: Coronavirus is easy to kill... with a little common sense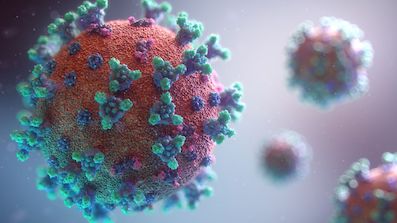 When lockdown started, we all joked about how big the party was going to be when it ended, but of course that hasn't happened; partly because lockdown is being only gradually eased, but also because of widespread fear.
This fear is understandable given the seriousness of Covid-19 for those that become most unwell, but if the economy is going to recover, people will need to follow Government guidance and find ways to get the wheels of commerce moving.
Losing the fear of Coronavirus will be essential, and here, Adrian Gee-Turner, from the manufacturer of Nemesis eH2O, explains how following Government guidelines and using common sense, will achieve that.
Fear - harming the economy?
Following the publication of disappointing GDP data, the chief economist at the Institute of Directors, said: "There is a big question mark around how fast we can rebound back to pre-pandemic levels. Firms continue to face significant uncertainty around consumer demand and are still adjusting to operating under social distancing."
The director general of the British Chambers of Commerce said: "Companies, in discussion with their employees, will decide how and when to return to offices safely. To take those decisions, businesses need crystal-clear official guidance. Firms will be weighing up how they want to work in future. Many have seen benefits to productivity and work-life balance over recent months, and will want to keep elements of their new normal."
Social distancing, hand washing, facemasks and disinfectants will all play an important role, and people should be reassured that, as an enveloped virus, the severe acute respiratory syndrome coronavirus 2 (SARS?CoV?2) is relatively easy to kill if the right disinfectant is used - easier to kill than non-enveloped viruses such as Norovirus for example.
It's a virus!
Sadly, many organisations seem to be forgetting that Covid-19 is caused by a virus, and NOT a bacteria. Last weekend I visited a local pub operating excellent Covid-secure measures. We were met outside on arrival, our contact details were taken and we were led (one-way) to a table in the garden, where our order was taken with drinks delivered by a masked waiter, who took a contactless payment. Full marks so far, but a sign in the toilets asked customers to 'use the ANTI-BACTERIAL gel provided'. In many cases, such as gels with high alcohol content, this would have been fine, but this gel did not have anti-viral properties!
Regular hand washing, especially before and after visiting people or public spaces is common sense. However, it is important to sanitise 'touch points' - those places or objects that are touched frequently, such as mobile phones, light switches, keyboards and door handles. Also, when sanitising, it is important to remember the 'contact time' of the disinfectant, which is the time that it takes to achieve the required disinfection. Nemesis eH2O acts very quickly - faster than bleach for example. However, some products take significantly longer so they should remain wet for longer.
Ventilation with fresh air helps to reduce the potential for infection, but consideration should be given to the survival times of coronavirus on different surfaces. Research earlier this year investigated 'Human Coronavirus Survival Times on Surfaces':
• Latex Gloves - 8 hours
• Disposable Gowns - 2 days
• Wood - 4 days
• Glass - 4 days
• Paper - 4-5 days
• Metal - 5 days
• PVC - 5 days
• Ceramics - 5 days
• Teflon - 5 days
• Plastic - 9 days
Fogging or Spraying, or both?
As mentioned above, touch points should be frequently disinfected by spray. However, the spray should be allowed to evaporate with no sticky residue, so gels are not suitable for example. Larger spaces will need to be fogged so that all surfaces are treated, and because this is much faster than spraying. For example, Nemesis eH2O is being used to fog medical consultation rooms, ambulances, hospitals, care homes, caravans, holiday lets, exercise studios, offices and retail outlets. Apart from the high levels of effectivity against micro-organisms, Nemesis eH2O is proving extremely popular because it contains no hazardous substances, which means there are no COSHH restrictions, no toxic residue and PPE is not necessary.
Use an anti-viral disinfectant
Products claiming to be effective against coronavirus should be compliant with EN 14476, which requires a minimum Log 4 (99.99%) reduction. Nemesis eH2O has passed EN 14476 and significantly exceeded the log kill requirement. Readers will be further assured with its active ingredient (stabilised hypochlorous acid) being included in the US EPA's list of active ingredients for use against SARS-CoV-2.
Use common sense
Our blogs and news releases covering Nemesis eH2O have mostly explained the measures that can be undertaken to minimise risk, and we have been delighted with the numbers of likes and shares that we have received on social media. However, we have been shocked and saddened by a small minority of people that either think the pandemic is a scam or that they will somehow be immune. These comments are troubling because these are the same people that might refuse vaccination when it is available. In a sense, they are similar to climate change deniers - people that will not accept a truth that is inconvenient. It is important for all of us therefore, to reassure people that SARS-CoV-2 is relatively easy to kill if we take the right measures, so yes it should be respected, but not necessarily feared.
30th July 2020
---