Cleanzine: your weekly cleaning and hygiene industry newsletter 7th December 2023 Issue no. 1092
Your industry news - first
The original and best - for over 20 years!

We strongly recommend viewing Cleanzine full size in your web browser. Click our masthead above to visit our website version.
---
We have Mail: Safety of public toilets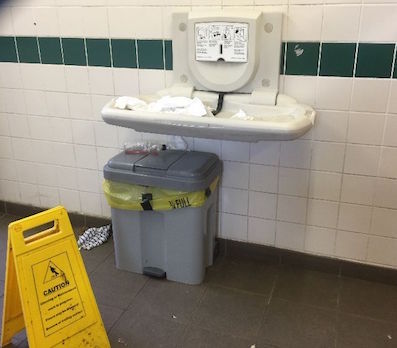 Hi Jan,
Thank you for once again introducing the issue of the availability and safety of public toilets. You may not be aware that a BSI Committee has been addressing this issue and trying to ensure that sensible, accurate information is available to the providers of sanitary facilities during these very difficult times.
I am a member of that committee, which most recently conducted the revision of BS 6465 Part 3 (Sanitary installations) Code of practice for the selection, installation, and maintenance of sanitary and associated appliances, which was published in March this year.
As a result of the rapidly-changing nature of our knowledge of SARS-CoV-2 and Covid-19, the committee has been working to prepare guidance relating to public toilets (both in the workplace and public amenities) in the next iteration of the BSI document 'Safe working during the Covid-19 pandemic - General guidelines for organisations'.
I always try to base any advice I give on sound, accurate research, so I have been doing a great deal of online investigation of the many scientific papers now available as well as listening to 'user' groups.
Yesterday I attended the second Zoom meeting of the Toilet Consortium, whose members represent some of the many thousands of people who are leading terribly restricted lives, due to the lack of public toilets. As you know, in England there has been a relaxation of lockdown rules, without ensuring a network of proper toilet provision.
This has had two important consequences:
1. Antisocial behaviour involving the fouling of beaches, the countryside, parks, streets, and gardens. (I allude to urination, defecation and soiled nappies and sanitary towels).
2. The inability of many hundreds of thousands of people with bladder and bowel problems and other physical disabilities to leave their homes to exercise or join in the other activities which are gradually becoming possible.
As I live in Cardiff, I wrote to the First Minister, Mark Drakeford; then to the Chief Medical Officer, to express my concerns about the current situation in Wales. I also provided links to very relevant research to back up my recommendations to these influential gentlemen. On 11th June I received a comprehensive response to my letters. To quote from one section of that reply:
"We are aware of the issue you have raised in relation to people going further afield due to the relaxation of lockdown and the need for toilets if they do this. The advice for people to stay in their own localities and go no further than five miles is in place not just because of the potential for people to encounter the virus, but also because of the current restrictions on facilities that are open. These include toilets, which largely remain closed because of the issue of the current required level of cleaning and the difficulty of ensuring the public maintain social distancing."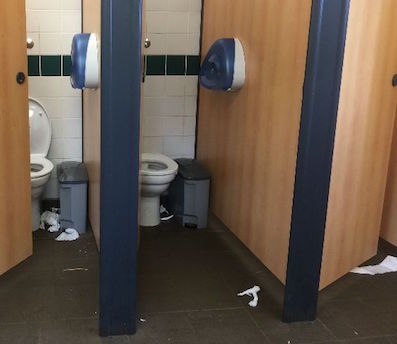 Interestingly, when walking in my very popular local park on the morning of 8th June, I was very pleased to see that one toilet block was open. Fortunately, I put on disposable gloves before entering the ladies' toilets. I was frankly horrified to see the conditions inside (see attached photographs). With my knowledge about the risks of contracting SARS-CoV-2, I was extremely concerned about the potential dangers posed by the insanitary state of these facilities. A week later I noted that the toilets had been closed, which was certainly not the best solution to the problem!
If we want to protect the health of the population and the health of the economy, we all have to work together to ensure that hygienic toilets are available to workers in their workplaces, consumers in shopping centres, tourists visiting our beaches and beauty spots and all those enjoying our peaceful parks.
Of course, such provision costs money, but I would certainly be prepared to pay to use a safe public toilet and I know I am not alone. I put a high value on my freedom!
As I am quite frequently asked to provide advice, I have put together a sort of 'crib sheet' which I feel sure your readers could improve on. Of course, my advice may change as more becomes known about the virus.
PublicInConveniences Crib Sheet:
SARS-CoV-2 is the virus which can lead to the disease known as Covid-19. Human-to-human transmission can take place via droplets, contaminated hands, or surfaces.
The virus can persist on different surfaces for different lengths of time, up to nine days. However, it can be rapidly and efficiently inactivated by surface disinfection procedures.
A person entering a toilet could contract the virus from touching the door handles, taps, flushing mechanism, etc.
One symptom of Covid-19 is diarrhoea, (in about 10% of cases, I am informed) so attention should be paid to trying to reduce the risk of transmission via the faecal-aerosol-respiratory pathway in public toilets.
At the present time, what conditions would enable me to feel as safe as possible when using a public toilet (given current knowledge, as more research is necessary):
1. Outside the toilet, clear signage to 'explain' new procedures to the user.
2. In busy locations, a clearly marked area for the queue, with social distancing.
3. A 'one out, one-in' system.
4. Facility to wash or sanitise my hands JUST BEFORE I enter the area where the sanitary facilities are located. (This is important, as I have been informed that one in 400 people would enter the toilet area with the virus on their hands, and spread it around on the doors, etc.)
5. The presence of an attendant who has received the best possible training - and is wearing appropriate PPE for their own safety. The attendant should be regarded as a frontline member of the health service.
6. In less busy toilet locations, a very visible, regularly updated chart showing when the toilet was last cleaned; I would expect toilets to be cleaned very regularly.
7. On entry, I would expect the area to look clean, smell 'fresh' and to provide either paper hand towels (my personal favourite) or electric hot air hand dryers.
8. The toilet bowl should have a lid. A sign should instruct the user to close the lid BEFORE FLUSHING the toilet. This is essential.
9. After using the toilet: As you know, we should regularly wash our hands for 20 seconds. If the water from the tap is too hot, I may not wash my hands for 20 seconds; so, I would like an ample supply of liquid soap in a non-contact container, and warm water.
10. I prefer to dry my hands on a disposable paper towel.
11. Of course, there should be very thoroughly cleaned nappy-changing facilities for babies and the usual, specially designed facilities for people with disabilities.
12. All receptacles for soiled sanitary products should be emptied very frequently and the waste disposed of in an appropriate manner.
As far as I know, in the UK there is, as yet, no way for the 'user' objectively to assess the standards of hygiene and maintenance in public toilets during the pandemic. I think Wales could lead the way in the UK, for two reasons:
1. In 2013, Wales became the first country in the UK to create a statutory food hygiene rating scheme. The Food Hygiene Rating (Wales) Act 2013 made it compulsory for all food businesses - such as restaurants, pubs, cafes, takeaways, hotels, and supermarkets - to publicly display their food hygiene rating at their premises. The scheme has proven extremely successful in driving up hygiene standards.
2. Wales again led the way with the Public Health (Wales) Act 2017, which includes important legislation re. public toilets in Wales. Please see information at:
www.publicinconveniences.org.uk
Therefore, I would like Wales to lead the way for a third time by introducing a hygiene rating system for public toilets.
The following document is very helpful regarding the risk of contracting the virus from surfaces, and how quickly the virus can be inactivated using the correct cleaning agents:
Source: Persistence of coronaviruses on inanimate surfaces and their inactivation
with biocidal agents, Journal of Hospital Infection, Kampf et al February 2020. (TT)
www.ncbi.nlm.nih.gov
Also very informative:
Review Article: Gastrointestinal Features in COVID-19 and the Possibility of Faecal Transmission Yuan Tian 1, Long Rong 1, Weidong Nian 1, Yan He 1
Further investigation on my part led me to some excellent research taking place at Bangor University (Wales) into faecal shedding of SARS-CoV-2 and its potential role in person-to-person transmission and the environment - based spread of Covid-19:
Please note: sampling from sewage works around the UK is set to begin shortly.
Kind regards,
Susan Cunningham
(I can be contacted at [email protected] or on the contact form at www.publicinconveniences.org.uk)
25th June 2020
---