Cleanzine: your weekly cleaning and hygiene industry newsletter 16th March 2023 Issue no. 1056
Your industry news - first
The original and best - for over 20 years!

We strongly recommend viewing Cleanzine full size in your web browser. Click our masthead above to visit our website version.
---
Fragrance on the mind - how our sense of smell impacts our health and wellbeing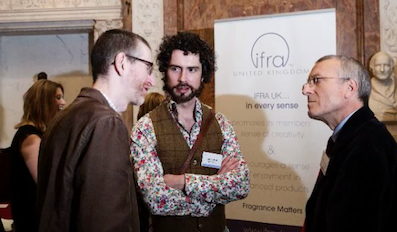 World Mental Health Day, an event focusing on the theme of 'Scentimental: Fragrance on the Mind', explored the effect of scent on health and wellbeing.
Research into mental health and neurogenerative diseases is a growing field. This is why IFRA UK, a trade association promoting the safe creation, development and enjoyment of fragrance by its members, decided it was a timely opportunity to showcase some of the innovative research that is taking place particularly with links to one of our major, yet under acknowledged senses: our sense of smell.
For decades, olfaction has long been associated with our wellbeing, from using fragrance to mask bad odours to creating a sense of ambience and contentedness to enhance how we feel. This event is a key date in the fragrance industry's calendar and IFRA UK lined up a range of outstanding speakers who showcased different research into this fascinating area.
"Smell is one of our major senses which is central to all our lives from the obvious effects to the less apparent and it can impact on us in many different ways," said Lisa Hipgrave, IFRA UK's director said, at the conference. "The annual Fragrance Forum gives us an opportunity to explore fragrance and smell from different angles, with speakers highlighting research we might never have considered important or even possible.
"With this event coinciding with World Mental Health Day, we were keen to emphasise the importance of fragrance on our health and wellbeing and were delighted to have such a broad range of leading speakers tackling a range of topics from olfactory dysfunction and impaired odour identification in Alzheimer's Disease, to ambient scent and fragrance in public spaces. Each speaker raised awareness of the impact and importance of fragrance and smell in our everyday lives and its benefits on our health.'
Speakers included:
Dr Tilo Kunath, who has been investigating whether there is a change in body odour that occurs when people have Parkinson's disease. What triggered his research was meeting Joy Milne, who was able to smell her husband's Parkinson's before it was diagnosed. Joy will be speaking about her journey to discovery of this unique ability and her capacity to diagnose others by smell. Professor Perdita Barran, will be speaking about the role she is playing in tracking down the odour-causing molecules using her mass spectrometry unit at the University of Manchester.
Dr Latha Velayudhan, who talked about how olfactory dysfunction and impaired odour identification in particular, has been reported in Alzheimer's Disease sufferers and is found to occur in its early stages. Olfactory identification deficits are also known to occur in other neurodegenerative disorders. This talk will demonstrate smell identification dysfunction in people with Alzheimer's Disease compared to people without and the pattern of smell identification deficits (common smells affected) in individuals with the disease. The utility of smell identification function as a treatment response marker and its association with dementia symptoms were also discussed.
Can problematic smells act as an agent for good? Pollution Pods is a touring installation which, in a series of geodesic domes, recreates the air quality of five major cities - through scent, temperature, ozone and humidity. It uses fragrance to make visceral, the effects on our physical and mental health of pollution. The artist behind Pollution Pods, Michael Pinsky, and Lizzie Ostrom, who supported last year's London exhibition, gave a special look and smell of the installation which incorporates specific fragrances. They shared their thoughts on where ambient scent and fragrance in public spaces might be heading next, and what the industry could be doing to take advantage of growing interest from brands and institutions.
Professor Keith Wesnes demonstrated the tasks used to assess cognitive ability (including attention, information processing, decision-making and memory) to determine whether various factors and treatments, for example olfactory stimuli, have positive or negative influences on different aspects of cognitive function including the patterns of changes in cognitive function, over the normal age-span, and the nature of the serious declines which occur in pathological ageing conditions such as Alzheimer's disease.
Professor Wesnes illustrated novel methodology for remote cognitive testing for evaluating both the short and longer term cognitive and mood benefits of fragrances and essential oils in targeted populations and the effects of such products on cognition and productivity in the workplace.
Dr Mark Moss looked at our evolutionary pharmacy. He argued that our ability to recognise and distinguish between many different plant aromas reflects millennia of their employment for the promotion of health and wellbeing - from sage, having an aroma packed with volatile compounds that can impact on brain chemistry, with inhalation improving memory and increase alertness, to ylang ylang different in terms of its aromatic tone, but which calms the senses and slows response time.
"Our use of fragrance for pleasure is a relatively modern offshoot and it is high time we revisited the application of aromas, and investigated their potential to enhance health and wellbeing, and perhaps even stave off some of the ravages of ageing," noted Lisa.
11th October 2018
---