Cleanzine: your weekly cleaning and hygiene industry newsletter 30th June 2022 Issue no. 1023
Your industry news - first Number 1 for Recruitment

We strongly recommend viewing Cleanzine full size in your web browser. Click our masthead above to visit our website version.
---
Views at a concert
1: I wasn't heartless enough to take a picture of the woman vomiting. If she was genuinely unwell, she has my sympathies, but if she'd drunk so much before the headline act had even set up, that she ended up being sick, I hope she learnt her lesson.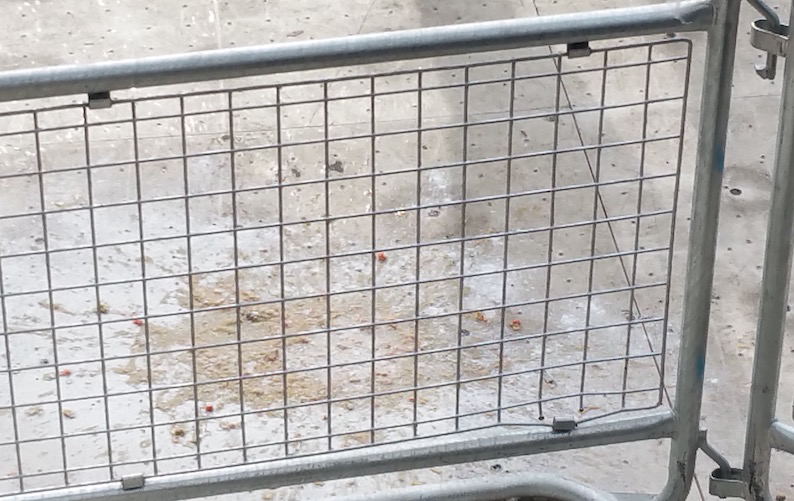 2: As you can see, this was quite a skid and the man who left his mark really did struggle to remain on his feet. We were all yelling whenever anyone looked as if they were about to walk in the mess but of course with one of the support bands playing, it was too noisy for us to make ourselves heard. The groans when this man went sliding were similar to those of the crowd watching the missed penalties on Tuesday night...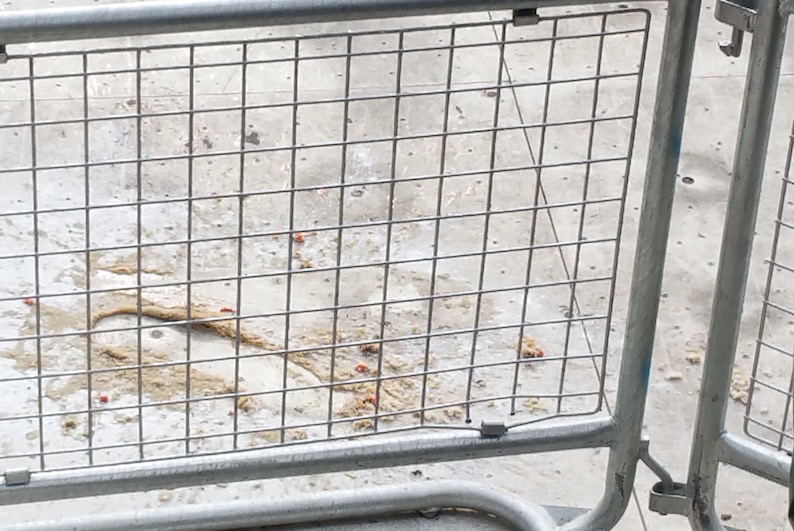 3: We didn't get a shot of the cleaner wafting the body spillage congealing powder around as it all happened so quickly and we were busy covering our mouths and noses to prevent the ingress of the powder into our airways, but here's a shot of a cleaner sweeping up some of the debris. As I mentioned previously, it was a bit of a half-hearted effort so not everything was cleared up and although the product used may well have had a disinfectant in it, the fact that there were still bits of vomit on the ground, the area was certainly not cleaned and not disinfected.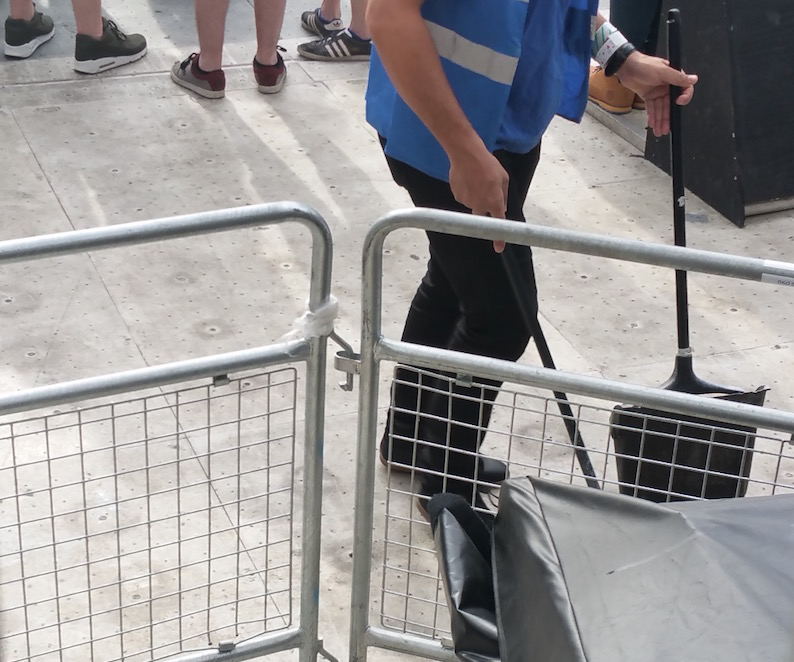 4: This young woman sat in the residue and prior to her arrival, others had placed their drinks down in the same place, contaminating their hands when they picked their drinks up again. I believe this is the woman we saw inspecting the bits on her hand, although it may have been someone else as several people sat there. Of course, these people will have sat on trains, buses etc or perhaps in their own cars, before sitting on furniture at home and in their workplaces, having perhaps driven to work on a seat covered in the residue of some stranger's stomach. Not very nice, is it?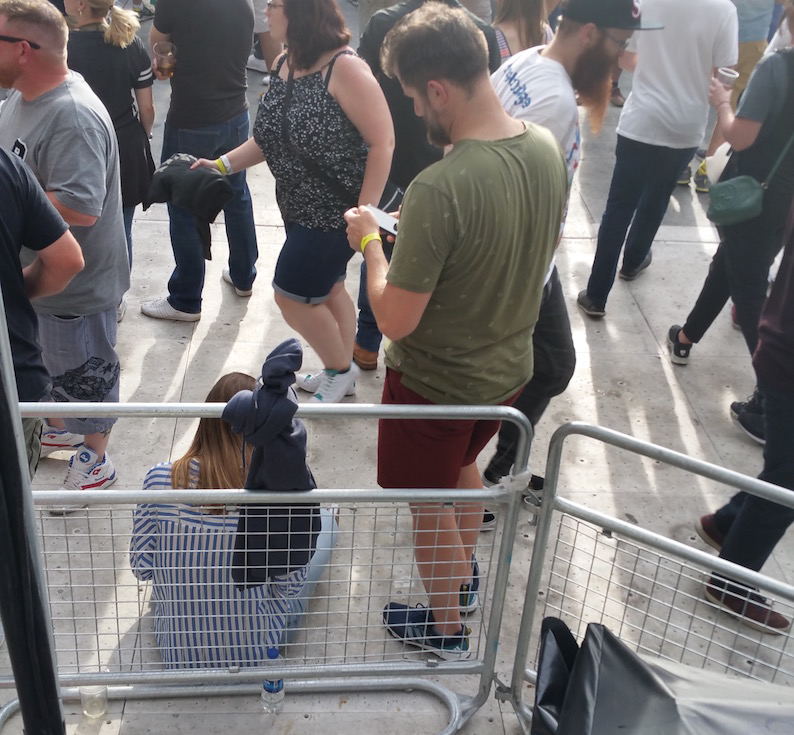 5: This couple sat eating their lunch in the very area that the cleaner had swept most of the vomit and cleaning powder into, before dragging most of it into his bucket. This was finger food they were eating. I'm wondering if it made them ill...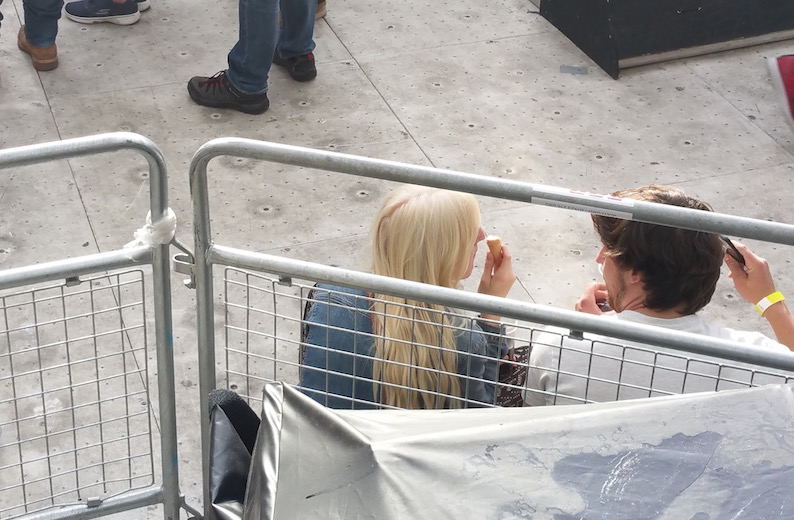 6: The cleaners worked hard to keep the rubbish down in the seating areas but of course had no hope getting onto the standing area as it was so crowded. We wondered, seeing this scene, if the vomit clean-up had been so half-hearted because the cleaner concerned knew what was to come... these aren't just empty beer cups - a fair number had been urinated into and thrown into the crowd, so the entire area was contaminated. Why do people do this? They clearly have no respect for others. I've spoken to security guards who've told me that it's not just urine the cleaners have to deal with but faeces too (depending upon the band and therefore the audience involved). Don't you agree that it's disgraceful that cleaners have to deal with such things? 'Alcoholic slush' doesn't even begin to describe the scene here!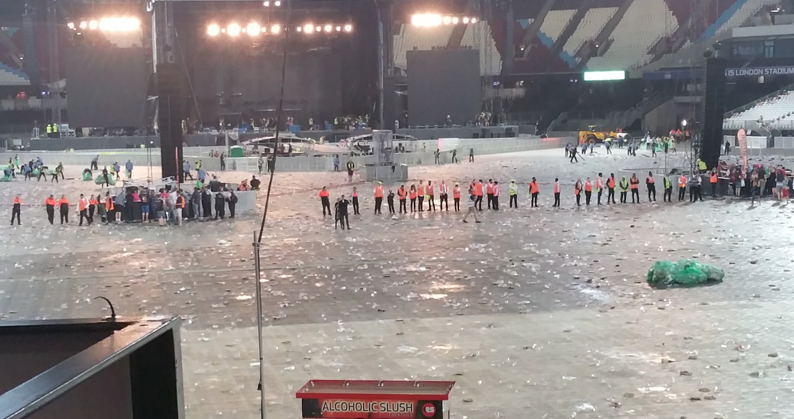 7: It appears that few people bother to find a bin... The entire bar/shopping area was a sea of rubbish even when we left about an hour after the gig finished. What it must have looked like earlier, I hate to imagine.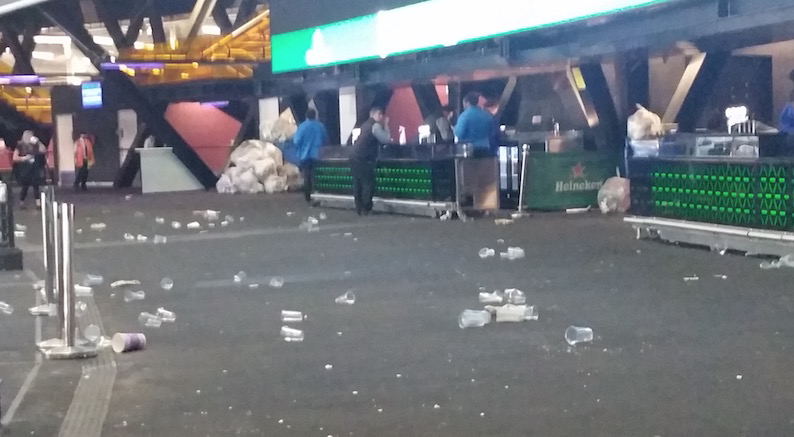 8: This was just a tiny proportion of the rubbish that the cleaners had been collecting from the seating areas and surrounds, during the gig. All that plastic!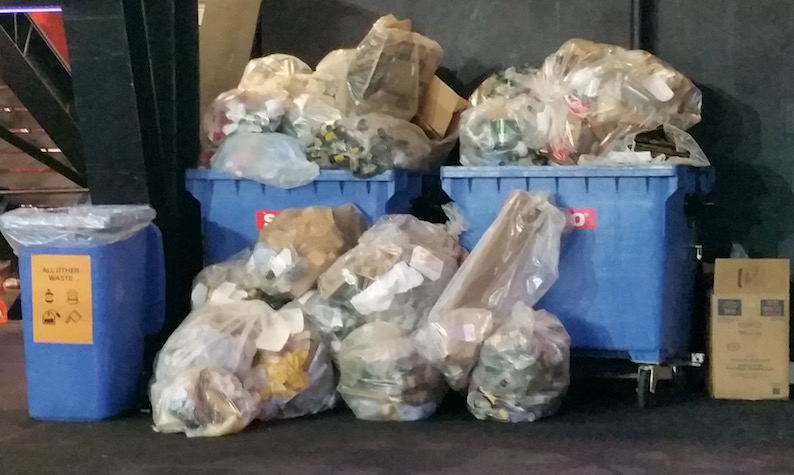 9: We wondered whether the line of security guards was there to prevent the cleaning team from escaping before the work was finished, but the cleaners seemed to be pretty diligent and well organised. They worked in groups, from just in front of the stage towards the back, collecting debris and cleaning as they went. That way they didn't contaminate cleaned areas by crossing back over them, from uncleaned, contaminated areas. As you can see, the rubbish bags were piled up in one place for ease of collection. We were too far away to see if any of them were wearing gloves...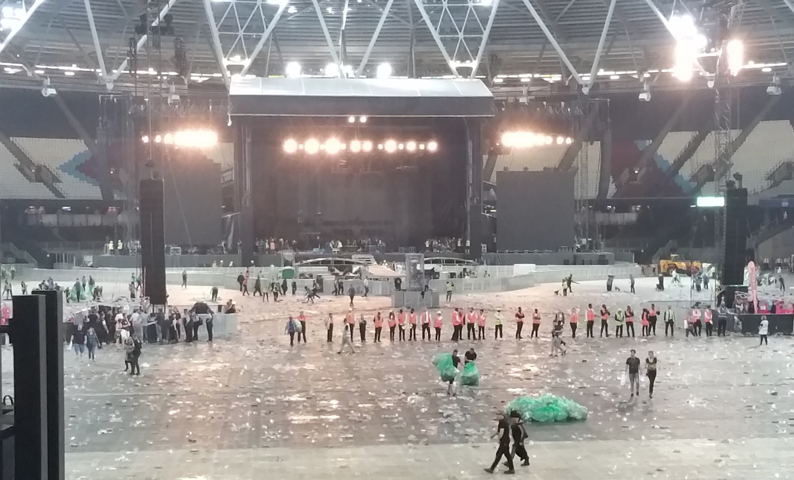 28th June 2018
---