Cleanzine: your weekly cleaning and hygiene industry newsletter 20th January 2022 Issue no. 1000
Your industry news - first Number 1 for Recruitment

We strongly recommend viewing Cleanzine full size in your web browser. Click our masthead above to visit our website version.
---
CMS 2017 boasts additional exhibition hall due to high demand for space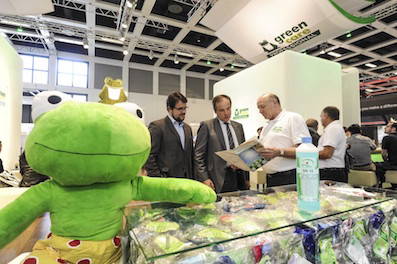 Due to the high level of interest from exhibitors from Germany and abroad, in the CMS Berlin 2017 international cleaning trade fair being held from 19th to 22nd September, Messe Berlin has announced that it will open an additional hall at Berlin ExpoCenter City.
The good news doesn't end there... From 18th to 20th September 2017, taking place for the first time alongside CMS and under the heading of 'Cleaning in the digital world - processes, people, technology', the World Congress of the World Federation of Building Service Contractors (WFBSC) will gather senior executives from around the world in Berlin.
Speaking at Monday's press conference in Berlin, Dr Christian Göke, CEO of Messe Berlin GmbH, commented on the importance of the trade fair: "This year's CMS will be the most significant cleaning industry exhibition to date in Berlin. The combination of a world congress, trade fair and networking events makes CMS the most important event for the global cleaning sector in 2017.
"Our objective is to position CMS as the international platform for expertise in the cleaning and hygiene market and to target audiences in every corresponding segment. For those aiming to establish business contacts in the global cleaning sector and looking for a comprehensive overview in the market for innovative cleaning equipment and products, CMS Berlin 2017 is an event they cannot afford to miss."
Berlin, the venue for this exhibition, lies at the heart of Europe's biggest market for commercial cleaning systems and chemical cleaning products. CMS has a wide appeal for companies and service providers from every branch of this sector.
Speaking at the press conference, leading representatives of the sponsors expressed their views on developments within the industry and on the role of CMS 2017: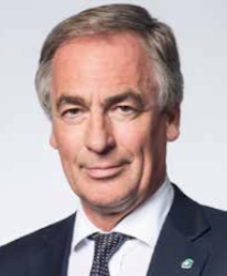 Thomas Dietrich (pictured), national Guild Master of the building cleaning trade and president of the 22nd WFBSC Congress, said:
"CMS always has been, and remains the most important trade fair for the providers of building cleaning services, especially with this year's main subject of digitisation, and in combination with the WFBSC Congress. This is an outstanding opportunity to present this subject in an international arena, and to enable everyone involved in this market from all over the world to engage in discussions.
"In 2014 a total of 641,681 people were employed in building cleaning, a 2.9% increase over the previous year. This figure was projected to rise by 0.2% in 2015, to 642,964. There was a 7.5% increase in the number of companies in this sector in 2014, to 21,309. The index figures for 2015 predicted a slight decline by 0.4% to a total of 21,220 businesses. However, for 2016 a small increase of 1.7 per cent was forecast, which will have brought the total number of businesses up to 21,580. In 2014 the industry generated sales amounting to 14,872,961,000 euros. Increases of 7.2% in 2015 and 5.2% in 2016 were expected to boost sales by the industry to just under 17 billion euros."
Markus Asch, chairman of the Cleaning Systems Trade Association in the VDMA, said:
"On the German market the 50 or so suppliers of cleaning systems for commercial and industrial users, employing a workforce of approximately 5,250, achieved sales of just over 900 million euros in 2016.
"Around 73% of the output of German manufacturers is exported. Their share of the world market was approximately 20%, and they account for around 50% of sales on the European market.
At the start of 2017 domestic business remained stable, compared with the turbulence on foreign markets, where the industry was affected by increased uncertainty in the wake of the US election and the Brexit referendum in the United Kingdom. In the UK in particular the effects of unfavourable exchange rate movements were very evident. This in turn reduced the competitiveness of our industry's prices.
"Although there were high hopes for the BRIC nations, they have been the focus of concern for more than two and a half years now. The problems in Russia and Brazil, as well as declining growth in China, have resulted in a less positive outlook. The growth rates observed by machinery constructors in India are encouraging, but the total volume is still too small to compensate for negative tendencies on the main markets.
"The manufacturers of machinery are eagerly awaiting the CMS, and are looking forward to many interesting discussions with the numerous visitors, along with new contacts and a wider international scope for this event."
Werner Schulze, chairman of the Building Cleaning Division of the IHO, said:
"The forthcoming CMS is very important for our sector. It is a large marketplace where customers, service providers and manufacturers can engage with one another. It will be important to raise mutual awareness of the situation in the industry.
"The trade fair provides an opportunity to highlight how important product innovations are for the entire sector and to show that the members of the IHO are important partners in the fulfilment of their own corporate goals.
"During the last calendar year turnover in Germany's professional cleaning and hygiene sector exceeded one billion euros. The total workforce numbered over 7,000. Building cleaning products accounted for around 25% of the above sum. At 4.7%, the industry's spending on research and development last year was significantly above the average for the other branches of the chemical industry. In contrast to these positive statistics 2.5% was spent on compliance with European laws.
"In 2015 these costs had already risen sharply from 1.5 to 2.2% and they continue to complicate the situation within the industry."
Holding the 22nd WFBSC Congress will ensure the presence of senior executives from around the world at CMS 2017 and strengthen the trade fair's international appeal. Delegates will debate the significance and impact of the digital transition in business and society on the commercial cleaning sector and the future challenges facing the industry. The programme of papers will focus on how it affects people, i.e. workers and customers, and automated processes.
EU Commissioner Günther Oettinger will open the WFBSC Congress, which will take place in Hall 7 on the Berlin Exhibition Grounds. The deadline for registering at reduced rates for the 22nd WFBSC Congress is 27th July 2017.
The manufacturers of cleaning machines and equipment as well as cleaning, care and disinfectant products have announced a wealth of innovations for CMS 2017. In order to focus even more intensely on the event's important role as a presentation platform for innovations, new developments and trends the CMS Purus Awards, the Innovation Awards for Intelligent Products and Solutions which were introduced in 2005, are adopting a new focus.
Exhibitors at CMS have until 19th May to submit their entries in six categories. These are: Large Machines, Small Machines, Equipment, Washroom Hygiene, Digital Tools and Systems as well as Cleaning Products.
The Purus Innovation Awards (PIA) recognise products, tools and systems that feature excellent usability and an outstanding overall design. Application forms can be downloaded at:
In its role as an international platform for expertise in the cleaning and hygiene market and in cooperation with professional associations CMS Berlin targets audiences in every market segment. In addition to organising seminars and tours specifically for representatives of the health, hotel and catering industries and communal institutions, on 21st September Messe Berlin will launch a new event format focusing on railway cleaning.
Personal invitations have been sent to the CEOs of international transport companies and their senior buyers to attend the Mobility Cleaning Circle, an exclusive networking event, where they will be able to meet international decision-makers from the cleaning industry.
CMS 2017 will also be taking a closer look at 'Laundry'. The focus here is on washing cleaning textiles and the correct use of washing machines and washing agents.
Another quality aspect of CMS is its practical relevance. Special displays exhibiting aerial work platforms, glass/facade cleaning and maintenance of green areas will provide plenty of practical examples of how cleaning machines and cleaning products are put to use.
Furthermore, at the CMS Practical Forum professionals will be giving demonstrations for trade visitors on the latest industry topics, including hygiene, health and industrial safety.
At CMS 2015 377 exhibitors from 22 countries exhibited their products and services on a display area covering 25,400sq.m. Over 20,000 industry representatives came to Berlin, including 17,000 trade visitors from 66 countries.
CMS 2017 is organised by Messe Berlin GmbH. The following professional organisations are sponsors of the event: the National Guild Association of the Building Cleaning Trade (BIV), Bonn, the VDMA Cleaning Systems Trade Association, Frankfurt/Main, and the Industrial Association for Hygiene and Surface Protection (IHO), Frankfurt/Main.
Details of the 22nd WFBSC Congress can be found at:
27th April 2017
---