Cleanzine: your weekly cleaning and hygiene industry newsletter 21st September 2023 Issue no. 1081
Your industry news - first
The original and best - for over 20 years!

We strongly recommend viewing Cleanzine full size in your web browser. Click our masthead above to visit our website version.
---
Eurogip's new comparative study on musculoskeletal disorders focuses on cleaners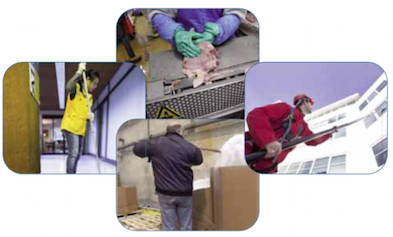 Eurogip has published the results of a comparative study on the recognition of occupational musculoskeletal disorders in 10 European countries: Germany, Austria, Belgium, Denmark, Spain, Finland, France, Italy, Sweden and Switzerland.
The report carries case studies on individual cleaners and analyses the most common MSDs among workers - carpal tunnel syndrome, tendinitis of the rotator cuff, back pain and tennis elbow - and presents comparative statistics of claims to assess the volume of MSDs supported by each of the countries and their evolution between 2007 and 2014.
Musculoskeletal disorders are one of the most worrying occupational health issues in Europe. According to the initial results of the sixth European survey on working conditions (Eurofound 2015), 61% of European workers tell they are exposed to repetitive hand and arm movements, 43% to painful and tiring positions, 33% to carrying and moving heavy loads and 20% to vibrations caused by machines.
MSDs are conditions due to excessive strain on the tissues (muscles, tendons, nerves and vessels) located in the vicinity of joints. They mostly take the form of pains and functional discomfort; they can be handicapping and cause problems of retention in employment, or even unemployability. The most frequent MSDs are the carpal tunnel syndrome (wrist), the rotator cuff syndrome (shoulder), epicondylitis (elbow), hygroma (knee) and lumbagos and neck pains.
And yet, given their national regulations, all European countries do not have the same propensity to classify these work-related conditions as occupational diseases (ODs). MSDs rank first among the occupational diseases recognised in some countries, but they come far behind respiratory disorders, deafness and skin diseases in others.
Apart from work-related factors (biomechanical stress, i.e. stress due to prolonged uncomfortable positions, intense efforts, forced movements, repetitive acts, vibrations, pressure, carrying loads, and psychosocial factors), MSDs are also the result of individual factors such as age, gender, obesity, diabetes, and extra-occupational activities (leisure, domestic tasks, etc.). This multifactorial dimension of MSDs introduces differences of treatment in their recognition as an occupational disease in European countries.
Undoubtedly, the prevention of MSDs by an improvement in working conditions is a major challenge, which must be met by the stakeholders in general and occupational risk insurers in particular (when they have this prerogative). But coverage of these diseases by the insurer is not without implications: recognition as an occupational disease allows better compensation for the victim (since the level of occupational injuries benefits is generally higher than for sickness and disability insurances) and provides greater visibility concerning these work-related diseases.
This study presents an exhaustive overview of MSDs liable to be recognised as ODs and the factors, which are taken into account for this recognition. Case studies then illustrate national insurance regulations and practices regarding recognition and compensation.
Lastly, comparative incidence rate statistics make it possible to assess the quantity of MSDs compensated by each of the countries and their evolution over the past decade.
Three of the four case studies used to illustrate the report involve cleaning industry workers...
Suzanne, aged 52, has always worked as a cleaner in a small company. Her present gross wage is €24,000 per year. In the past three years, she has complained to her family doctor of tension and then pains in the right upper limb, which, for more than a year, have been concentrated in the wrist and hand. Paresthesias (a sensation of tingling, tickling, pricking, or burning of a person's skin - 'pins & needles', for example) wake her at night; she mentions a loss of strength and great fatigue, which lead her to consult the doctor more and more often with a pressing demand for treatment.
Faced with these clinical symptoms compatible with a carpal tunnel syndrome, her doctor suggests that it could be useful to consult a surgeon. The surgeon confirms the diagnosis and recommends a surgical operation. It is at this point in time that the claim procedure for recognition as an occupational disease is started (by the competent person). Suzanne
is operated on, she takes four weeks sick leave and returns to work. However, she still has a stiff wrist and residual pains.
Case study two concerns Pedro, a professional window washer aged 35, who has a bilateral rotator cuff tendinopathy. He has worked in the cleaning sector since the age of 18. He started with cleaning and was 'promoted' to window washer 12 years ago. His wage (gross, before social security contributions) is €26,400 per year.
Pedro's work involves regularly visiting enterprises to perform interior and exterior cleaning of all glazed surfaces. This is an activity that comprises both repetitive tasks with the hands above the shoulders, and manual handling when shifting ladders and cleaning exterior glazed surfaces using poles.
As regards risk factors, he is faced with stressful positions and efforts due to handling operations and repetitive work, together with articular stresses. Given the independence he enjoys, he can partly manage these stresses, but this does not resolve those due to the buildings' design, the weight of the work equipment and stresses related to work at a height.
His condition began with inflammatory syndromes in which pain was predominant. Accessorily, articular disorders and a decrease in muscular strength appeared. Increasingly obliged to ask his colleagues for help, he decided to consult his family doctor and a rheumatologist who diagnosed bilateral rotator cuff tendinopathy with right predominance. The claim procedure for recognition was started.
A sick leave and medical and physiotherapeutic treatment enabled him to resume his work but provided only partial relief. The decision to perform remedial surgery appeared necessary one year after the first consultation and about two years after the pains appeared.
Following surgery on the right shoulder and then the left shoulder, and re-education, the pain persisted and his range of movement was still limited, preventing the worker from performing all his work. It was considered impossible for the company to keep the worker. A dismissal due to medical unfitness was therefore pronounced.
Faced with difficulties in finding another job compatible with his state of health, and after several months of job hunting, he eventually accepted a job as sorter in a household waste sorting centre, with a loss of pay, because he will now earn €21,600 per year.
Case study three concerns Werner, aged 53, a worker in the chemicals industry. He is responsible for reconditioning certain products by shovel (grouping 500 kg of bulk together in a single container), replenishing a filter by handling 10 25 kg bags each day, and performing various cleaning and inspection tasks. He has complained of lumbago since his first job in logistics, which he had to leave for his current job. Two years ago, he had 10 weeks' sick leave for sciatica due to L5-S1 disc herniation. Since then, reconditioning large containers by shovel is hard to perform in addition to the handling operations and other tasks assigned to him.
He now suffers chronic lumbago, which he attributes to the stressful manual handling (distance of about 10 metres carrying heavy loads, high and especially low gripping of bags on pallets). Moreover, he suffers when carrying out numerous tasks in his everyday life, when he walks, ties up his shoes, carries loads, etc.
The claim procedure for recognition as an occupational disease is started.
Redeployment on another workstation is proposed by the employer by agreement with the Occupational Health Service. He will perform crushing of nonconforming materials on a workstation adapted with lift tables to avoid any manual handling of loads. He will suffer no loss of pay (€27,600 per year).
The report makes interesting reading, showing that not only do the workforces in the individual countries suffer in varying degrees from different issues as a result of the jobs they do, but that they are also treated differently by those in authority, in terms of sick pay, insurance claims, redeployment etc. You can read it for yourself at:
3rd November 2016
---