Cleanzine: your weekly cleaning and hygiene industry newsletter 30th June 2022 Issue no. 1023
Your industry news - first Number 1 for Recruitment

We strongly recommend viewing Cleanzine full size in your web browser. Click our masthead above to visit our website version.
---
Step away from the microbead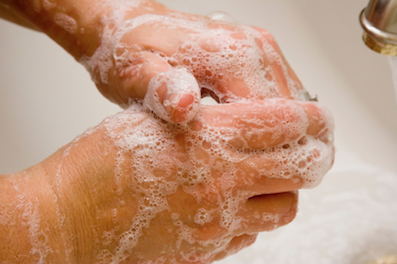 Greenpeace is currently running a campaign to get the UK to join America and Canada in their ban of plastic microbeads. Too small to be filtered by waste water plants, these harmful beads have a serious, detrimental impact on the flora and fauna of our oceans.
Here, Peter Crossen, vice president of the maintenance and partsmaster innovation platform of water, energy and maintenance solutions provider, NCH Europe, looks at why industry needs to be aware of the problem.
"Our oceans contain around five trillion pieces of plastic that weigh a combined total of more than 250,000 tonnes - with a further eight million tonnes added each year, according to Greenpeace. Just how large a portion of this problem is the result of microbeads has recently come to the attention of environmental agencies and global governments.
Microbeads are used in a range of products, from toothpaste to face wash and industrial hand washes. For a while now they have been touted as the ideal exfoliant without much thought about where they go after you've washed them down the plug hole. Most microbeads are smaller than 5mm, with those used in many cosmetics products being just 1mm in diameter. So, it's hardly? surprising that waste water filters can't catch them before water is returned to the ocean, and over 100,000 beads can be washed away in a single
application of exfoliating hand wash.
Microbeads are commonly made of polyethylene, but can also be polypropylene, polythylene terephtalate, polymethyl methactrylate or even nylon. None of these sound particularly appetising, but as marine wildlife cannot differentiate between what is an actual food source and what is a microbead, these menaces end up in the stomachs of fish, seabirds, and whales - even plankton absorb them.
Studies have found that 663 species of marine wildlife are affected by plastic pollution, with 11% of this being caused by microbeads. One study in particular found that around 35% of 670 fish examined, which included six different species, had microbeads in their stomachs, with one fish full to bursting with 83 beads.
This is unappetising when you consider how likely it is that fish that end up on our plates may contain plastic, and it only gets more worrying when you consider the other health implications.
An array of toxic chemicals, including flame-retardants, are added to the beads during manufacturing, which leach out into the water supply when exposed to sunlight. Research by Deltares has shown that when plastics? break down they release other toxic substances that are harmful to people and can cause health problems such as hormonal imbalances or neurological diseases.
This is all in addition to the fact that a single plastic particle can absorb up to 1,000,000 times more toxic chemicals than the water around it.
US President, Barack Obama, and the Canadian Government have already acted to prevent further contamination by banning the use of microbeads in cosmetic products. The Greenpeace petition to get David Cameron to follow suit joins the efforts of the global 'Beat the Microbead' initiative.
First established in the Netherlands, Beat the Microbead is campaigning to see an end to the microbead as soon as possible. It highlights the necessity of stemming the tide at the source, because clean up after the fact is incredibly difficult. There is even a Beat the Microbead app, which consumers can use to scan any product to find out whether it contains plastic.
The campaign's organisers are keen to 'change the burden of proof', shifting the onus of responsibility to manufacturers of cosmetics to stop using the beads and to display a zero plastic icon on their packaging.
Large cosmetics companies are already starting to phase out the use of microbeads. Unilever announced in 2012 that all of its products would be plastic free by 2015, and Colgate, L'Oreal, Proctor & Gamble and Johnson &? Johnson quickly followed suit. Even Asda, Avon, Boots and The Bodyshop are phasing plastic out - although they do still stock products from other manufacturers that contain plastic.
Industrial hand washes may not be as commonplace as the toothpaste beside the bathroom sink, but they contribute a massive proportion of microbeads to our oceans.
Thousands of hardworking plant engineers, mechanics and construction workers reach for the plastic heavy hand-wash before clocking out every day to remove the build-up of grease and grime on their hands. In many cases, such environments specifically demand products with a higher concentration of microbeads, believing it necessary for efficient cleaning.
Not only are beads negatively affecting the environment, there is also a strong likelihood that they could be banned in the near future. Manufacturers of these products that don't want to be left high and dry by the ban, need to be able toprovide a more eco-friendly alternative that is as effective as plastic-heavy washes.
NCH Europe has done just that. As our president and CEO, Bernard Daymon puts it, 'we've stepped up to the plate' with our HDHC Natural. HDHC Natural uses biodegradable olive stones as an abrasive ingredient instead of? microbeads and it is as effective at removing oils, greases and industrial dirt, grime and inks as plastic laden alternatives.
NCH Europe is joining those leading the charge in wiping microbeads out to protect our oceans and marine life. With effective, natural alternatives available, it is easy for industry to join the fight without compromising performance. It's surprising how much damage such a small thing can do to our environment, but by making one simple change we can all make a huge difference, whether or not Greenpeace is able to convince the UK Government to follow suit."
T: +44 (0)1902 510254
E: [email protected]
W: www.ncheurope.com
7th July 2016
---