Cleanzine: your weekly cleaning and hygiene industry newsletter 2nd April 2020 Issue no. 912
Your industry news - first Number 1 for Recruitment

We strongly recommend viewing Cleanzine full size in your web browser. Click our masthead above to visit our website version.
---
The Quirkies - introducing the Cleanzine quirky awards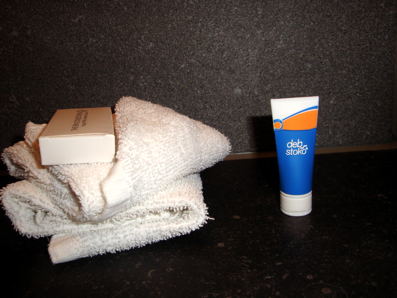 As the press we're given dozens of USB sticks over an event and these are so much better than the heavy and cumbersome press packs we used to have to lug around in the old days (an innovation in itself).
They do tend to get wedged down in the handbag or briefcase though and can be difficult to find when you're in a hurry and deadlines are looming. Some of them are from companies we don't know well and after a long day and conversations with dozens of people, it can be a bit hard to remember who is who?
Isn't this usb stick design clever? It contains information on the new Deb Stoko range and although John initially thought it was a mini travel toothpaste tube, he loved it as much as I did since it – and the message it contained – really stood out!
Years ago, when the British Toilet Association first formed and I was on the committee, Richard Chisnell (who set up the Loo of the Year Awards) mentioned that local authorities could help pay for the upkeep of our public washrooms by selling advertising space for the cubicle door. I was clearly not the only one sitting there open mouthed, for Richard then commented: "You have a captive audience." You could almost hear the penny drop…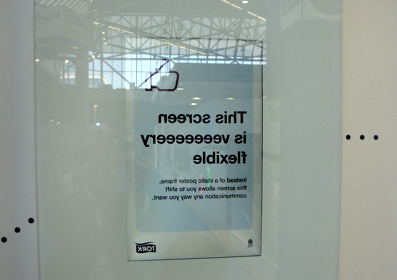 Over the years, we've come to see more and more advertising on cubicle doors and when the space is blank, I for one feel that someone's missing a trick.
We have all been missing a trick though and a visit to the Tork (SCA) stand showed us how…
Sometimes men use the loo standing up, and sometimes they use the loo sitting down. Being a woman, I'm unsure of the real facts and figures so let's assume it's about a 50/50 split for the purpose of this piece, which means that only 50% of users are actually 'captive' and thus any cubicle door advertising is only hitting around 50% of its audience.
To stop any media buyers in their tracks when it comes to negotiating a hefty discount, the technical team at Tork have devised a system whereby if the 'gent' is standing up, the advertisement appears around head height on the rear cubicle wall. If, however, he sits, a sensor will cause the advertisement (which is on a computer screen, rather than in print) to produce a reverse image which is then reflected onto a mirror placed on the cubicle door at which the seated occupant is no doubt staring, to produce a perfectly clear message right in front of the gent's eyes.
Now that is what we call 'thinking outside of the box' (or even cubicle)!
Exhibitions can be incredibly difficult to navigate. It would be easy if everyone had a plain 3m x 3m booth but this is not the norm at many of the bigger shows and although most of us can read maps (and thus floorplans), unless you can see a stand number somewhere it can be hard to get your bearings.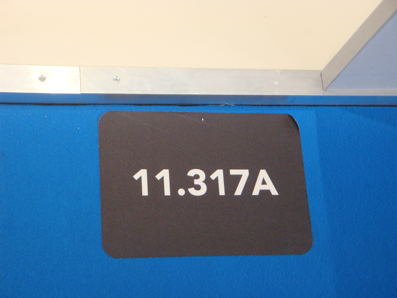 I find this particularly frustrating as all the delays throughout the day soon add up and mean that there are always one or two stands I'd hoped to visit, that I've not managed to.
Some years ago Toni d'Andrea and the Pulire Verona team had the brilliant idea of putting a flag (similar to that found in the 18 holes on the golf course) on the corner of where each stand (if it were a 3m x 3m booth) would have been. This meant that wherever you were and however far the individual stands stretched, you could always see – at a glance – exactly where you were and where you needed to go. We talk a lot in this industry about things being 'revolutionary' and this was. It was such a great idea that we took a picture and wrote about it.
I don't know whether someone walked into a flag or something or the health & safety police got involved, but the flags have not been used since and that's a real shame.
At the Rai this year though, we were pleased to see stencilled markers on the carpets in some areas and these proved useful – hence the Quirkie award. I hope they're used next time around and that we see lots more of them.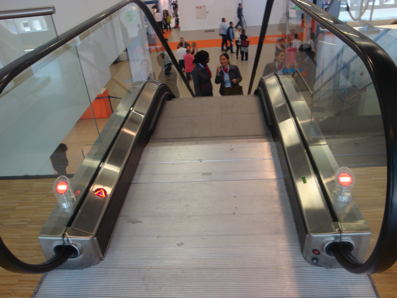 We've been using these smart escalators at the RAI press area for years and every year we comment that they're a brilliant idea and wonder how much electricity would be saved if this system were to be used for escalators all over the world.
This is not just an ordinary escalator! You approach it and realise it's not moving. Before your dismay at having to climb it or use the stairs instead kicks in (for some reason I always go dizzy when I climb a stationery escalator) it starts moving. A sensor has detected that someone is standing at the top or bottom and sets the escalator moving in the appropriate direction – either up or down. What a fantastic idea!
There is occasionally a glitch and after a week of perfect performance John and I were forced to bounce our suitcases down the stairs from the press office, because someone arrived at the foot of the escalator at the same time as us, counteracting our sensor at the top. The whole thing froze.
Well, we sometimes get confused, so why can't an escalator?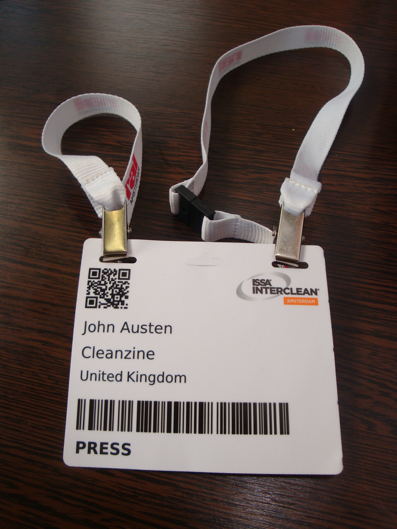 Name badges:
If you attend exhibitions as part of your job, you know what it's like… you encounter someone you've known for years but the 'exhibition blank' kicks in and try as you might you just cannot remember their name. You may be about to introduce them to someone they've not met. Frustratingly, their badge – normally attached, centre top, to a lanyard – has turned around to reveal a blank white card, or has swung under the jacket lapel or caught under the strap of the shoulder bag. You wish the ground could swallow you up…
Not with these badges though! As soon as we were issued with them, it was a case of "What a great idea! Why didn't someone think of doing this sooner?"
Fingers crossed, these will soon be in use at exhibitions and conferences everywhere.
The buzz words around this year's event were 'intuitive' and 'connectivity', with companies bringing in systems and processes that appear to think for themselves and as such are always one step ahead, doing things you would have done if they'd not done them first. This reduces downtime and takes a lot of the stress out of the workplace by giving you one less decision to make and allowing you to get on with something else instead.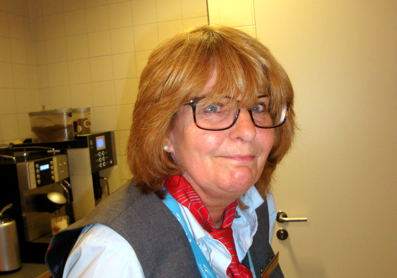 And although she's not a bit like a system or process, the whole idea could have been based on the lovely Paula who looks after the tired members of the press up in the press office throughout the show – and she's always smiling!
Paula knows, without being asked, what drink we'd like (depending upon the time of day and perhaps even the expression on our faces) and delivers it to where we're beavering away at the computers, writing our copy, without even being asked. She seems to know when we're hungry and tells us when there's food available and (if we haven't yet eaten) even warns us when it's running out.
Over the years, she's stayed back in the press office after it has officially closed, waiting after a long day on her feet, for journalists who've left their bags behind and then been delayed on the show floor – and we know this because we've been up there finishing off our copy while she's clearing up. Never once has she made any of us feel that we're not welcome and ought to be on our way out, as she's wishing to go home. She has time for everyone and we all enjoy chatting to her.
Now if you could clone Paula, and have her in every press office at every show, the exhibition world would be a far better place…
And finally…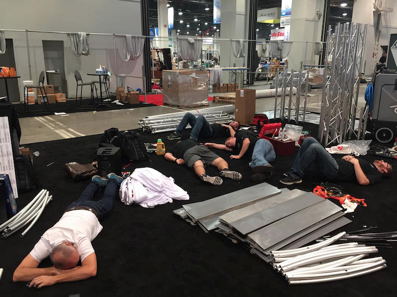 For those of you who don't visit these large shows, who may be thinking that my complaints about exhaustion and blisters are all in my head, just look at this!
I came across it on the Factory Cat blog while looking for some contact details and immediately thought it was the guys on the stand having a bit of a laugh and perhaps taking a photo to send back to their families, in a tongue-in-cheek way, to illustrate how hard they've been working.
On closer inspection, I learned that the picture was taken at a different show and that the lads had finished breaking down the stand but were having to wait three hours for their container to arrive so they could pack everything into it.
Imagine the noise around them, of other stands being broken down and machinery such as fork lift trucks being loaded and driven around, the loud conversations and even shouts, the beeping of reversing trucks etc… and then take a look at how soundly they're sleeping.
If you'd always thought that a life spent working an exhibition stand was an easy one, I doubt you'll be thinking that way from here on in…
Seen or done anything 'off the wall' a bit 'why didn't I think of that? idea' or just plain helpful in the cleaning / exhibition-related sphere? Let us know about it. Never know, it / you might be up for a Quirky!
19th May 2016
---