Cleanzine: your weekly cleaning and hygiene industry newsletter 21st September 2023 Issue no. 1081
Your industry news - first
The original and best - for over 20 years!

We strongly recommend viewing Cleanzine full size in your web browser. Click our masthead above to visit our website version.
---
2016 is looking better than last year, says Tennant Company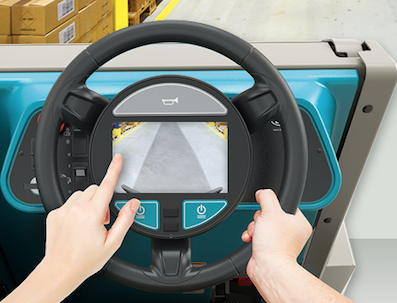 In results announced this week, Tennant Company has reported net earnings of $4.4 million, on net sales of $179.9 million for the first quarter ended 31st March, 2016. In the 2015 first quarter, Tennant reported net earnings of $5.0 million, on record net sales for a first quarter of $185.7 million.
"The sluggish business environment that we encountered in the 2015 fourth quarter carried over into the 2016 first quarter, making for a difficult comparison against record sales in the prior year period," says Chris Killingstad, Tennant Company's president and chief executive officer.
"Despite the continued economic volatility, we increased earnings per share in the 2016 first quarter versus the year ago quarter on a constant currency basis. We were encouraged to see rising sales momentum toward the end of the first quarter.
"Going forward, we remain well positioned to gain leverage and improve operating efficiencies. As a result, we are reaffirming our guidance for the full year."
Tennant is continuing to pursue its growth strategy. The company plans to reach its $1 billion organic sales goal through a strong new product and technology pipeline, continued gains in emerging markets, a return to growth in Europe, a focus on strategic accounts and an enhanced go-to-market strategy designed to significantly expand Tennant's worldwide market coverage and customer base.
The company's 2016 first quarter consolidated net sales of $179.9 million were down 3.2 percent compared to the prior year quarter. Unfavourable foreign currency exchange lowered consolidated net sales by approximately 2% and the impact from the divestiture of the Green Machines outdoor city cleaning line reduced consolidated net sales by 1.2%. Organic net sales, which exclude the impact of foreign currency exchange, and acquisitions and divestitures, were equal to the prior year period.
Contributing to 2016 first quarter results were increased sales through distribution and direct sales, particularly in Tennant's largest region, the Americas. This channel mix drove higher sales of industrial equipment compared to the prior year quarter. Sales of scrubbers equipped with ec-H2O technology totaled approximately $32 million in the 2016 first quarter, with solid growth in North America.
Geographically, organic sales grew approximately 1.7% in the Americas, excluding unfavourable foreign currency exchange of approximately 2.0%, despite lapping the very robust Americas organic sales growth of approximately 11.5% in the prior year quarter.
Sales in Europe, Middle East and Africa (EMEA) decreased 11.%. Organic net sales in EMEA were down approximately 2.8%, excluding the impact of the Green Machines divestiture of 6.5% and unfavourable foreign currency exchange impact of approximately 2.%.
Strong sales to strategic accounts throughout EMEA were more than offset by lower direct sales and sales through distribution.
Sales in the Asia Pacific (APAC) region declined 8.8%, or down approximately 5.8% organically, excluding an unfavorable foreign currency exchange impact of about 3.0%. In APAC, organic sales grew in Australia, Japan and China but declined in other Asian countries.
Tennant's gross margin in the 2016 first quarter rose to 43.1% compared to 42.0% in the prior year quarter. Gross margin in the 2016 first quarter improved 110 basis points, due to a more favourable channel mix and product mix, despite foreign currency headwinds that reduced gross margin by approximately 40 basis points. On a 'Constant Currency' basis, first quarter gross margin would have been 43.%.
Research and development (R&D) expense for the 2016 first quarter totaled $7.9 million, or 4.4% of sales, compared to $7.7 million, or 4.2% of sales, in the same quarter last year. The company continued to invest in developing innovative new products for its traditional core business, as well as in its Orbio Technologies Group, which is focused on advancing a suite of detergent-free and other sustainable cleaning technologies.
Selling and administrative (S&A) expense in the 2016 first quarter totaled $62.4 million, or 34.7% of sales. Tennant is investing in its digital transformation to build the company's e-business capabilities, which is anticipated to meet customers' changing needs and enhance long-term sales growth. S&A in the 2015 first quarter was $62.1 million, or 33.4% of sales.
Tennant's 2016 first quarter operating profit was $7.1 million, or 3.9% of sales, versus an operating profit of $8.3 million, or 4.4% of sales, in the year ago quarter. Due to the continued strength of the U.S. dollar in the 2016 first quarter, foreign currency exchange rates reduced operating profit by approximately $1.1 million.
Tennant's operating profit margin would have been 4.5% on a 'Constant Currency' basis, excluding the impact of unfavorable foreign currency exchange. Tennant remains committed to the goal of a 12% or above operating profit margin.
Cash from operations, which is typically negative in the first quarter due to the seasonality in the business, totaled a negative $6.5 million compared to a negative $2.1 million in the year earlier quarter. The company's total debt was $22.7 million, down from $26.1 million at the end of the prior year quarter. Cash on the balance sheet totaled $26.9 million versus $76.8 million a year ago.
Reflecting Tennant's ongoing commitment to enhancing shareholder return, the company paid cash dividends of $3.5 million in the 2016 first quarter and repurchased 137,069 shares of common stock at a cost of $7.1 million. During 2015, Tennant repurchased 764,046 shares of common stock at a cost of $46.0 million.
Tennant Company continues to execute against the strongest new product pipeline in its history. The company is on track to introduce significant industrial machine launches in 2016, including the recently introduced M17 Battery-Powered Sweeper-Scrubber. Tennant is committed to being an industry innovation leader and raising the standard for sustainable cleaning around the world.
"The introduction of new products and technologies is important to our revenue growth, and we have a robust innovation engine to fuel Tennant's sales," says Chris Killingstad. "In addition to the M17, our latest new products and technologies include the IRIS Asset Manager and our next-generation ec-H2O NanoClean technology.
"We are very excited about the benefits that all of these deliver to our customers worldwide."
The M17, unveiled in late March, is Tennant's largest battery-powered sweeper-scrubber. This versatile machine allows operators to choose between dry sweeping, scrubbing, or simultaneously sweeping and scrubbing. The fume-free sweeper-scrubber has been engineered to be easy to operate and maintain, while providing big productivity gains through industry leading innovations. Among its features, it offers the Tennant Pro-Panel intuitive touch-screen interface.
In the 2015 fourth quarter, Tennant introduced the IRIS Asset Manager, an intelligent command center that helps customers drive operational consistency and reduce the cost to clean. Onboard technology collects machine usage, ec-H2O usage and machine location information. This data is available online 24/7 through an easy-to-use portal. The IRIS Asset Manager is available on many of Tennant's commercial and industrial cleaning machines.
Tennant's next generation of sustainable cleaning technology, ec-H2O NanoClean continues to be very well received and is available on the company's applicable commercial scrubbers.
The name NanoClean refers to the creation of nano-scale bubbles that are an important part of the cleaning mechanism. Like the original ec-H2O, the next-generation ec-H2O NanoClean technology electrically converts water into an innovative solution that offers the same benefits as the original, plus it cleans better, cleans more soils, and is effective in more applications.
Tennant Company continues to estimate 2016 full year net sales in the range of $795 million to $825 million, down 2.1% to up 1.%, or approximately 0% to up 4% organically, excluding an unfavorable foreign currency exchange impact and a sales decline from the divestiture.
The company expects its 2016 financial results to be stronger in the second half of the year.
"While we anticipate foreign currency and global economic volatility to remain challenging in the coming quarters, we continue to believe that Tennant is competitively advantaged," continues Chris. "With our targeted vertical markets of education, healthcare and retail performing well, we are optimistic about our prospects in 2016 despite a difficult economic environment.
"We are focused on controlling costs and enhancing productivity across the organisation. And we remain committed to reaching our goals of $1 billion in organic sales and a 12% operating profit margin."
28th April 2016
---