Cleanzine: your weekly cleaning and hygiene industry newsletter 30th June 2022 Issue no. 1023
Your industry news - first Number 1 for Recruitment

We strongly recommend viewing Cleanzine full size in your web browser. Click our masthead above to visit our website version.
---
CSSA relaunch: we have lift off!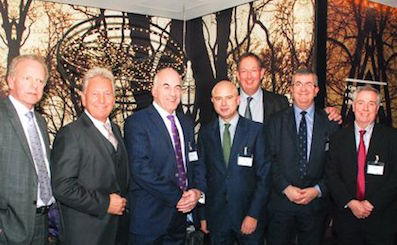 Around 60 people - members, potential members, the press and guests from the cleaning industry - gathered in London on Monday for an event that has been hailed a resounding success: the official relaunch of the Cleaning & Support Services Association, 50 years after its initial 'official' launch in 1966.
And while many things about association membership haven't changed, such as the opportunities for networking and friendship it provides, the ability for the industry to speak with one voice and address industry issues collectively rather than as individual companies (i.e. from a position of strength) there are a great many new things planned.
These were outlined in chairman Doug Cooke's presentation, which has been described as 'a rallying call to the industry'.
Said Doug: "It's been nine weeks since we dipped our toes in the water at our exploratory meeting to ascertain if there was a real appetite for the revival of the CSSA. Well, to our astonishment and even our bewilderment, the response has been overwhelming!
"In the space of those nine weeks - including a two-week festive break, we have over 20 members with a further dozen who have signalled their intention to join, but who have not yet completed the paperwork.
"Also, there are a further 10 - 15 organisations watching from the sidelines to see what we are about.
"We are not going to do all the things we used to do, but rather take the best of what we did and add new ideas, new initiatives with a new approach to our management to ensure that our cleaning industry association is here in another 50 years with a record of success in improving the practices of its members and empowering them to achieve best practices in the face of the external governmental and market forces facing our industry, whilst enabling the sharing of information and experience amongst members.
"We agreed that rather than draw up an all-encompassing 3-5 year plan, we would set a simple, challenging and deliverable set of guiding principles which would ensure that we focussed on them... Three enshrined ideals which would ensure that we would benefit the industry and members:
-To secure a vibrant and strong association
-To maintain the continuing growth of our industry
-To develop programmes which effectively address the expectations of all our members.
"Few of us could have foreseen the dwindling deterioration and fading into almost extinction of our once dominant Cleaning & Support Services Association but I believe we have come out of the Building Futures Group debacle stronger and wiser.
"Now while political lobbying is one of our prime functions, it will not be our only activity... in fact from now on, the CSSA's activities in this context, will encompass some tangible plans...
"We will be holding an Annual General Meeting on Friday 22nd April, 2016. Now please, any of you who are considering joining the CSSA, please do so before this date. Why? Because on that day we will be proposing significant changes to our board constitution and only members of the association can vote.
"The amendments we will be proposing is an increase in the maximum number of directors - this will permit more organisations to determine the future work direction and focus of the CSSA.
"We will also announce the formation of a new innovation and technological executive group which will be the first dedicated, especially-appointed body taken from our growing membership and industry-influential associate members.
"From that select body a maximum of three organisations will be proposed, to sit on the CSSA main board, so that all organisations which are part of our cleaning industry are represented.
"One of the key decisions at the AGM is the election of directors which are appointed on an annual basis and any member can propose their organisation to become a director, so if you wish to participate in the strategic direction of your association one and all can apply - so become a member!"
Doug went on to highlight the key programmes set out in the association's pursuit of raising the professional perception of the industry and the CSSA itself. One of these will be to attempted to ascertain the cleaning industry's viewpoint on the "thorny" issue surrounding the upcoming EU referendum...
"We will all have our personal views... our company's views... but when the Prime Minister makes the referendum date known, the CSSA - like all trade associations - will be approached by both sides," he warned.
Doug said that the CSSA is considering a funding project involving detailed consultation with all interested parties, but acknowledged the fact that due to the "inactivity" of the CSSA over the last few years, it may just be too late to get such a project off the ground.
"Only the timing of the date of the referendum will finally determine our course of action and our ultimate measured response," he said.
Another key issue to be addressed is the update of the CSSA'S unique external selling point - its code of practice - to take cognisance of the potential board enlargement.
Doug said that the CSSA would also be addressing the pressing issue of apprenticeships...
"The current status of a cleaning apprenticeship following the apparent 'vanish from sight' from the Building Futures Group and Asset Skills portfolio - an approved cleaning apprenticeship - is an essential vocational document as we prepare for the apprenticeship levy coming into existence in April 2017," he said, explaining that the key thrust of the CSSA's political lobbying will be the upcoming apprenticeship levy, which could cost every company 0.5% of their payroll above £3million.
"So we are in at the ground level," he said, explaining that it had been agreed by the board that the CSSA will have a dedicated executive group that will take on board this topic. He asked for nominees from both members and associate members that were keen to become involved in the project.
"We are harnessing our plans," he said.
Doug went on to outline some of the activities the CSSA will continue to provide. These include:
- Ongoing attendance at Home Office meetings involving immigration - in particular, the ongoing 'Operation Magnify' aimed at seeking illegal workers in our industry
- Re-establishing the CSSA's direct contact with all facilities management associations and groups to voice concerns at the never-ending restrictions being imposed on the CSSA and other cleaning organisations
- Confirm the CSSA's support of the Living Wage, support the campaign and seek clarification of the Government's Living Wage
- Monitor the activities of the outspoken Independent Workers Union and assist any members experiencing undue influence from the union
- Support and champion the CSSA's Scottish members on any matter specific to Scotland and its government
- Secure the CSSA's status as the UK's representative voice for the cleaning industry on the European and world stages as a member of the European Federation of Cleaning Industries and World Federation of Building Service Contractors bodies
- Work closely with the British Institute of Cleaning Science on training programmes and other bodies such as the Cleaning & Hygiene Suppliers Association and the British Cleaning Council
Doug concluded by thanking the current CSSA team of Sandy Aird, Tony Felgate, Bob Vincent and Mike Rutherford, who, like himself, were the 'renegades' who decided to withdraw from the merger with the BFG.
"This taskforce gave up and continues to give up their time for free. We do it willingly and enjoy putting something back into the industry we love, so please join us and be an active participant.
"The association thanks you for your fees but it loves you for your active participation!
"I need to give huge thanks to John Finlater (our only paid employee) who has managed to pack in so much... I can't believe he's only a part-timer!
"In order to secure change, I, the officers and directors and all our volunteers' challenge, is one of persuasiion and securing the engagement of others; primarily you the members, to ensure continuity of message from the association to the outside world.
"In summary, CSSA membership not only benefits employees in your business, but it also projects a positive image of your organisation to your customers. Membership shows a business's initiative, its engagement in a particular trade and its commitment to staying abreast of current developments in the market.
"Further, it keeps business owners and managers on top of important, ever-changing issues, trends and legislation within their industry sector and marketplace.
"One of the greatest advantages of CSSA membership is the networking and camaraderie that takes place amongst members. To benefit from this, you must participate and be an active member. Paying your annual subscription is not enough! To reap the benefits we urge you to make an investment in time and effort in CSSA activities and become involved.
"Simply put, what you get out of CSSA membership is directly relative to what you put in."
Doug went on to say that following feedback at the relaunch presentation meeting and taking on board attendees' observations, the original fee structure has been reviewed and altered. It is expected that this will have a wide appeal to those considering joining the association.
CSSA Membership Benefits:
Over-arching principal benefit:
Membership of the Cleaning and Support services Association is the customer's warranty that a contractor is ethical, professional and provides good value for money.
All member organisation benefits:
- Increase market share through being an approved provider governed by a Code of Practice
- Collective market development and research
- Promotion, branding and visibility - the CSSA provides articles to all industry periodicals
- Wider access to industry information - the latest news, views and concerns
- Wider access to resources, lower costs, and any industry negotiated arrangements - collective use of external consultants in specific business standards
- Common voice to Government - Living wage, London living wage/funding options etc
- Education opportunities - The CSSA was the original National Training Organisation, with regular input, approval of industry standards and career opportunities
- Support of a like-minded community - the CSSA is represented in all building sector/facilities bodies, including the production of a cleaning industry-specific cost escalator
- Industry reference source; regular industry specific bulletins - The Supporter, with specials as needed to address current topics/issues, specialist method statements, legal advice including Internet-relevant web site connections
- In touch with contemporary developments in our field - members' opportunities to hear latest/up-to-date innovations/concepts/advancements etc.
- Meet peers who can tell you about new opportunities - networking and social events
- Your understanding of what is best practice entails is enhanced and, if you use this knowledge wisely, you will become more proficient
- Put forward your own ideas to engage with and impress people (thought leadership) potentially leading to new opportunities and professional relationships. All members appointed representatives can apply to be voted onto the CSSA directorate - participate in the management and future strategy of the CSSA and our industry.
To find out more:
Twitter @cssauk
E: [email protected]
4th February 2016
---