Cleanzine: your weekly cleaning and hygiene industry newsletter 2nd April 2020 Issue no. 912
Your industry news - first Number 1 for Recruitment

We strongly recommend viewing Cleanzine full size in your web browser. Click our masthead above to visit our website version.
---
LooBlade - a toilet cleaning revolution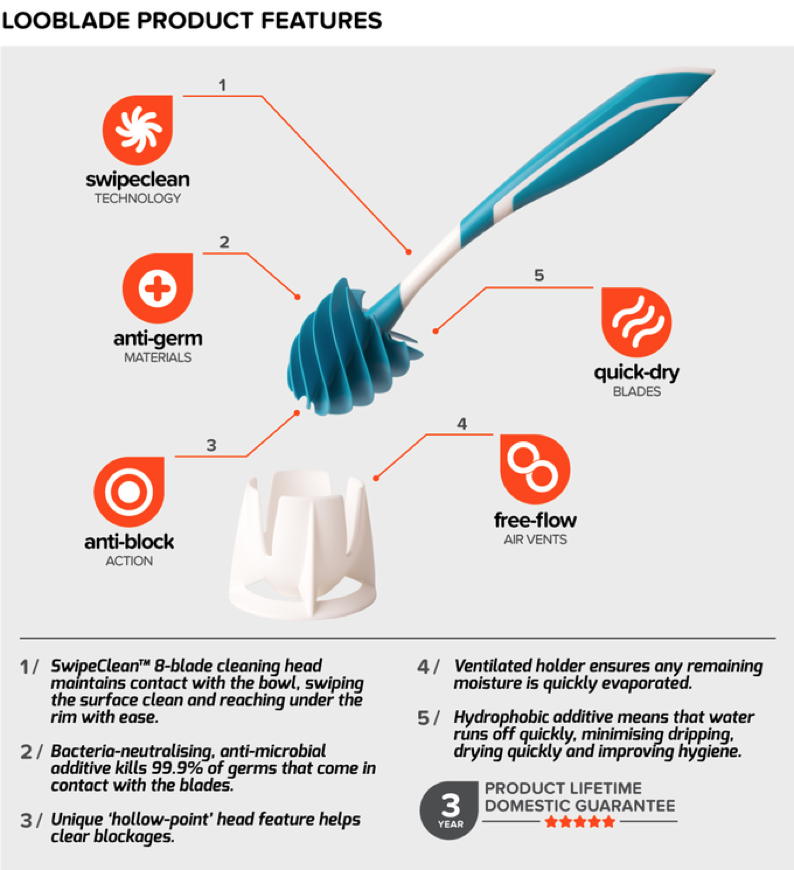 Spyglass Innovations' Garry Stewart has attracted 87 backers and a total of £28,336 in funding, with his Kickstarter campaign in which he aimed to raise £20,000 to bring his LooBlade toilet cleaning brush to market.
And with the campaign not due to end until next Thursday, November 5th at 18:24, who knows how much more interest there will have been in his innovation?
"No clogging... No dripping... Swipe your toilet clean with LooBlade's patent-pending, 8-blade, germ-killing head...." he says. "LooBlade is a toilet cleaning revolution..."
This germ-killing, quick-drying reinvention of the toilet brush uses an 8-blade silicone head to enhance cleaning power. It follows the toilet contours, using SwipeClean Technology. It reaches under the rim with ease, and contains an anti-microbial additive that helps kill 99.9% of germs, both during and after cleaning.
LooBlade does not get clogged up like the bristles of a brush and has hydrophobic properties that helps it shed water and dry quickly. A 'hollow-point' head feature also helps act as a plunger to clear blockages, while the holder design allows for free air flow to ensure no residual water collects.
Garry says that since so much more money has been pledged than he expected, we can expect a bamboo edition of the LooBlade, for those wanting a more natural look in their washrooms.
"The classic toilet brush design is flawed," he argues. "It has remained unchanged for years and is not suitable for toilet-cleaning for several reasons:
"The bristles of a toilet brush quickly become clogged with paper and other things, which makes it hard to keep clean. With LooBlade, the smooth, flat surfaces are easily kept clean and clear with just a gentle shake.
"After cleaning a toilet, a traditional brush still traps a significant amount of germ-filled, smelly water in its bristles - even after shaking! With its hydrophobic coating, LooBlade ensures that all water is almost immediately removed as it leaves the water.
"The bristles of a brush only touch a small part of the surface, meaning you need to scrub back and forth to ensure you get good cleaning coverage. LooBlade maintains continuous contact with the toilet bowl, meaning that its blades swipe the surface clean in a single pass. The configuration of the blades and their firm but flexible material also allows LooBlade to clean effectively under the rim, where brushes also struggle.
"The classic toilet brush is not an object that most people would score highly on its appearance. LooBlade, from its ergonomic and iconic handle to its aesthetically pleasing head and modern range of colour options, brings a new level of design-conscious thinking to an old problem."
Gary says that if everyone used LooBlades instead of conventional toilet brushes, then the reductions in water and bleach usage would be significant.
"The anti-microbial properties of the blades mean that germs are killed outright, so there is no need to use bleach to disinfect it," he argues. "A detergent hot rinse once a month is all the cleaning it requires.
"In addition the clog-free nature of LooBlade means that the multiple flushes used to attempt to clean a brush are no longer necessary.
"Finally, the disposable attitude towards toilet brushes means that they are typically replaced at least once a year, if not more often, creating unnecessary land-fill. Each LooBlade comes with a 3-year guarantee."
LooBlade adopts a radical new approach called SwipeClean, which uses a highly sustainable and efficient siliconeTPU elastomer material that is both durable and flexible.
The cleaning head comprises eight flexible blades in a helix configuration, which maintain a broad area of contact to 'swipe clean' rather than scrub a surface, with a hollow-point 'nose' to assist with blockage clearing. The anti-microbial technology within the plastics is certified to ISO 22196-2011. The hydrophobic performance is created by a silica nano-technology, also combined into the plastics.
In the creation of LooBlade, Garry has brought together a team of talented people and companies including product designers, rapid prototyping specialists, experienced contract manufacturers and marketers to help bring his vision to life. Key collaborators on the LooBlade project include Duku Design, Star Prototype, Mulan Manufacturing , Albright IP and Futurefast.
As with many inventions, the key question that led to LooBlade was, "Surely there must be a better way?"
Garry and his development partners have been working together for more than two years - brainstorming, sketching, modelling, testing and refining a design to replace the toilet brush. The core, patented technology in LooBlade was born out of the observation that using a brush to clean smooth surfaces and shift matter is inefficient and not fit for purpose.
The manufacturing partner is a leading Shanghai-based provider of contract manufacturing services for, amongst others, household hygiene products. Delivery of the first batch of products expected by mid-December.
Patent in UK will Grant on 11th November 2015; European and World Patents are pending. Design Registration has been granted in UK and is pending in Europe.
www.kickstarter.com
www.looblade.com
29th October 2015
---