Cleanzine: your weekly cleaning and hygiene industry newsletter 17th September 2020 Issue no. 936
Your industry news - first Number 1 for Recruitment

We strongly recommend viewing Cleanzine full size in your web browser. Click our masthead above to visit our website version.
---
Extraction cleaning - the power of powders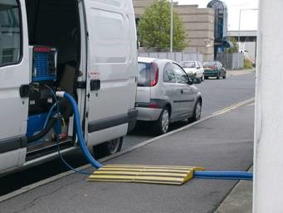 Many professional contract cleaning companies opt to use powdered carpet cleaning detergents, over liquids. The main justification is cost. Here, Phil Jones, sales manager and Prochem training course instructor, looks at the options currently on offer from the company...
"Often, powdered detergents can actually go much further due to dilution rates and higher concentration. If there are cleaning staff going off to fulfil a contract clean, then they can easily use the provided spoon in the tub to add the correct amount of products to some hot water, dissolve, and then add to the tank.
If liquid detergents are 'glugged', then not only can the chemical costs be higher, but the carpets, upholstery or hard surfaces could also be left with far too much residue.
Prochem Europe offers a varied range of powdered detergents that can cover most situations, ranging from an economically priced version, to a WoolSafe-suitable product, to a high alkaline cleaner, to a fully multi-purpose, 4-in-1 powder.
The company's biggest selling powdered detergent is S776 Double Clean.
It's ideal for use through truckmount systems or portable carpet extractors and highly effective when dealing with heavily soiled carpets, leaving behind a fresh citrus-mint fragrance.
But it is the formulation that makes it the company's best-selling powder.
Time and effort has been spent blending its high-grade anionic and non-ionic surfactants. Buffered alkali builders assist the soil-breaking capability by increasing the cleaning power when in contact with acidic soils. Add in the corrosion inhibitors, which maintain the pumps and any metallic contacted parts, and Double Clean really delivers.
For perfect results, try pre-treating the soiled carpet area with either S709 Multi Pro, S710 Trafficlean or S789 Power Burst (following normal dilution rates) before extracting with Double Clean.
Don't rush matters: it's the pre-treatment or prespray and then a little dwell time which makes the rinsing detergent (powder or liquid) work easier and gives the best results. Mix at between three and six level scoops of powder in a 35 litre extraction machine such as the Steempro Powerflo or Powermax.
S777 Crystal Green is one of Prochem's most popular products and is ideal for heavily soiled or greasy carpets. Used through either our truck mounts or portable extraction machinery, it contains non-ionic surfactants and has a herbal lemon fragrance which can be enhanced by adding a correct dilution of B117 Lemon Refresh to the solution, if required.
If using a 35 litre extraction machine, such as a Steempro Powerflow or Powermax, add three to four level scoops for excellent results.
A formulated powder-detergent aimed at the commercial market, S773 Dry Blend is suitable for use on synthetic carpets: even though this is a low cost product, its water-softening agents and alkaline builders provide a real cleaning boost, while its corrosion inhibitors - in common with S776 Double Clean - protect the life of your machine's working parts, such as pumps, valves and jets/spray tips.
Seven measured scoops of Dry Blend will provide a 35 litre machine with plenty of cleaning power.
If presented with wool/wool mix or stain resistant nylon carpets, the professional carpet technician should choose to use a WoolSafe product, such as S780 Fibresafe Gold.
Wool can be damaged if regularly cleaned with alkaline products (above pH 10) which could also potentially affect its colour or cause cellulosic browning. Regular cleaning with unsuitable products could also cause the fibres to stain more easily.
Lower pH levels (below pH10), buffered and containing self-neutralising ingredients are available in the formulation of S780 Fibresafe Gold. You can use it on upholstery and rugs as well as carpets as long as they have been deemed wet-cleanable.
This product can also be used through Prochem truckmounts or portable extractors. If the carpet, upholstery or rug to be cleaned has passed all the required tests against the risk of dye-bleed and cellulosic browning, then for brilliant WoolSafe-approved cleaning results, pre-treat with B107 Prespray Gold and extract with Fibresafe Gold.
Professional truckmount users (or 'truckers') use S778 Heat Wave because of its quality and stability.
As truckers quite often use higher temperatures than most portable extractor users, they have to be aware of the possibility that some products, at very high temperatures, could result in residues, which could block wand jets/tips. Heat Wave is formulated to resist this chemical change and remain in liquid form, which gives it an exceptional grease and soil rinsing result.
Even portable extractor users should consider using this product, as an inexpensive 4Kg tub can give you approximately 70 tankfuls for a 35 litre Powermax for example. As a comparison a standard one per cent dilution extraction liquid will provide 14 tankfuls.
Finally, if multi-purpose products are your preference, then consider C409 Pure Clean. A single, fragrance-free powder, this is fully capable of being used as a prespray; an extraction rinse; for bonnet cleaning, spotting or truckmount use."
T: 0208 974 1515
W: www.prochem.co.uk
3rd September 2015
---