New and updated vacancies are advertised in Cleanzine every week. Check out the latest opportunities by clicking the link above.
Advertise your current vacancy with Cleanzine and we'll give you the best deal in the industry with same day upload so you can fill the position faster.
Contact us for details
---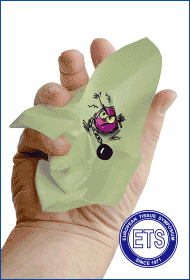 ---
International News
Products
New Biocidal Products regs: last chance to influence regulatory framework!
At the Steptoe seminar on the new Biocidal Products Regulation, (EU) No 528/2012 (BPR) held two weeks ago, the European Commission confirmed its intention to seek accelerated agreement on a legislative amendment to the BPR. If prompt consensus can be reached with the Council and the European Parliament, the changes will take effect before the new regime becomes applicable on 1st September 2013. As with REACH, the new biocides regime is relevant not only to manufacturers and formulators of biocides, but downstream users as well.
more
---
---
Ausclean Pulire is looking for presenters – can you fill the role?
If you are at the leading edge of cleaning and hygiene, ensure your experience is shared – submit an application to present a paper at Australia's well-established, dedicated cleaning and hygiene show.
Sessions covering hygiene in healthcare and hospitals, green sustainability, new technology and outdoor cleaning are all welcome – as are marketing, communication and business sessions. The call for presenters closes 1st May.
more
---
German engineering... but British marketing


It's just over a year since Shaun Bradbury of Lancashire-based cleaning consultancy the Wrennalls Group, brokered the deal which enables him to import Columbus Cleaning Machines from Germany - and thus this is the first UK Cleaning Show at which Shaun has demonstrated the machines. They were going down a storm - but as usual, Shaun had adopted a clever strategy to attract visitors to his stand, which meant that plenty of people saw the machines.
more
---
'Bin' making the most of the time at the show...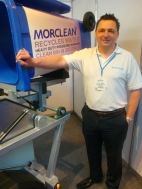 We didn't get to speak to the team on the Morclean stand until the final day, so busy were they every time we walked past.... So we weren't surprised when Managing Director Peter Morley (pictured) told us they'd had around seven good leads an hour, every hour.
more
---
And it wasn't just the Brits that came...


Although many people say this is a UK show, visitors came from far and wide - and there were a number of foreign exhibitors too. Unger's Dave Rogers told us on the second day that they'd had visitors to the stand from as far afield as Sweden, Finland, Moscow and Australia - all interested in buying, rather than just window-shopping.
On the final day we bumped into our friends Daniel Knittler (left) and Reinhard Knittler, who produce German cleaning magazine ReinigungsMarkt. They told us they had enjoyed a productive three days at the show, speaking to most of the exhibitors and collecting information on new products and services to write about in forthcoming issues of their magazine.
---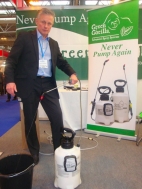 Another name we hadn't come across before was Green Gorilla Europe. There was quite a crowd watching Magnus Jonatansson, who hails from Iceland, demonstrate the Green Gorilla Advanced Spray System - and when we realised how the system worked, we could understand why.
Magnus explained that his company, Fremst ehf Iceland, has the exclusive rights to sell and distribute the product in Europe, for US manufacturer ForeFront Product Design.
more
---


BMP is a global company specialising in the manufacture and conversion of polyurethane elastomers, technical nonwoven textiles and mechanical systems for use in applications ranging from digital printing to industrial cleaning equipment.
more
---


The ISSA's business services executive EMEA region Leah Lister, originally from Chicago but now living in Liverpool, is hoping to increase ISSA membership by talking to show visitors about the benefits of belonging to this global association.
more
---
Osprey to supply lightweight 8 bar steam cleaner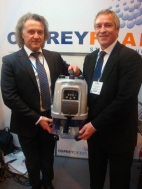 John and I have always been impressed with OspreyDeepclean products and when we were at Pulire, Verona last year, we were stopped in our tracks by the machines on the Maxima Advanced Solutions stand, so perhaps we shouldn't have been surprised to see Giuseppe Codemo (left in picture) with Thomas Stucken and learn that they have struck a deal!
more
---
Tersano (International) Srl introduce ozone cleaning


Although the sanitising power of ozone (O3) has been known about and utilised since the early 1900's, it was not until Tersano was able to re-engineer the technology for commercial use that the full cleaning, sanitising and environmental benefits were realised.
more
---
---
This Week's News
---
---
---
---
---
---
---
---
---
---
---
---
---
---
---
---
---
---
---
---
---
---
The Cleanzine Archive Search
We keep an extensive archive of news stories and product information that have featured in past issues of The Cleanzine. If you would like to run a search of the The Cleanzine web site using the search tool below please just go ahead by entering in the name of the person, product or company or any other key words that you are looking for.
---
How to contact us at The Cleanzine: