New and updated vacancies are advertised in Cleanzine every week. Check out the latest opportunities by clicking the link above.
Advertise your current vacancy with Cleanzine and we'll give you the best deal in the industry with same day upload so you can fill the position faster.
Contact us for details
---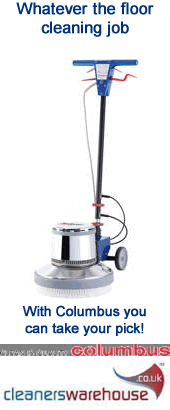 ---
International News
Products


BMP is a global company specialising in the manufacture and conversion of polyurethane elastomers, technical nonwoven textiles and mechanical systems for use in applications ranging from digital printing to industrial cleaning equipment.
more
---
---


The ISSA's business services executive EMEA region Leah Lister, originally from Chicago but now living in Liverpool, is hoping to increase ISSA membership by talking to show visitors about the benefits of belonging to this global association.
more
---
Osprey to supply lightweight 8 bar steam cleaner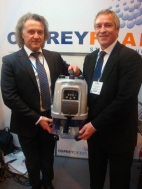 John and I have always been impressed with OspreyDeepclean products and when we were at Pulire, Verona last year, we were stopped in our tracks by the machines on the Maxima Advanced Solutions stand, so perhaps we shouldn't have been surprised to see Giuseppe Codemo (left in picture) with Thomas Stucken and learn that they have struck a deal!
more
---
Tersano (International) Srl introduce ozone cleaning


Although the sanitising power of ozone (O3) has been known about and utilised since the early 1900's, it was not until Tersano was able to re-engineer the technology for commercial use that the full cleaning, sanitising and environmental benefits were realised.
more
---
Hydro Systems Europe shows new prototypes


Hydro Systems Europe's Alistair Blair-Davies talked us through the attributes of the two new prototypes on the stand – one offering flexible dispensing and dosing and the other being a lower cost version of the company's top performing foaming system – both of which should be available within the next few months. He said feedback from visitors to the stand had been good.
more
---
Brightwell Dispensers launches Eco Mix and Eco Shot


So the secret is out… Brightwell is launching a new range of chemical dosing and dilution systems, Ecomix and Ecoshot, as Suzanne Gardent, pictured, explained. "Economix is a proprtioner," she explained. "Connected to mains water, it creates a vauum and dilutes a pre-determined ratio of chemical into a final solution, ready to use. Ecoshop is a manual dosing system, dosing a specific volume or shot of concentrated chemical into a spray bottle, bucket or sink. Although different systems, the two provide an efficient, flexible, on-site system, which enables the user to create ready-to-use chemicals from concentrates.
more
---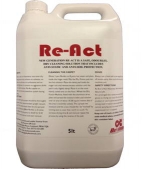 Dry Fusion is using the Show to launch a groundbreaking new product that will allow operators of the popular Dry Fusion Carpet Cleaning System an impressive 50% saving! Re-Act is both a heavy duty pre-spray and pad solution in one. It dilutes 1:10 and replaces the previous 'Restore' and 'Activator' Dry Fusion products yet is more environmentally friendly. Managing director Shaun Bradbury tells us it is still WOOLSAFE approved though.
more
---
Ophardt Hygiene: new hygiene dispensers


Ophardt Hygiene is showcasing an enormous range of dispensers and complete hygiene solutions for public washrooms - including the impressive reliable and robust stainless-steel Santral series, which come as standard with the company's durable 'anti-fingerprint coating' for long-lasting good looks. "AFP ensures a noticeable reduction of visible fingerprints during use," says the team.
more
---
FactoryCat / Elan Sales: Stand E80


The TomCat Orbitz range of scrubbers from FactoryCat have - literally - landed in the UK this week and you can see them ably demonstrated on a range of floor surfaces including concrete, marble and vinyl - showcasing their ability to strip multiple layers of seal without the use of harmful chemicals, reducing the risk of slip and fall potential and minimising the impact on the environment.
more
---


FREE training programme from Jangro
Jangro, the UK's largest network of independent janitorial suppliers, is launching the first ever distance learning programme for the cleaning industry at the Cleaning Show.
Jangro's 'Learning Management Solution' enables you to educate your cleaning staff anywhere, anytime, at a fraction of the cost of traditional training methods.
The suite of training modules offers something for all. New staff will choose from basic modules, which introduce the PH Scale or explain COSHH requirements. Experienced staff will select from more in-depth courses, such as the Floorcare module, which provides an immense amount of knowledge regarding how to achieve best results on every kind of floor.
more
---


As you take in the clever features and sheer functional beauty of the floor cleaning equipment on display at the Show, try to imagine the frustration you'd feel if you owned such a machine and it didn't work... This is the costly scenario faced all too often in the cleaning industry -and it's one that industrial battery supplier PowerCell would like to help you avoid.
"Today's cleaners are generally very reliable and well built, but whether they will function on any particular day depends largely on the quality and state of their batteries," argued PowerCell's Managing Director Derek Anderson.
more
---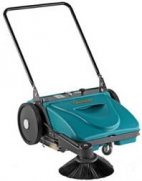 PTS Clean is showing the Italian-built Eureka Picobello 151 Manual Sweeper - a product that we know made the finals of the Innovation Awards in the Cleaning Equipment (outdoor) category, although we won't know until later today whether it has actually won the award or not. The company's Craig HosieIt told us that it was during a recent trip to the Eureka factory in Italy that realised the massive potential for this particular sweeper on his customers' sites.
more
---
---
This Week's News
---
---
---
---
---
---
---
---
---
---
---
---
---
---
---
---
---
---
---
---
---
---
The Cleanzine Archive Search
We keep an extensive archive of news stories and product information that have featured in past issues of The Cleanzine. If you would like to run a search of the The Cleanzine web site using the search tool below please just go ahead by entering in the name of the person, product or company or any other key words that you are looking for.
---
How to contact us at The Cleanzine: